Back to the Future (trilogy)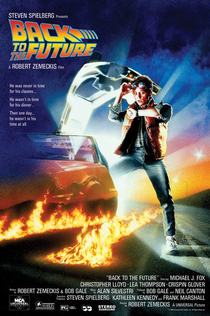 BACK TO THE FUTURE (PG)

D: Robert Zemeckis
Universal/Amblin (Bob Gale & Neil Canton)
W: Robert Zemeckis & Bob Gale
Ed: Arthur Schmidt & Harry Keramidas
Mus: Alan Silvestri
PD: Lawrence G. Paull
Michael J. Fox (Marty McFly), Christopher Lloyd (Dr. Emmett Brown), Lea Thompson (Lorraine Baines), Crispin Glover (George McFly), Thomas F. Wilson (Biff Tannen), Claudia Wells (Jennifer Parker), Marc McClure (Dave McFly), Wendie Jo Sperber (Linda McFly), James Tolkan (Mr. Strickland) 
Arguably the most iconic film of the 1980's and a landmark film of the special effects summer blockbuster.
Michael J. Fox delivers the performance of his career as Marty McFly, a skateboard riding, rock & roll lovin' teenager who sleeps in, is regularly late for school and hangs out with eccentric scientist Dr. Emmett Brown.
'Doc' Brown unveils his new experiment to Marty, a DeLorean automobile which has the capability of travelling backwards and forwards in time, with a little help from a kick of plutonium.  After an attack by Libyan terrorists who the scientist stole the plutonium from, Marty outruns them in the DeLorean and inadvertently winds up in 1955.
He tracks down Doc Brown so he can get help getting back to 1985 but also prevents his own parents from meeting, putting his own existence in jeopardy and must first ensure that they fall in love before travelling back to the future.
In my opinion, BTTF is not only the best film released during the 1980's, but one of the best movies of all time. All due to a screenplay which is absolutely genius, intelligent and funny. The execution by director Robert Zemeckis is brilliant as well, delivering the action, thrills and comedy in equal measure.
The scene in which Marty 'invents' Rock & Roll is cinema gold. How did this not receive an Oscar nomination for Best Picture?? (At least the Bafta's recognised it)
10/10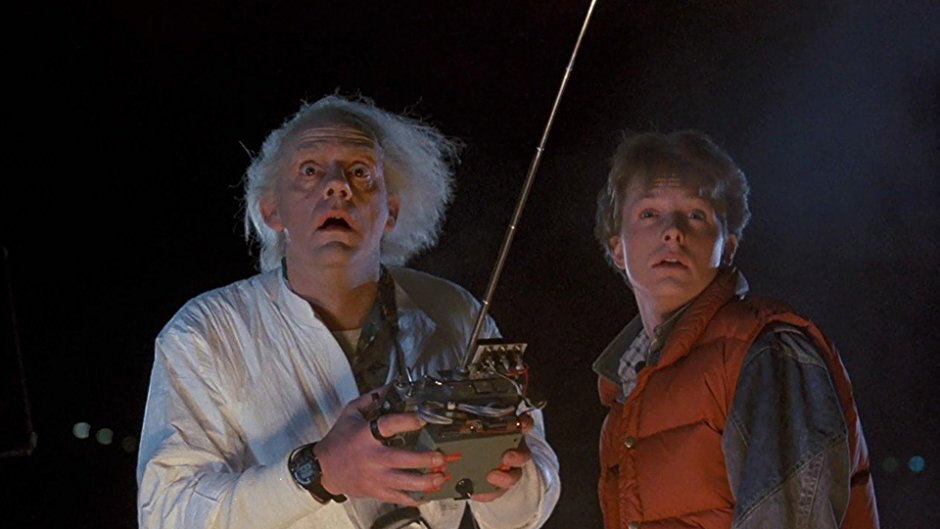 Did You Know:
The script was rejected forty four times before it was finally green-lit.

The rights to the film and its sequels are owned by Robert Zemeckis and Bob Gale. In a 2015 interview, Zemeckis maintained that no reboot or remake of the franchise would be authorized during his or Gale's lifetime.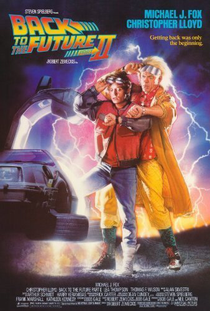 BACK TO THE FUTURE part II (PG)
D: Robert Zemeckis
Universal/Amblin (Bob Gale & Neil Canton)
W: Robert Zemeckis & Bob Gale
Ed: Arthur Schmidt & Harry Keramidas
Michael J. Fox (Marty McFly), Christopher Lloyd (Dr. Emmett Brown), Lea Thompson (Lorraine Baines/McFly), Thomas F. Wilson (Biff Tannen/Griff Tannen), Elisabeth Shue (Jennifer Parker/McFly), James Tolkan (Mr. Strickland)
Following directly on from the first movie, Doc Brown takes Marty McFly and his girlfriend, Jennifer, 30 years into the future to the year 2015 so Marty can prevent his son being arrested, a chain reaction which tears his family apart.  While in 2015, Marty acquires a sports statistics almanac which he plans to use for gambling, however his plan is foiled when 'old' Biff steals the book and the time machine...
When Marty & Doc return to 1985, they realise to their horror that it's a very alternate year to the one they know and love. Hill Valley is crime-ridden, Marty's father is dead and Biff is the richest man in America, a fortune he amassed by gambling!
Doc & Marty hatch a plan to return the present to it's 'normal' state by travelling back to the point in time when 'young' Biff acquires the sports almanac from 'old' Biff... Which just so happens to be 1955.
For entertainment value, this hits the spot, but it's so riddled with plot holes and paradoxes that it makes absolutely no sense whatsoever, but this will only bother you if you let it.
Director Robert Zemeckis did a brilliant job in the making of this, especially if you consider that some of the original cast didn't return (notably Crispin Glover as George McFly and Claudia Wells as Jennifer, replaced by Elisabeth Shue)
Many of the jokes are carbon copies from the first film, but that's all part of the joke. Despite a cliffhanger which leaves you hanging for the third and concluding part, this is still one of the best sequels of all time.
8/10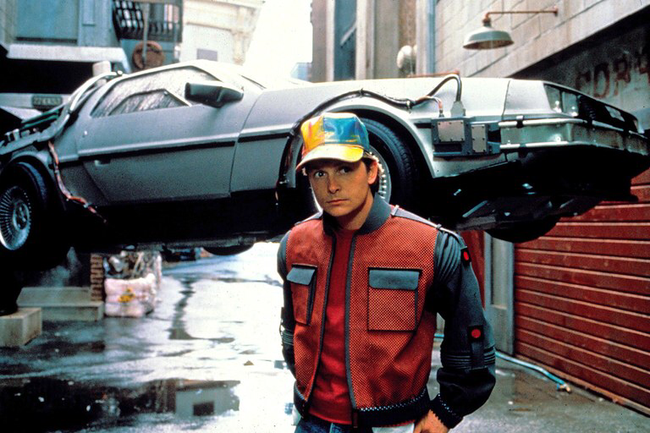 Did You Know:
Crispin Glover sued the filmmakers, as he had not granted permission to use his likeness in Part II (footage from the first movie and a lookalike were used). Crispin's suit named John Doe 1-100 as defendants, where he did not have to name all of the individuals he was suing. Crispin ended up dropping the lawsuit after the case was settled out of court for $765,000 by Universal's insurance company, who decided it would be cheaper to pay Crispin than to go to trial. The Screen Actors Guild subsequently introduced new rules about illicit use of actors.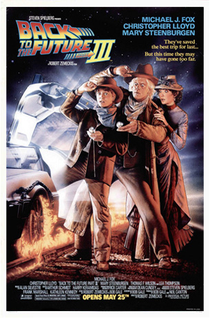 BACK TO THE FUTURE part III (PG)
Universal/Amblin (Bob Gale & Neil Canton)
Comedy/Science Fiction/Western
W: Robert Zemeckis & Bob Gale
Ed: Arthur Schmidt & Harry Keramidas
Pd: Rick Carter
Michael J. Fox (Marty McFly/Seamus McFly), Christopher Lloyd (Dr. Emmett Brown), Mary Steenburgen (Clara Clayton), Lea Thompson (Maggie McFly/Lorraine Baines-McFly), Thomas F. Wilson (Biff Tannen/Buford 'Mad Dog' Tannen)
The third and final film again follows directly on from it's predecessor. 
When the DeLorean time machine is struck by lightning at the end of the second film, it sends Doc Brown back to the Wild West of 1885. He stashes the time machine in a cave where it will remain hidden for Marty to find, which he does, and travels back to rescue the scientist before he's murdered by outlaw, Mad Dog Tannen (Thomas F. Wilson again).
With it's tongue firmly in-cheek, the movie mocks the traditional western, with Marty using the moniker Clint Eastwood while in the Old West so he can appear tougher. Unfortunately for Marty, this doesn't quite work, but he still gets a chance to introduce moonwalking and the Frisbee to the Wild West.
It sets up a thrilling ending in which the trilogy ends with a huge bang and not a whimper.
The second and final movies don't have the brilliant screenplay which made the first film such a classic but they do round off a very good trilogy. If Hollywood had sense they would leave these movies alone now and terminate any plans for remakes immediately. 
8/10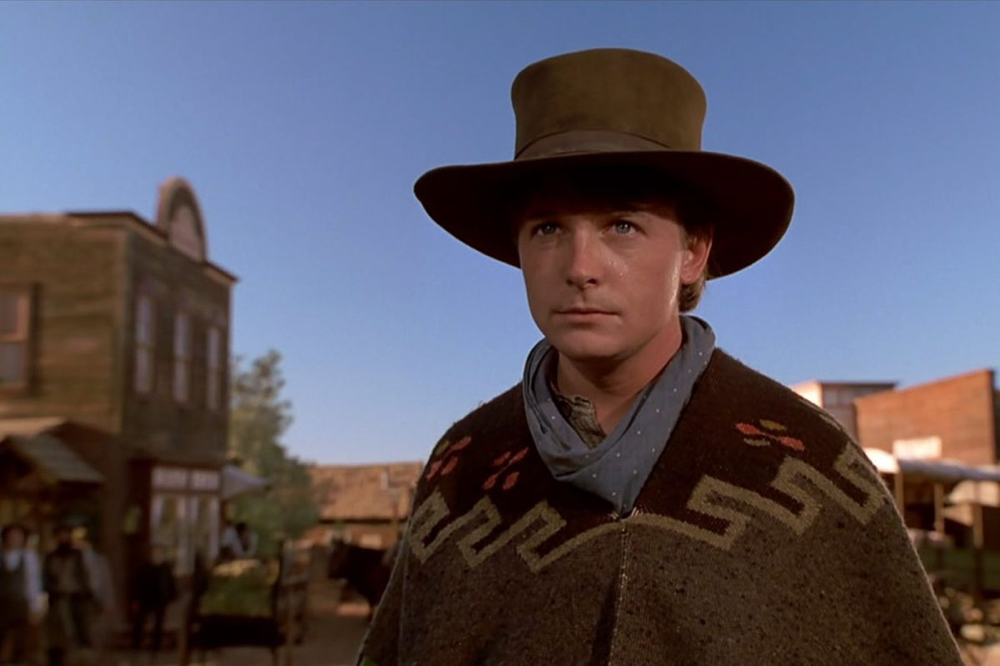 Did You Know:
When Doc and Marty are at the drive-in preparing the DeLorean for the trip to 1885, Marty mentions Clint Eastwood and Doc replies, "Clint who?" In this shot, there is a movie poster on the drive-in's wall showcasing Revenge of the Creature (1955) and Tarantula (1955), containing some of the first film appearances of a young, then-unknown Eastwood. Marty even looks to and briefly points to the poster as he says to Doc "That's right, you haven't heard of him yet."