A Bug's Life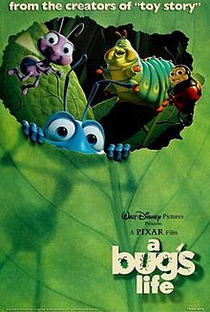 A BUG'S LIFE (PG)
Disney/Pixar (Darla K. Anderson & Kevin Reher)
W: Andrew Stanton, Donald McEnery, Bob Shaw, John Lasseter & Joe Ranft
Voices of: Dave Foley (Flik), Kevin Spacey (Hopper), Julia Louis-Dreyfus (Princess Atta), Hayden Panettiere (Dot), Phyllis Diller (Queen), Richard Kind (Molt), David Hyde Pierce (Slim) 
Pixar's second computer-animated feature following Toy Story has a story which bears comparison to Dreamworks' own computer-animated feature, Antz, released the same year and with an incredibly similar storyline.
A worker ant & a group of circus bugs try to overthrow a gang of threatening grasshoppers. 
I'd have to say that out of the two, Antz is the better movie. This has its moments but simply isn't as memorable as other Pixar flicks.
6/10