The Awful Truth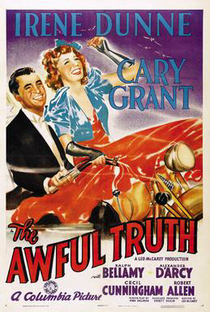 THE AWFUL TRUTH (U)
D: Leo McCarey
Columbia (Leo McCarey)
USA 🇺🇸 1937
90 mins
Comedy
W: Viña Delmar [based on the play by Arthur Richman]
DP: Joseph Walker
Ed: Al Clark
Mus: Morris Stoloff; Ben Oakland & Milton Drake
Irene Dunne (Lucy Warriner), Cary Grant (Jerry Warriner), Ralph Bellamy (Dan Leeson), Alexander D'Arcy (Armand Duvalle), Cecil Cunningham (Aunt Patsy), Esther Dale (Mrs. Leeson)
Classic screwball comedy from the late 30's starring Cary Grant and Irene Dunne in top form as a married couple who decide to divorce for trivial reasons, and over custody of a dog plot to sabotage each other's subsequent chances at finding love elsewhere.
Very much a product of its time, swinging between a comedy of manners and irreverent farce, but it's still enjoyable as a classic of its day. Leo McCarey won an Oscar for direction, but it missed out on wins elsewhere. Grant is excellent with his usual act, but Irene Dunne is the real standout, and probably should have won for her Academy Award nomination.
8/10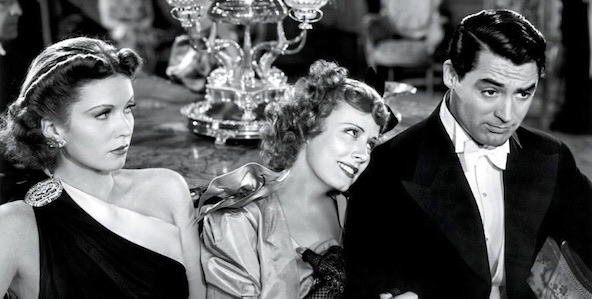 Did You Know:
The dog playing Mr. Smith was named Skippy, and was most popular for its role in The Thin Man (1934). On those movies, he was notorious for trying to bite actors. Even in this film, there's a scene where Cary Grant is trying to play with the dog, and it very obviously snaps at him.

Award Wins & Nominations:
MILSTEAD MOVIE AWARDS:
Wins: 2 (Best Actress in a Leading Role; Best Screenplay - Adaptation)
Nominations: 6 (Best Picture, Best Actor in a Leading Role; Best Director; Best Actor in a Supporting Role; Best Film Editing; Best Original Musical or Comedy Score)
OSCARS:
Wins: 1 (Best Director)
Nominations: 5 (Best Picture; Best Actress in a Leading Role; Best Actor in a Supporting Role; Best Screenplay; Best Film Editing)
BAFTAS
Wins: none
Nominations: none
OTHER WINS:
None