The Artist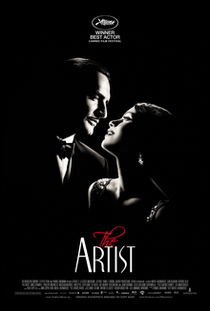 THE ARTIST (PG)
D: Michael Hazanavicius
The Weinstein Company (Thomas Langmann) 
W: Michael Hazanavicius 
Ed: Michael Hazanavicius & Anne-Sophie Bion
Mus: Ludovic Bource
Pd: Laurence Bennett
Cos: Mark Bridges
Jean Dujardin (George Valentin), Berenice Bejo (Peppy Miller), James Cromwell (Clifton), John Goodman (Al Zimmer), Penelope Ann Miller (Doris), Malcolm McDowell (The Butler), Uggie (The Dog)
A silent film about a Hollywood leading song & dance star who becomes worried about his appeal following the birth of the 'talkies' and the decline of silent movies.
On artistic merit, The Artist is an excellent production. Meticulous to detail in every way and the two main performances are superbly acted (although both are arguably upstaged by a dog). Entertainment-wise, it's thoroughly enjoyable as a break from the norm, but not necessarily a film you'd watch other than for it's novelty and possibly not more than once.
It really is a delicious irony that this, a silent movie, won the Best Picture Oscar on the wake of Avatar's success and the rebirth of 3D movies and super-budget blockbusters, proving that all the money in the world can be spent, but all you really need is a good story. I wouldn't like to see this become fashionable though, the gimmick has been done now, and on this occasion, it worked very well.
The movie gets 10 out of 10 for effort and it's refreshing to see a noble and appreciated experimetal piece of independent work which surreptitiously gives Hollywood the finger, but it really wasn't the "Best Film of 2011".
8/10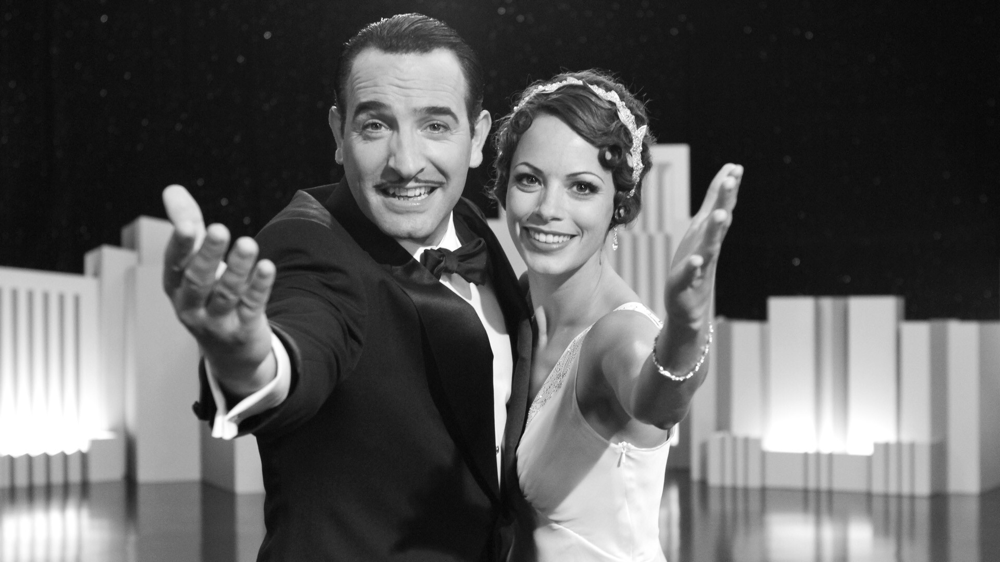 Did You Know:
Jean Dujardin and Bérénice Bejo rehearsed the climactic dance sequence for five months, practicing almost every day in the same studio that Debbie Reynolds and Gene Kelly used to rehearse for Singin' in the Rain (1952).

Award Wins & Nominations:
MILSTEAD MOVIE AWARDS:
Wins: 3 (Best Screenplay - Original; Best Costume Design; Best Original Musical or Comedy Score)
Nominations: 8 (Best Picture; Best Actor in a Leading Role; Best Director; Best Actress in a Supporting Role; Best Ensemble Cast; Best Cinematography; Best Film Editing; Best Production Design)
OSCARS:
Wins: 5 (Best Picture; Best Actor in a Leading Role; Best Director; Best Costume Design; Best Original Score)
Nominations: 5 (Best Actress in a Supporting Role; Best Original Screenplay; Best Art Direction; Best Cinematography; Best Film Editing)
BAFTAS
Wins: 7 (Best Film, Best Actor in a Leading Role, Best Director, Best Original Screenplay, Best Cinematography, Best Costume Design, Best Music)
Nominations: 5 (Best Actress in a Leading Role; Best Film Editing; Best Makeup; Best Production Design; Best Sound)
OTHER WINS:
Golden Globes (Best Film - Musical / Comedy, Best Actor - Musical / Comedy, Best Original Score); AACTA (Best Film, Best Actor, Best Director); AARP Movies for Grownups (Best Comedy); Alliance of Women Film Journalists (Best Film, Best Director); ACCA (Best Film, Best Costume Design, Best Original Score); Boston Society of Film Critics (Best Film, Best Music); British Society of Cinematographers (Best Cinematography); Cannes Film Festival (Best Actor, Palm Dog); Casting Society of America (Best Casting - Comedy); Cesars (Best Film, Best Actress, Best Director, Best Cinematography, Best Original Score, Best Production Design); Chicago Film Critics (Best Original Screenplay); Chlotrudis Awards (Best Film, Best Cinematography, Best Production Design); Critics Choice (Best Film, Best Director, Best Costume Design, Best Original Score); Denver Film Critics (Best Director, Best Original Score); Directors Guild Awards (Best Director); Dublin Film Critics (Best Film); Eddie (Best Editing - Musical/Comedy); European Film Awards (Best European Composer); Georgia Film Critics (Best Supporting Actress); Gold Derby Awards (Best Film, Best Lead Actor, Best Original Score); Golden Eagle (Best Foreign Film); Goya (Best European Film); Houston Film Critics (Best Original Score); Independent Spirit Awards (Best Feature, Best Male Lead, Best Director, Best Cinematography); Indiana Film Journalists (Best Picture, Best Director, Best Music); International Online Film Critics (Best Original Score); Las Vegas Film Critics (Best Film, Best Actor, Best Art Direction, Best Costume Design, Best Original Score); London Critics Circle (Best Film, Best Actor, Best Director); Lumieres (Best Film, Best Actress); New York Film Critics (Best Film, Best Director); Oklahoma Film Critics (Best Film, Best Director, Best Original Screenplay); OFTA (Best Film, Male Breakthrough Performance, Best Original Score); PGA Awards (Best Production); Phoenix Film Critics (Best Film, Best Actor, Best Director, Best Supporting Actress, Best Original Screenplay, Best Costume Design, Best Film Editing, Best Original Score); San Diego Film Critics (Best Picture); Satellite Awards (Best Art Direction); Screen Actors Guild (Best Actor); Silver Ribbon (Best European Director); St Louis Film Critics (Best Film, Best Director, Best Supporting Actress, Best Original Screenplay, Best Original Score); Utah Film Critics (Best Director); Vancouver Film Critics (Best Film, Best Screenplay); Washington DC Film Critics (Best Film, Best Score); Women Film Critics Circle (Best Screen Couple)