The Apartment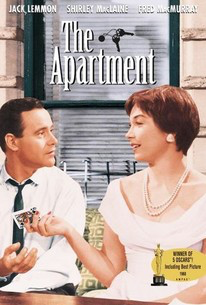 THE APARTMENT (PG)
D: Billy Wilder
United Artists/Mirisch (Billy Wilder)
W: Billy Wilder & I. A. L. Diamond
Jack Lemmon (C. C. Baxter), Shirley MacLaine (Miss Kubelik), Fred MacMurray (Jeff Sheldrake), Ray Walston (Joe Dobisch), Jack Kruschen (Dr. Dreyfuss), Joan Shawlee (Sylvia), Edie Adams (Miss Olsen), David Lewis (Al Kirkeby)
It's subjective whether or not this film deserved to win the Best Picture Oscar for 1960 over Alfred Hitchcock's masterpiece Psycho which failed to even receive a nomination for the award. The way I see it, perhaps it was an apology for Billy Wilder's own masterpiece, Some Like It Hot, failing to be nominated the previous year. That being said, The Apartment is doubtlessly a classic comedy from the great filmmaker.
Jack Lemmon plays timid insurance clerk C. C. Baxter with aspirations of promotion by 'loaning' his apartment out to his business executives so they can carry out their the extra-marital trysts with secretaries and mistresses.
Shirley MacLaine just happens to be one of those secretaries, the apple of CC's eye, but also in the sights of the personnel director who's hoping to get use of the apartment.
The humour is very much archetypal of Billy Wilder's work, almost stereotypically 'Jewish' with buzzwords and chutzpah. It's clear from this movie that he was a huge influence to Woody Allen and other filmmakers.
It's a very "proper" sex comedy which deals with the serious subjects adultery, suicide attempts and other questionable ethics without sinking into tawdriness or obscenities, even leaving space for a feelgood ending.
Jack Lemmon and Shirley MacLaine both deliver iconic performances and director/writer Wilder proves why he is one of the best Hollywood filmmakers of all time.
For me, it's not 'Best Picture perfect' but it's pretty darn close.
9/10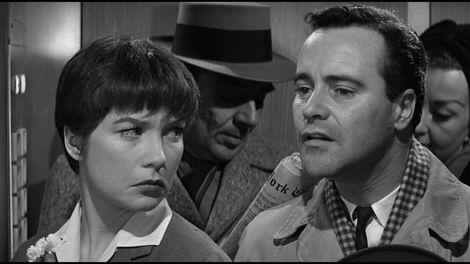 Did You Know:
To create the effect of a vast sea of faces labouring grimly and impersonally at their desks in the huge insurance company office, designers Alexandre Trauner and Edward G. Boyle devised an interesting technique. Full-sized actors sat at the desks in the front and children dressed in suits were used at tiny desks toward the rear, followed by even smaller desks with cut-out figures operated by wires. It gave the effect of a much larger space than could have been achieved in the limited studio space.

Award Wins & Nominations:
MILSTEAD MOVIE AWARDS:
Wins: 3 (Best Actress in a Leading Role; Best Ensemble Cast; Best Screenplay - Original)
Nominations: 9 (Best Picture; Best Actor in a Leading Role; Best Director; Best Actor in a Supporting Role; Best Cinematography; Best Film Editing; Best Original Musical or Comedy Score; Best Production Design; Best Sound)
OSCARS:
Wins: 5 (Best Picture; Best Director; Best Original Screenplay; Best Art Direction (B&W); Best Editing)
Nominations: 5 (Best Actor in a Leading Role; Best Actress in a Leading Role; Best Actor in a Supporting Role; Best Cinematography (B&W); Best Sound)
BAFTAS
Wins: 3 (Best Film; Best Foreign Actor; Best Foreign Actress)
Nominations: none
OTHER WINS:
Golden Globes (Best Film - Musical/Comedy, Best Actor -Musical/Comedy, Best Actress - Musical/Comedy); Cinema Writers Circle (Best Foreign Film); Directors Guild (Best Director); Golden Laurels (Best Comedy, Best Female Dramatic Performance); National Board of Review (Top 10 Films of the Year); New York Film Critics (Best Film, Best Director, Best Screenplay); Venice Film Festival (Best Actress); Writers Guild (Best American Comedy Screenplay)