The Alamo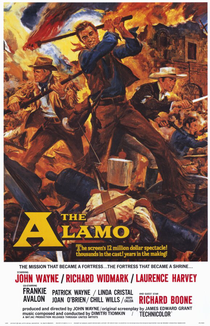 THE ALAMO (PG)
D: John Wayne
United Artists/Batjac (John Wayne)
US 🇺🇸 1960
167 mins (Roadshow version: 202 mins)
Western/War
W: James Edward Grant
DP: William H. Clothier
Ed: Stuart Gilmore
Mus: Dimitri Tiomkin
PD: Alfred Ybarra
Cos: Ron Talsky
John Wayne (Col. Davy Crockett), Richard Widmark (Col. Jim Bowie), Laurence Harvey (Col. William Travis), Frankie Avalon (Smitty), Patrick Wayne (Capt. James Bonham), Chill Wills (Beekeeper)
I'll admit that The Alamo is certainly a product of its time, but I also have to say that it's amongst the worst films to ever be nominated for a Best Picture Oscar.
A pet project for John Wayne, who produced, directed and starred in the production, which was a big budget bonanza for the time.
Set in 1836, the film follows the efforts of Col. Davy Crockett and a small band of soldiers who sacrifice their lives protecting the state of Texas from the rule of a Mexican tyrant & his army. 
Though the production was significantly groundbreaking for its time, the historical subject matter is given very little justice here. In fact, I knew even less about the background of the conflict coming out of this movie than I did going in, and much of the running time is bogged down in boring chit-chat that makes it feel even longer than its 167 minutes. 
Remember The Alamo? Hardly. It's an incredibly forgettable piece of work.
6/10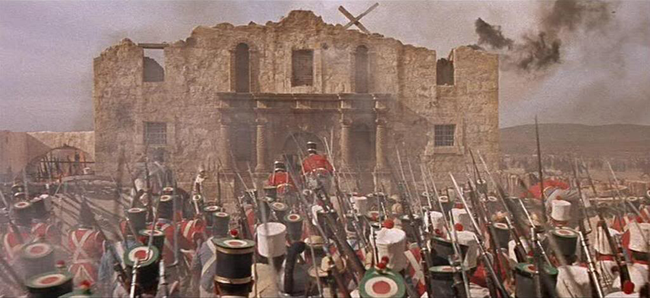 Did You Know:
Despite being an popular film in 1960, the film could not recoup its massive budget during its initial release. John Wayne assumed huge personal debt to get the film finished after United Artists refused to pay for cost overruns during production. It wasn't until the television rights were sold in 1971 that Wayne's personal debts were finally paid off.

Award Wins & Nominations:
MILSTEAD MOVIE AWARDS:
Wins: 1 (Best Sound)
Nominations: 4 (Best Cinematography, Best Film Editing, Best Original Dramatic Score, Best Original Song)
OSCARS:
Wins: 1 (Best Sound)
Nominations: 6 (Best Picture, Best Actor in a Supporting Role, Best Cinematography (Color), Best Film Editing, Best Original Score, Best Original Song)
BAFTAS
Wins: none
Nominations: none
OTHER WINS:
Golden Globes (Best Original Score); Golden Laurel Awards (Best Action Drama, Best Action Performance); National Board of Review (Top 10 Films Of The Year); Western Heritage Awards (Best Theatrical Motion Picture)