The Age of Innocence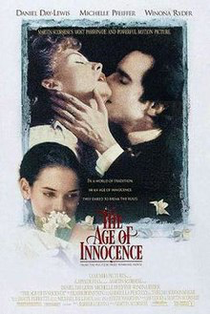 THE AGE OF INNOCENCE  (15)
Columbia (Barbara DeFina)
W: Jay Cocks & Martin Scorsese [based on the novel by Edith Wharton]
Mus: Elmer Bernstein
PD: Dante Ferretti
Cos: Gabriella Pescucci
Daniel Day-Lewis (Newland Archer), Michelle Pfeiffer (Countess Ellen Olenska), Winona Ryder (May Welland), Richard E. Grant (Larry Lefferts), Alec McCowen (Sillerton Jackson), Geraldine Chaplin (Mrs. Welland), Mary Beth Hurt (Regina Beaufort), Miriam Margolyes (Mrs Mingott)
Scorsese does period drama. Who'd have thunk it?
Set in New York's high society of 1870, a wealthy lawyer of good standing falls in love with his wife's cousin, a woman of ill-repute and the two embark on an extra-martial affair, causing a huge rift amongst the bourgeoisie of high society.
Scorsese isn't best known for directing period drama, but he does an exceptional job here, perfectly capturing a time of repression and staid individuals with the aid of impeccable production design, costumes and cinematography. The chemistry between Daniel Day-Lewis & Michelle Pfeiffer smoulders, but the use of voiceover detracts from the on-screen drama. Still, it's a worthwhile watch due to the excellent performances.
7/10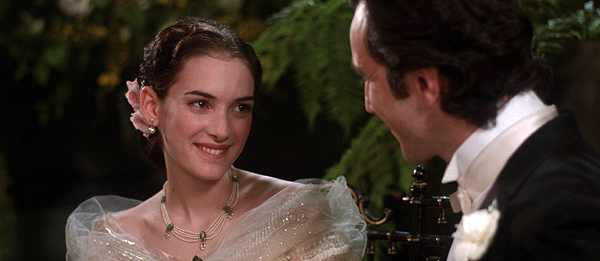 Did You Know:
Daniel Day-Lewis checked into the Plaza Hotel as "N. Archer" and lived there for 2 weeks wearing clothes suitable to his film character as research for Newland Archer.

Award Wins & Nominations:
MILSTEAD MOVIE AWARDS:
Wins: none
Nominations: 8 (Best Actress in a Leading Role; Best Actress in a Supporting Role; Best Ensemble Cast; Best Screenplay - Adaptation); Best Cinematography; Best Costume Design; Best Original Dramatic Score; Best Production Design)
OSCARS:
Wins: 1 (Best Costume Design)
Nominations: 4 (Best Actress in a Supporting Role; Best Screenplay - Adaptation; Best Art Direction; Best Original Score)
BAFTAS
Wins: 1 (Best Actress in a Supporting Role)
Nominations: 3 (Best Actress in a Supporting Role; Best Cinematography; Best Production Design)
OTHER WINS::
Golden Globes (Best Supporting Actress); Bodil Awards (Best American Film); Jupiter Award (Best International Actress); National Board of Review (Top 10 Films of the Year; Best Director; Best Supporting Actress); Silver Ribbon (Best Costume Design, Best Production Design); Southeastern Film Critics (Best Supporting Actress); 20/20 Awards (Best Costume Design)