The African Queen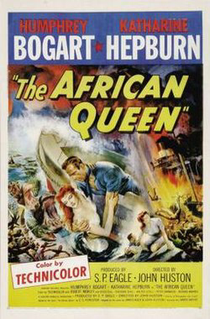 THE AFRICAN QUEEN (PG)
D: John Huston
United Artists/Romulus-Horizon (Sam Spiegel)
W: James Agee [based on the novel by C.S. Forester]
DP: Jack Cardiff
Humphrey Bogart (Charlie Allnut), Katharine Hepburn (Rose Sayer), Robert Morley (Rev. Samuel Sayer), Peter Bull (Captain), Theodore Bikel (2nd Officer)
Amongst the great adventure films of the 1950's, though it has dated a little clumsily due to the set-bound scenes and real African footage not quite marrying. This can easily be forgiven however considering the strength of the two lead performances.
Humphrey Bogart won his only Oscar for his performance as Charlie Allnut, a gin-drinking trader who takes an odd choice of companion in missionary Rose Sayer, when they escape conflict in an African village by journeying down a dangerous river, culminating in a standoff with a German gunboat.
Though it is a little dated by modern standards, this production was incredibly well done for its time, with particular focus on the characters to drive the story, although the action set-pieces are still thoroughly exciting.
8/10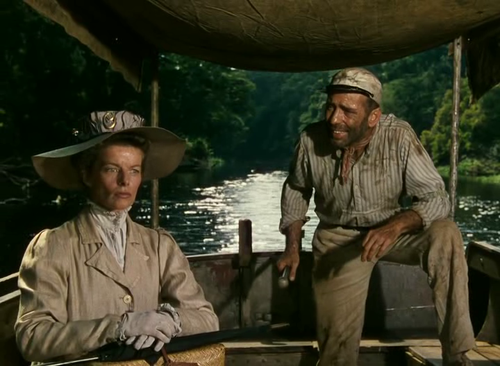 Did You Know:
Sources claimed that everyone in the cast and crew got sick except Humphrey Bogart and John Huston, who said they avoided illness by essentially living on imported Scotch whiskey. Bogart later said, "All I ate was baked beans, canned asparagus and Scotch whiskey. Whenever a fly bit Huston or me, it dropped dead."
Award Wins & Nominations:
MILSTEAD MOVIE AWARDS:
Wins: none
Nominations: 8 (Best Picture; Best Actor in a Leading Role; Best Actress in a Leading Role; Best Director; Best Screenplay - Adaptation; Best Cinematography; Best Sound; Best Sound Effects)
OSCARS:
Wins: 1 (Best Actor in a Leading Role)
Nominations: 3 (Best Actress in a Leading Role; Best Director; Best Screenplay)
BAFTAS
Wins: none 
Nominations: 3 (Best Film; Best Foreign Actor; Best Foreign Actress)
OTHER WINS:

none