The Adventures of Robin Hood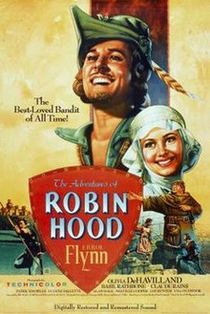 THE ADVENTURES OF ROBIN HOOD (U)
D: Michael Curtiz
Warner Bros. (Hal B. Wallis)
W: Seton I. Miller & Norman Reilly Raine
DP: Tony Gaudio & Sol Polito
Ed: Ralph Dawson
Mus: Erich Wolfgang Korngold
PD: Carl Jules Weyl
Error Flynn (Sir Robin of Locksley), Basil Rathbone (Sir Guy of Gisborne), Claude Rains (Prince John), Olivia de Havilland (Maid Marian), Alan Hale (Little John), Patrick Knowles (Will Scarlett), Eugene Pallette (Friar Tuck), Ian Hunter (King Richard), Melville Cooper (Sheriff of Nottingham)
Arguably the finest version of Robin Hood to make it's way to the silver screen, with Errol Flynn delivering one of his all time great performances as the rebel outlaw who robbed the rich to give to the poor.
Some may argue that all aspects of the production are dated by today's standards but this is an absolute classic of the swashbuckler genre and has to be given it's due merit for convincingly recreating Medieval England in California as well as being one of the first films to use three-colour technicolor photography.  There's a few remakes which satisfy the popcorn-munching audience, but this is the definitive version of the age old legend. They don't make them like this anymore.
9/10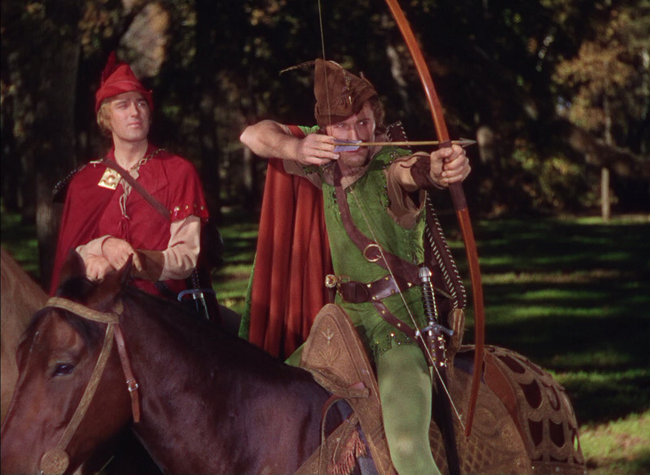 Did You Know:
Apparently, the film was so successful that a sequel was commissioned. However, the US government wanted to restrict the amount of money invested in filmmaking at that point in anticipation of joining World War II, so it was delayed. By 1945, when the war was over, the project was scrapped because Olivia de Havilland and Claude Rains were no longer employed at Warner Bros.

Award Wins & Nominations:
MILSTEAD MOVIE AWARDS:
Wins: 5 (Best Picture; Best Art Direction; Best Cinematography; Best Film Editing; Best Original Dramatic Score)
Nominations: 7 (Best Director; Best Actor in a Supporting Role; Best Actress in a Supporting Role; Best Screenplay - Original; Best Costume Design; Best Makeup; Best Sound)
OSCARS:
Wins: 3 (Best Art Direction, Best Film Editing, Best Original Score)
Nominations: 1 (Best Picture)
BAFTAS
Wins: none 
Nominations: none
OTHER WINS:

none