The Adventures of Priscilla, Queen of The Desert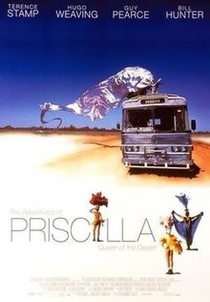 THE ADVENTURES OF PRISCILLA, QUEEN OF THE DESERT (15)

Polygram/AFFC/Latent Image/Specific Films (Al Clark & Michael Hamlyn)
W: Stephan Elliott
Cos: Lizzy Gardiner & Tim Chappel
Terence Stamp (Bernadette), Guy Pearce (Adam/Felicia), Hugo Weaving (Tick/Mitzi), Bill Hunter (Bob), Sarah Chadwick (Marion), Mark Holmes (Benji), Julia Cortez (Cynthia)
Three drag artists, one a transsexual, drive a bus from Sydney to Alice Springs for a cabaret gig and encounter problems along the way, including the bus breaking down and vitriolic abuse from some mid-country bigots.
An original take on the road movie genre, with  great performances from it's three leading men, especially Terence Stamp.  It's all good, cheery, camp fun with some delightfully bitchy dialogue and moments of genuine warmheartedness. 
7/10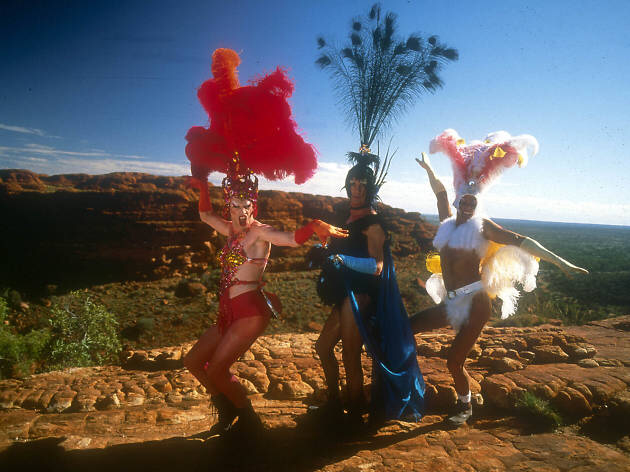 Did You Know:
David Bowie, John Cleese, Tim Curry, Tony Curtis and John Hurt were all considered to play Bernadette.
Award Wins & Nominations:
MILSTEAD MOVIE AWARDS:
Wins: 1 (Best Costume Design)
Nominations: 2 (Best Actor in a Leading Role; Best Screenplay (Original))
OSCARS:
Wins: 1 (Best Costume Design)
Nominations: none
BAFTAS
Wins: 2 (Best Costume Design; Best Makeup)
Nominations: 5 (Best Actor in a Leading Role; Best Screenplay (Original); Best Cinematography; Best Music; Best Production Design)
OTHER WINS:

AFI Awards (Best Costume Design, Best Production Design); Chlotrudis Awards (Best Movie); GLAAD Media Awards (Outstanding Film); Seattle International Film Festival (Best Film, Best Actor)