The Addams Family / Addams Family Values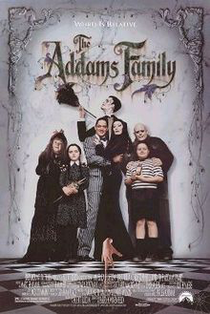 THE ADDAMS FAMILY  (PG)

Paramount/Orion (Scott Rudin)
W: Caroline Thompson & Larry Wilson [based on the characters created by Charles Addams]
Ed: Dede Allen & Jim Miller
Cos: Ruth Myers
Anjelica Huston (Morticia Addams), Raul Julia (Gomez Addams), Christopher Lloyd (Uncle Fester/Gordon Craven), Dan Hedaya (Tully Alford), Elizabeth Wilson (Abigail Craven), Judith Malina (Granny), Jimmy Workman (Pugsley), Christina Ricci (Wednesday), Carel Struycken (Lurch)
An imposter claiming to be Uncle Fester turns up at the Addams family mansion, with a secret plan of putting the family into ruin so a crooked lawyer can cash in on the family estate.

While this big screen update of the 1960's TV show hits the proverbial nail on the head in terms of production design, costumes and makeup, the script and story simply aren't engaging or particularly funny, concentrating more on being campy and macabre rather than generating any real laughs.  The performances can't be faulted either, in fact, the casting decisions were excellent, all of which are near perfect doubles of the TV show counterparts, especially Anjelica Huston as Morticia and Christina Ricci as Wednesday. The actors just needed something better to work with. Fortunately, they got a much better script for the sequel Addams Family Values (see below).
5/10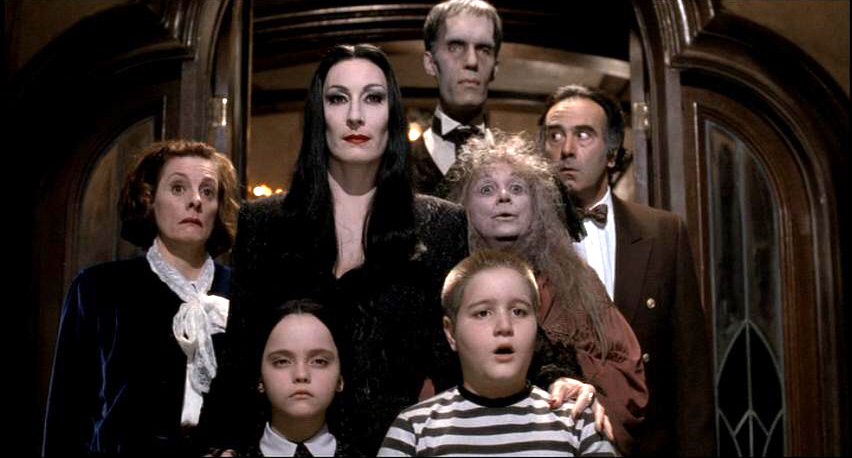 Did You Know:
In the television series, Fester was Morticia's uncle (and hence not technically an Addams), but in this movie and its sequels, he is Gomez's brother, and is referred to as Fester Addams.
Award Wins & Nominations:
MILSTEAD MOVIE AWARDS:
Wins: none
Nominations: 3 (Best Costume Design; Best Makeup Design; Best Production Design)
Worst of the Year: 2 Nominations (Worst Remake/Ripoff; Worst Original Song)
OSCARS:
Wins: none
Nominations: 1 (Best Costume Design)
BAFTAS
Wins: none
Nominations: 2 (Best Makeup; Best Production Design)
OTHER WINS:

Fangoria Awards (Best Supporting Actress); Razzie Awards (Worst Original Song); 20/20 Awards (Best Makeup); Young Artist Awards (Best Young Actor)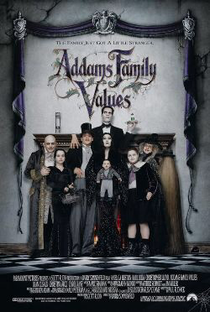 ADDAMS FAMILY VALUES  (PG)

W: Paul Rudnick [based on the characters created by Charles Addams]
Ed: Arthur Schmidt & Jim Miller
PD: Ken Adam
Anjelica Huston (Morticia Addams), Raul Julia (Gomez Addams), Christopher Lloyd (Uncle Fester), Joan Cusack (Debbie Jellinsky), Jimmy Workman (Pugsley), Christina Ricci (Wednesday), Carol Kane (Granny Addams), Carel Struycken (Lurch)
A rare occasion when a sequel is actually a huge improvement on the first film. 
The Addams children try to kill their new baby brother and are subsequently sent to a summer camp.  Meanwhile, Uncle Fester falls in love with the baby's new nanny who turns out to be a gold-digging serial killer.
This is a sequel which betters the first movie for many reasons, the first being that it's funny and well scripted, with an engaging storyline. 
There's a lot more for the characters to do as well and the Addams children steal the show, especially Christina Ricci, who absolutely nails Wednesday Addams. The makeup, production design and costumes are also fantastic.
7/10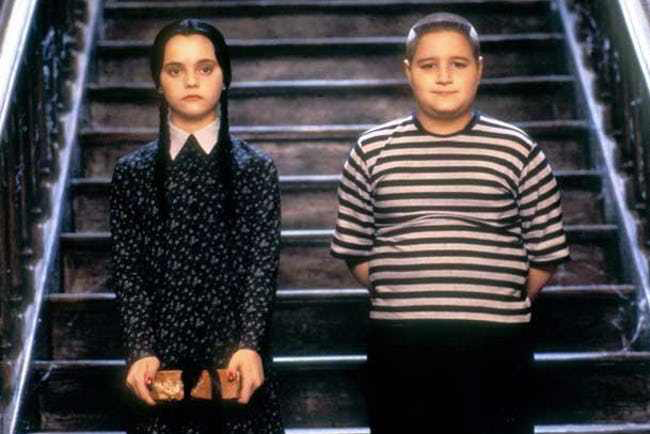 Did You Know:
Carol Kane, who plays Grandmama, is almost a year younger than Anjelica Huston, who plays her daughter, Morticia Addams.

Award Wins & Nominations:
MILSTEAD MOVIE AWARDS:
Wins: 1 (Best Supporting Actress)
Nominations: 4 (Best Remake or Sequel; Best Makeup Design; Best Original Musical or Comedy Score; Best Production Design)
Worst of the Year: 1 nomination (Worst Original Song)
OSCARS:
Wins: none
Nominations: 1 (Best Art Direction)
BAFTAS
Wins: none
Nominations: 1 (Best Makeup)
OTHER WINS:
London Critics Circle (Technical Achievement - Production Design); Razzies (Worst Original Song); Saturn Award (Best Makeup)