Avengers (MCU)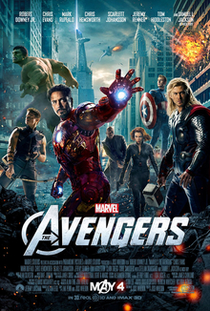 AVENGERS ASSEMBLE (aka MARVEL'S THE AVENGERS) (12)
D: Joss Whedon
Paramount/Marvel (Kevin Fiege)
Adventure/Science Fiction/Fantasy
W: Joss Whedon [based on characters from Marvel's comic books]
Ed: Jeffrey Ford & Lisa Lassek
Robert Downey, Jr. (Tony Stark/Iron Man), Chris Evans (Steve Rogers/Captain America), Mark Ruffalo (Bruce Banner/Hulk), Chris Hemsworth (Thor), Scarlett Johansson (Natasha Romanov/Black Widow), Jeremy Renner (Hawkeye), Tom Hiddlestone (Loki), Samuel L. Jackson (Nick Fury)
It's like the party of the year, and everyone's been invited.
What writer/director Joss Whedon has done here is blended all the elements of what makes a great summer blockbuster successful without compromising characters, a good story or shitting over the fans of the original franchises- it was a tough ask too, considering this movie contained characters from several.
All the action set pieces were a marvel to behold without distracting with gratuitous, dizzying pyrotechnics, flashy camera movements and relentless editing.
This movie works as an apex to all the recent Marvel movies (Iron Man, Captain America, The Incredible Hulk, Thor) but can also be appreciated as a standalone movie, with the four superheroes joining an allegiance to defeat the otherworldly army of the mischievious, power-hungry Loki (it helps if you've seen Thor or are familiar with the comic book characters, but it's not wholly essential).
Robert Downey, Jr., Chris Evans, Chris Hemsworth and others all return to reprise their roles from the previous films, but it was a real catch casting Mark Ruffalo as Bruce Banner/Hulk. He nailed the character perfectly and without doubt delivers the most faithful portrayal of the character on the big screen thus far. It's also good to see a realistic CGI Hulk following the rather disappointing incarnations in the previous films.
A sequel was inevitable, and rightly so, the superhero subgenre, especially of Marvel characters is hot property for Hollywood, and for all the right reasons. Not to be mixed up with 1998's The Avengers!
8/10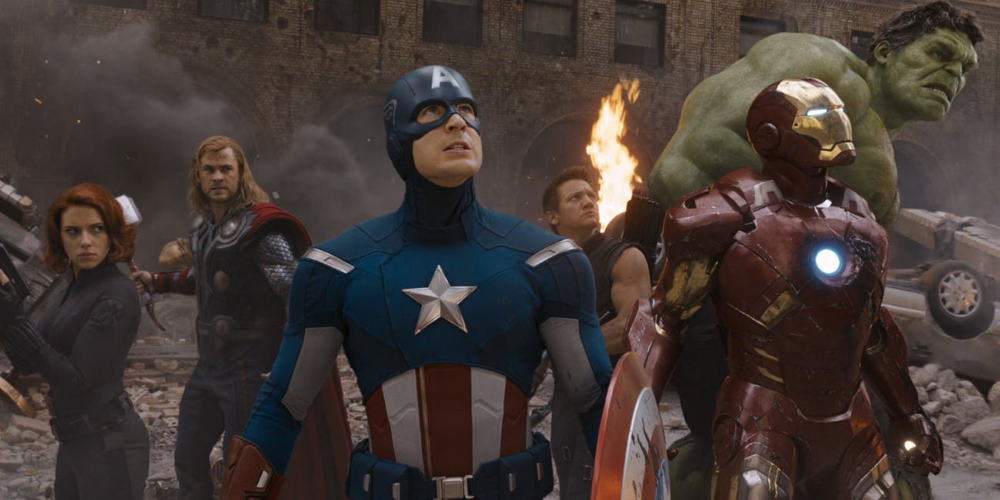 Did You Know:
Robert Downey, Jr. kept food hidden all over the lab set, and apparently nobody could find where it was, so they just let him continue doing it. In the movie, that's his actual food he's offering, and when he was eating, it wasn't scripted, he was just hungry.

Award Wins & Nominations:
MILSTEAD MOVIE AWARDS:
Wins: 1 (Best Visual Effects)
Nominations: 4 (Best Picture; Best Production Design; Best Sound; Best Sound Effects Editing)
OSCARS:
Wins: none
Nominations: 1 (Best Visual Effects)
BAFTAS
Wins: none
Nominations: 1 (Best Visual Effects)
OTHER WINS:
Saturn Awards (Best Science Fiction Film, Best Director, Best Supporting Actor, Best Special Effects); Annie Awards (Best Animated Effects); Golden Schmoes (Best Special Effects, Best Action Scene, Most Memorable Scene, Best T&A); Hollywood Film Awards (Best Visual Effects); Hollywood Post Alliance (Outstanding Compositing); Hugo Awards (Best Dramatic Presentation); IGN Awards (Best Movie, Best Director, Best Comic Book Movie, Best Blu-Ray); INOCA (Best Visual Effects); Internet Film Critics (Best Action Film); MTV Movie Awards (Best Movie, Best Villain, Best Fight); People's Choice Awards (Best Superhero); SFX Awards (Best Film, Best Director); Teen Choice Awards (Choice Summer Movie: Action/Adventure, Choice Summer Movie Star - Male);  Visual Effects Society (Outstanding Created Environment, Outstanding Models); World Stunt Awards (Best Fight, Best High Work, Hardest Hit)
AVENGERS: AGE OF ULTRON (12)
Disney/Marvel (Kevin Feige)
Science Fiction/Adventure
Ed: Jeffrey Ford & Lisa Lassek
Mus: Brian Tyler & Danny Elfman
Robert Downey, Jr. (Tony Stark/Iron Man), Chris Evans (Steve Rogers/Captain America), Chris Hemsworth (Thor), Mark Ruffalo (Bruce Banner/Hulk), Scarlett Johansson (Natasha Romanov/Black Widow), Jeremy Renner (Clint Barton / Hawkeye), Don Cheadle (James Rhodes/War Machine), Aaron Taylor-Johnson (Pietro Maximoff/Quicksilver), Elizabeth Olson (Wanda Maximoff/Scarlet Witch), Paul Bettany (voice of J.A.R.V.I.S./Vision), James Spader (Ultron), Samuel L. Jackson (Nick Fury)
The Superman IV of the Marvel films. 
Actually, that's not at all fair, the production values, visual effects and action set pieces are every bit as good as previous films from the Marvel universe, it's just the story that's complete hodgepodge.
As with the previous films, it's absolutely imperative that all previous films are watched in chronological order as they all follow off one another. 
The story sees Tony Stark, in a cross between playing God and fighting his own demons, toy with something he doesn't understand in order to put a powerful force field around the Earth to protect it from events in the first film from happening again. Things go wrong and Stark's own software becomes corrupted, resulting in a team of metal soldiers bringing about the threat of apocalypse.
It's best not to think about the story, which is a complete mishmash of nonsense, and focus merely on the string of action set pieces, put together with state-of-the-art computer effects and timely choreography.
Unlike the 2012 film, this does try to cram in far too much information and way too many characters. It feels like a house party where everyone is vying for attention, but all you really want to do is have a few beers in the kitchen. 
The Avengers films really need to be a main event in the Marvel series of films, but this still feels much like a sideshow, preparing things for the next in the series rather than being a standalone movie of its own.
6/10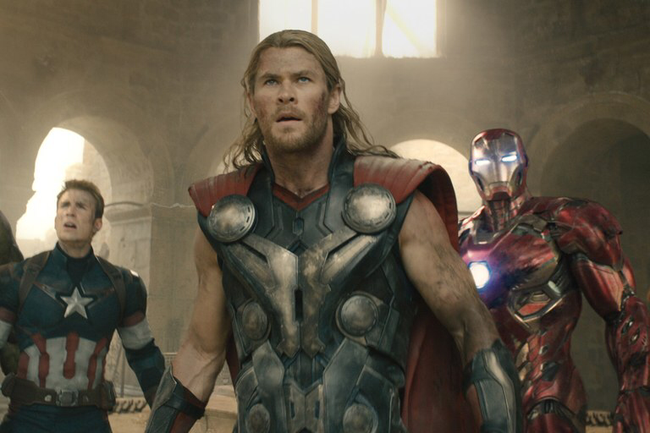 Did You Know:
Scarlett Johansson was pregnant during filming, so many of her scenes were scheduled early in filming before she began to show. To help hide her pregnancy later in filming, three stunt doubles were hired. This caused a lot of confusion amongst the other actors since, according to them, all of the stunt women looked very similar to Johansson. Chris Evans stated that it got to the point where he would say hello and start a conversation with one of them only to realize midway that the person he was talking to wasn't Johansson. Ultimately, some scenes used CGI to hide Johansson's belly.

Award Wins & Nominations:
MILSTEAD MOVIE AWARDS:
Wins: none
Nominations: 1 (Best Sound)
OSCARS:
Wins: none
Nominations: none
BAFTAS
Wins: none
Nominations: none
OTHER WINS:
Saturn Awards (Best Costume Design); Annie Awards (Outstanding Animated Effects); Teen Choice Awards (Choice Scene Stealer)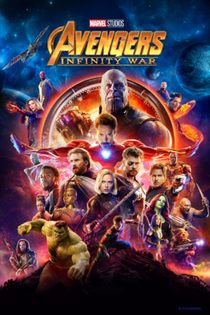 AVENGERS: INFINITY WAR (12)
D: Anthony Russo & Joe Russo
Disney/Marvel (Kevin Feige)
USA 🇺🇸 2018
149 mins
Science Fiction/Fantasy
W: Christopher Marcus & Stephen McFeely
DP: Trent Opaloch
Ed: Jeffrey Ford & Matthew Schmidt
Mus: Alan Silvestri
PD: Charles Wood
Cos: Judianna Makovsky
Robert Downey, Jr. (Tony Stark / Iron Man), Chris Hemsworth (Thor), Mark Ruffalo (Bruce Banner / Hulk), Chris Evans (Steve Rogers / Captain America), Scarlett Johansson (Natasha Romanoff / Black Widow), Benedict Cumberbatch (Doctor Strange), Don Cheadle (James Rhodes / War Machine), Tom Holland (Peter Parker / Spider-Man), Chadwick Boseman (T'Challa / Black Panther), Paul Bettany (Vision), Elizabeth Olsen (Wanda Maximoff / Scarlet Witch), Josh Brolin (Thanos), Chris Pratt (Peter Quill / Star Lord), Bradley Cooper (Rocket), Vin Diesel (Groot), Dave Bautista (Drax), Zoe Saldana (Gamora)
**SPOILER WARNINGS**
Celebrating the 10 year anniversary of the Marvel Cinematic Universe comes this 19th film since 2008's Iron Man set the franchise on its money-spinning way, amassing a gargantuan cast of characters for this comic book adventure. 
The story picks up from the strands from many of the films which precludes it, particularly the first two Avengers movies, the two Guardians Of The Galaxy films and the third Thor movie, but it would be incredibly beneficial to have seen all 18 Marvel movies leading up to this one, so you know exactly where the story is.  It probably would be accessible to watch this as a standalone film, but I wouldn't recommend it.
Directors Anthony & Joe Russo do an excellent job amassing the cast, just as they did with Captain America: Civil War, and though the film has a trio of main storylines, it's not difficult to follow.
The plot concerns our superheroes trying to prevent bad guy Thanos from claiming all six infinity stones, which he plans to place in his weaponised gauntlet to become the most powerful being in the universe, a nefarious plan which will culminate in the demise of half the population of all planets.
The action begins straight away, with Thanos attacking the refugees of Asgard to claim the Space Stone, hidden inside the Tesseract which Loki smuggled away before his home planet's destruction. 
The Avengers then amass, even collaborating with the Guardians of The Galaxy to prevent Thanos from claiming the remaining stones, which will allow him to control time, souls and minds, as well the universe in its entirety.
For fans of superhero movies and the MCU in particular, this will be everything they want and more, and even if you're not a huge fan of comic-book movies this is still an amazing show, with state of the art visual effects which deserve to be seen on the big screen (the bigger the better, and preferably in 3D).
There are a few plotholes if you look deep enough, some of the major characters are relegated to mere comic-relief and some of the humour doesn't quite marry up with some of the bleaker moments. The cliffhanger ending also seems like a cynical trap to ensure that the audience return for the next film (released in 2019), but this is every bit worth the price of an admission ticket and is the definitive popcorn event movie of 2018's summer, proved by the financial return over its opening weekend, where it broke all records.
I'd say 75% of this movie is the best superhero movie ever, but the closing scene does leave you high and dry & makes you feel like you've just witness a two & a half hour trailer for the next Avengers film.
8/10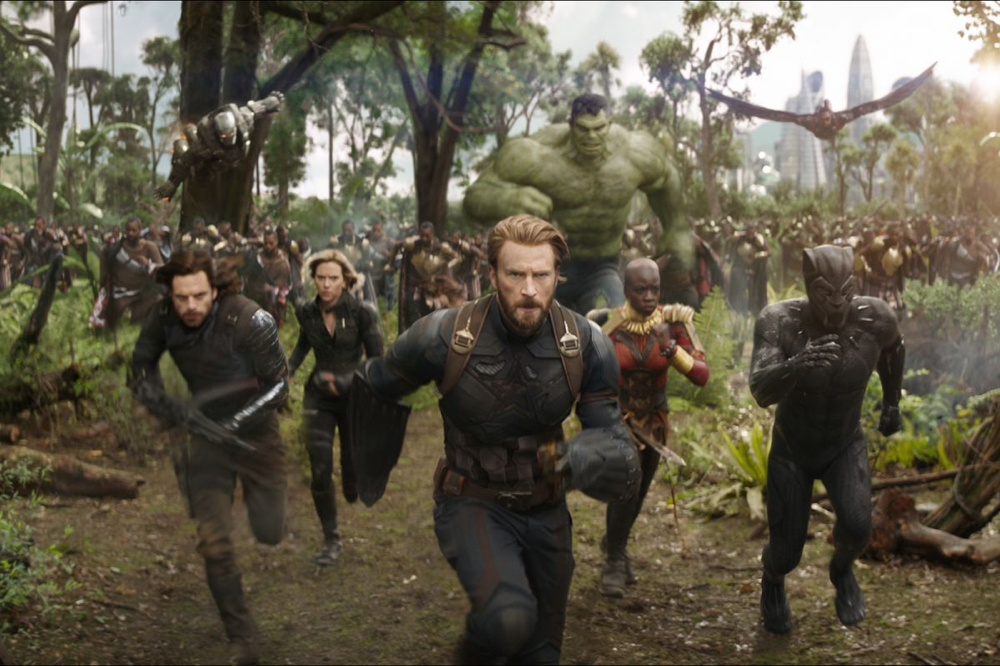 Did You Know:
Tom Holland was not allowed to read the script for this movie, since he revealed too many secrets for Spider-Man: Homecoming (qv). Mark Ruffalo has also admitted that he was given a fake script, so he wouldn't reveal anything in promotional interviews prior to filming.

Award Wins & Nominations:
TBA