Avatar
AVATAR (12)
D: James Cameron
20th Century Fox/Lightstorm (James Cameron & Jon Landau)
DP: Mauro Fiore
Ed: Stephen Rivkin, John Refoua & James Cameron
Mus: James Horner
Pd: Rick Carter & Robert Stromberg
Sam Worthington (Jake Sully), Zoe Saldana (Neyteri), Sigourney Weaver (Dr. Grace Augustine), Giovanni Ribisi (Parker Selfridge), Wes Studi (Eytukan), Michelle Rodriguez (Trudy Chacón), Stephen Lang (Col. Miles Quaritch)
Aesthetically, Avatar could potentially be the greatest and most creative motion picture in cinema history. Every frame of action has so much scale and depth unlike anything ever seen before. The conceptual design of the alien tribes, landscapes, wildlife and plants are breathtakingly imagined, in addition to all the other CGI visual effects on display. You have to hand it to director James Cameron, he sure can put on the greatest show on earth.
Storytelling and story-writing however, are two completely different beasts, and that where Avatar's flaws lie.
Set on the faraway planet of Pandora, wheelchair-bound soldier takes his late brother's place in a scientific program where he is able to control an alien species avatar and infiltrate their tribe, the point being to negotiate a peace before human diggers destroy their homestead to mine for a precious element, unimaginatively called Unobtainium.     
However, the more time he spends amongst the Na'vi alien clan, the more he appreciates their lifestyle and customs, yearning to be one of them rather than the greedy human 'skypeople'.
To those who have seen films such as Dances With Wolves, The Last Samurai or Fern Gully: The Last Rainforest, the plot was predictable from it's early moments, even though Cameron throws in a few Vietnam/Iraq War allegories and some pro-ecological minded babble. The characters, cliches, caricatures and banal dialogue aren't too far from the usual you'd find in any other action-adventure-science fiction movie.
Practically every single human character lacks the dimension which makes the visuals such a spectacle to behold, especially the human villains, who just seem to be dicks simply because the script calls for it.
In short, Avatar is Disneyland for the eyes, but has far too many shortcomings to be classed overall as one of the very best films ever made. 
8/10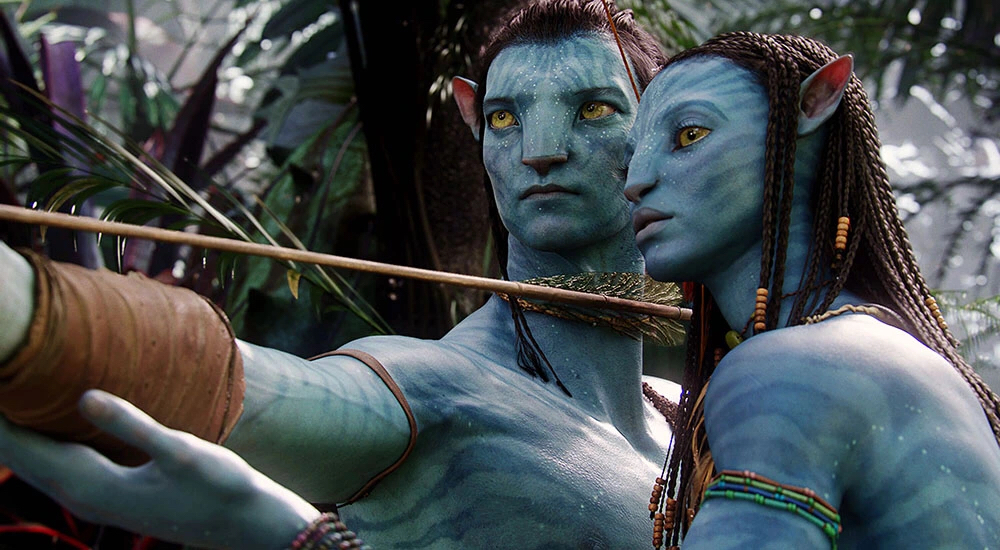 Did You Know:
The Na'vi language was created entirely from scratch by linguist Dr. Paul R. Frommer. James Cameron hired him to construct a language that would be easy for actors to pronounce but would not resemble any human language. Frommer created about 1,000 words.

Award Wins & Nominations:
MILSTEAD MOVIE AWARDS:
Wins: 2 (Best Sound Effects Editing; Best Visual Effects)
Nominations: 6 (Best Picture; Best Director; Best Film Editing; Best Original Dramatic Score; Best Production Design; Best Sound)
OSCARS:
Wins: 3 (Best Art Direction; Best Cinematography; Best Visual Effects)
Nominations: 6 (Best Picture; Best Director; Best Film Editing; Best Original Score; Best Sound; Best Sound Editing)
BAFTAS
Wins: 2 (Best Production Design; Best Visual Effects)
Nominations: 6 (Best Film; Best Director; Best Cinematography; Best Editing; Best Music; Best Sound)
OTHER WINS:
Golden Globes (Best Film - Drama, Best Director); Saturn Awards (Best Science Fiction Film, Best Actor, Best Actress, Best Director, Best Supporting Actor, Best Supporting Actress, Best Writing, Best Music, Best Production Design, Best Special Effects); Art Directors Guild (Excellence in Production Design - Fantasy); Australian Film Institute (Best Actor); ACCA (Best Cinematography, Best Visual Effects); Cinema Brazil Awards (Best Foreign Film); Critics Choice Awards (Best Action Movie, Best Art Direction, Best Cinematography, Best Editing, Best Sound, Best Visual Effects); Empire Awards (Best Film, Best Actress, Best Director); Florida Film Critics (Best Cinematography); Gold Derby Awards (Best Art Direction, Best Sound, Best Visual Effects); Golden Eagle (Best Foreign Film); Golden Reel Awards (Best Sound Editing); Golden Schmoes (Best Action Sequence, Best Special Effects, Most Overrated Movie of the Year); Hollywood Post Alliance (Outstanding Compositing); INOCA Awards (Best Sound Editing, Best Visual Effects); Internet Film Critics (Best Drama); Jupiter Award (Best International Film); Las Vegas Film Critics (Best Art Direction); New York Film Critics (Best Film); North Texas Film Critics (Best Cinematography); OFTA (Best Production Design, Best Sound, Best Sound Editing, Best Visual Effects); Phoenix Film Critics (Best Cinematography, Best Film Editing, Best Production Design, Best Visual Effects); Scream Awards (Best Director, Best 3-D, Best F/X), St Louis Film Critics (Best Visual Effects, Most Original, Innovative or Creative Film); Teen Choice Awards (Choice Movie: Sci-Fi, Choice Actor: Sci-Fi, Choice Actress: Sci-Fi); Visual Effects Society (Outstanding Visual Effects, Outstanding Character Animation, Outstanding Matte Paintings, Outstanding Models & Miniatures, Outstanding Creative Environment, Best Single Visual Effect of the Year)