Austin Powers (1 & 2)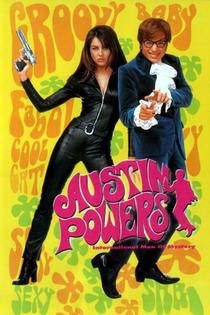 AUSTIN POWERS: INTERNATIONAL MAN OF MYSTERY (12)
New Line/Eric's Boy/Moving Pictures (Suzanne Todd, Jennifer Todd, Demi Moore & Mike Myers)
W: Mike Myers
Cos: Deena Appel
Mike Myers (Austin Powers/Dr. Evil), Elizabeth Hurley (Vanessa Kensington), Michael York (Basil Exposition), Mimi Rogers (Mrs. Kensington), Robert Wagner (Number Two), Seth Green (Scott Evil), Fabiana Udenio (Alotta Fagina), Mindy Sterling (Frau Farbissina)
A hilarious spoof of James Bond films which probably came out at just the right time, amassing a huge fan base and giving the world a handful of quotes which would be popular for the best part of a decade.
Mike Myers delivers a good comedy performance in the dual role of both the British super spy Austin Powers and his arch nemesis Dr. Evil.
After being cryogenically frozen and being thawed out in the 1990's, Austin Powers still has 1960's attitudes to free love, promiscuoity and pop music whilst trying to foil Dr. Evil, who himself was frozen for thirty years and has awoken to absolutely no knowledge of financial inflation (he holds the world to ransom for $1 million dollars, a running joke in the series).
It's great camp fun which spawned a couple of sequels, the first of which was one of the biggest box office hits of its year.
7/10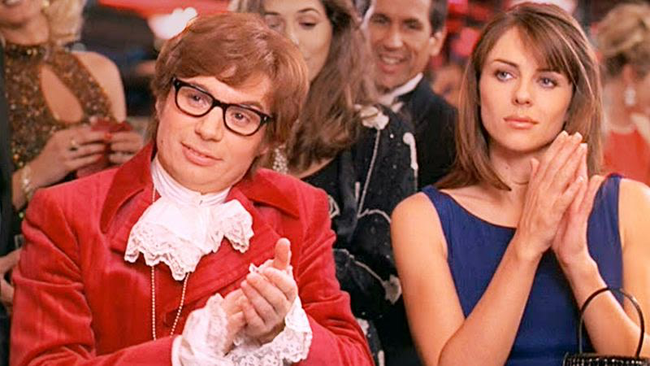 Did You Know:
Mike Myers has revealed in interviews that the Austin Powers character was created based on a couple of instances involving his family. His father loved watching British comedies with actors like Peter Sellers and Sir Alec Guinness, so Myers always wanted to play an English character in a comedy. He also said that one night after coming home from hockey practice, he started flirting with his wife in an English accent. His wife laughed and told him to write the routine down, so he could do it again. Writing the routine down led to this script.
Award Wins & Nominations:
MILSTEAD MOVIE AWARDS:
Wins: none
Nominations: 5 (Best Screenplay - Original; Best Costume Design; Best Makeup; Best Original Musical or Comedy Score; Best Production Design)
OSCARS:
Wins: none
Nominations: none
BAFTAS
Wins: none
Nominations: none
OTHER WINS:
Saturn Award (Best Fantasy Film); MTV Movie Awards (Best Villain, Best Dance Scene)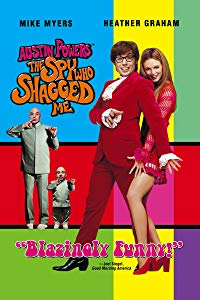 AUSTIN POWERS: THE SPY WHO SHAGGED ME (12)
New Line/Eric's Boy/Moving Pictures (Suzanne Todd, Jennifer Todd, Demi Moore & Eric McLeod)
W: Mike Myers & Michael McCullers
Mike Myers (Austin Powers/Dr. Evil/Fat Bastard), Heather Graham (Felicity Shagwell), Elizabeth Hurley (Vanessa Kensington), Michael York (Basil Exposition), Seth Green (Scott Evil), Mindy Sterling (Frau Farbissina), Verne Troyer (Mini Me)
Despite arriving only two years after the first film and pretty much following the same formula, this sequel is every bit as funny as it's predecessor.  This time, the 60's spy is sent back to the 1960's to foil inept villain Dr. Evil and is assisted with new partner Felicity Shagwell.
The new characters bring a freshness to the comedy and the introduction of Dr. Evil's smaller clone, Mini Me, is just genius. Groovy baby!
6/10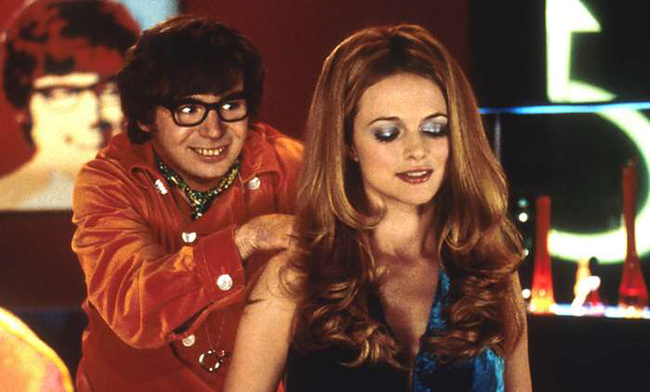 Did You Know:
When Austin (Mike Myers) and Felicity (Heather Graham) are driving through the English countryside, Austin remarks on how the English countryside looks nothing like southern California. The entire movie was filmed in southern California. This scene was spur of the moment, with the dialogue improvised. This is evidenced by Felicity saying "What?" when Austin asks her the question.

There was also another unscripted moment when Basil & Austin break the fourth wall to remark to the audience that the science behind time travel should be ignored.
Award Wins & Nominations:
MILSTEAD MOVIE AWARDS:
Wins: 1 (Best Makeup)
Nominations: 2 (Best Costume Design; Best Original Song)
OSCARS:
Wins: none
Nominations: 1 (Best Makeup)
BAFTAS
Wins: none
Nominations: none
OTHER WINS:
American Comedy Awards (Funniest Actor); Blockbuster Entertainment Awards (Favourite Actress - Comedy, Favourite Villain); Las Vegas Film Critics (Best Original Song); MTV Movie Awards (Best On-Screen Duo, Best Villain); OFTA (Best Original Song); Teen Choice Awards (Choice Comedy, Choice Sleazebag)