Atonement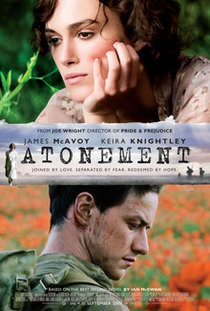 ATONEMENT (15)

Universal/Studio Canal/Relativity Media/Working Title (Tim Bevan, Eric Fellner & Paul Webster)
W: Christopher Hampton [based on the novel by Ian McEwan]
DP: Seamus McGarvey
Mus: Dario Marianelli
Pd: Sarah Greenwood
Cos: Jacqueline Durran
James McAvoy (Robbie Turner), Keira Knightley (Cecilia Tallis), Romola Garai (Bryony Tallis), Saoirse Ronan (Briony - aged 13), Vanessa Redgrave (Bryony - older), Juno Temple (Lola Quincy), Benedict Cumberbatch (Paul Marshall), Blenda Blethyn (Grace Turner)
Atonement is a brilliantly acted love story set against the backdrop of the Second World War, based on Ian McEwan's best-selling novel.
Keira Knightley plays Cecila Tallis, the eldest daughter of an aristocrat, living in the luxury of a grand country house and the subject of an amorous infatuation by the similarly-aged Robbie (James McAvoy), the son of the housekeeper.
Robbie also has his own secret admirer, Cecilia's precocious younger sister, Briony, who catches the two young lovers in a passionate embrace and in a fit of jealousy, fabricates a vicious rumour which sees them separated and Robbie subsequently sent into military service.
Years later, when Robbie is enlisted to serve in wartorn France and Cecelia is a nurse working in London, their paths cross again, but they are unable to rekindle their relationship, still suffering from the destruction of Briony's unkind lies. 
Briony is also a young nurse herself, living a life of solitude and guilt-ridden regret for ruining her sister's chance at happiness. She attempts to make things right, but with the war on the doorstep, her atonement may have come too late...
This truly is one of the great wartime romance films with some absolutely fantastic performances, especially from James McAvoy and Keira Knightley (arguably her best ever work), but the finest performance is possibly from young Saoirse Roman who plays Briony as the young precocious girl.
My only criticism is that director Joe Wright seemed to dip the entire film as Oscar bait, directed and edited to within an inch of its life so it would be nominated in as many categories as possible. It's a ploy which wasn't entirely necessary, since the film was nominated for seven awards, ironically missing out on a Best Director nod.
Despite that criticism, it can't be denied that the film does have some beautiful photography, faithful production design which captures both pre-war Britain and the conflict itself, as well as iconic costumes (especially THAT green dress). 
Perhaps it's a film which may not be fully appreciated on an initial viewing, but is certainly worth a second watch.
8/10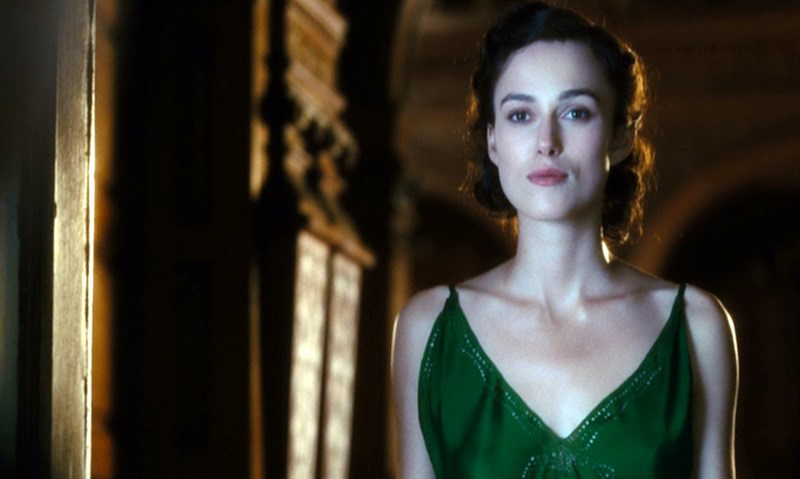 Did You Know:
Shooting the five minute Dunkirk beach scene was arguably the toughest portion of shooting. The shooting schedule dictated that the scene must be completed in two days, because the crew has limited time with the 1,000 extras. However the location scouts report indicated the lighting quality at the beach was not good enough until the afternoon of the second day. This forced director Joe Wright to change his shooting strategy into shooting with one camera. The scene was rehearsed on the first day and on the morning of the second day. The scene required five takes and the third take was used in the film. 

Award Wins & Nominations:
MILSTEAD MOVIE AWARDS:
Wins: 3 (Best Ensemble Cast; Best Original Score; Best Production Design)
Nominations: 9 (Best Picture; Best Actor in a Leading Role; Best Actress in a Leading Role; Best Actress in a Supporting Role; Best Screenplay (Adaptation); Best Cinematography; Best Costume Design; Best Film Editing; Best Sound)
OSCARS:
Wins: 1 (Best Original Score)
Nominations: 6 (Best Picture; Best Actress in a Supporting Role; Best Screenplay Adaptation; Best Art Direction; Best Cinematography; Best Costume Design)
BAFTAS
Wins: 2 (Best Film; Best Production Design)
Nominations: 12 (Best Actor in a Leading Role; Best Actress in a Leading Role; Best Director; Best Actress in a Supporting Role; Best British Film; Best Screenplay Adaptation; Best Cinematography; Best Costume Design; Best Editing; Best Makeup; Best Music; Best Sound)
OTHER WINS:
Golden Globes (Best Film - Drama, Best Original Score); Alliance of Women Female Journalists (Best Newcomer); ACCA (Best Screenplay Adaptation; Best Original Score); Dublin Film Critics (Best Breakthrough); Empire Awards (Best British Film, Best Actor, Best Actress); Evening Standard Film Awards (Best Technical Achievement); Gold Derby Awards (Best Costume Design, Best Original Score); Houston Film Critics (Best Original Score); INOCA (Best Screenplay Adaptation, Best Costume Design, Best Editing, Best Original Score); International Online Film Critics (Best Production Design); Irish Film & Television Awards (Best Supporting Actress, Best Cinematography); Las Vegas Film Critics (Best Female Youth); London Critics Circle (Best Actor, Best Supporting Actress); North Texas Film Critics (Best Cinematography); OFTA (Best Youth Performance, Best Breakthrough Female Performance); Phoenix Film Critics (Best Female Youth Performance, Best Cinematography, Best Original Score); Rembrandt Award (Best International Actress); San Diego Film Critics (Best Editing); Satellite Awards (Best Screenplay Adaptation); Teen Choice Awards (Choice Movie Actress - Drama); Women Film Critics Circle (Best Young Actress)