As Good As It Gets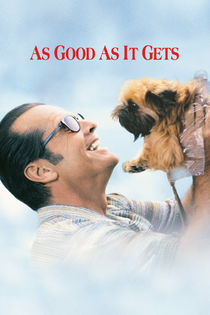 AS GOOD AS IT GETS (15)

Tristar/Gracie Films (James L. Brooks, Bridget Johnson & Kristi Zea)
W: James L. Brooks & Mark Andrus
Mus: Hans Zimmer
Jack Nicholson (Melvin Udall), Helen Hunt (Carol Connelly), Greg Kinnear (Simon Bishop), Cuba Gooding, Jr. (Frank Sachs), Skeet Ulrich (Vincent), Shirley Knight (Beverly), Jesse James (Spencer Connelly), Yeardley Smith (Jackie), Harold Ramis
Jack Nicholson gives a fantastic comedy performance as Melvin Udall, an obsessive compulsive novelist who seemingly takes pride in his ability to affront, repulse, offend and repel people. His targets are random and his aim reckless, even pushing away the people he even cares about.
His life changes however, when his gay neighbour, Simon Bishop, is hospitalised and Melvin is forced to look after Simon's dog, which makes him change all the routines to which he's become accustomed and begin to enjoy the smaller things in life.
The unexpected act of kindness attracts the attention of coffee shop waitress Carol Connelly, whose son requires medical needs which Melvin is happy to fund, sparking a relationship between the two unlikeliest of people, but Melvin still has a habit of putting his foot in his mouth on a regular basis.         
In terms of performances, on-screen chemistry and quirky one-liners, As Good As It Gets is truly that. The movie only suffers from being a tad too long, but for the best part Nicholson, Hunt and Kinnear keep it ticking along nicely and make this one of the most wonderful romantic comedies of the 1990's.
The two leads both won Oscars for their performances, mostly due to their wonderfully charming on-screen chemistry.
8/10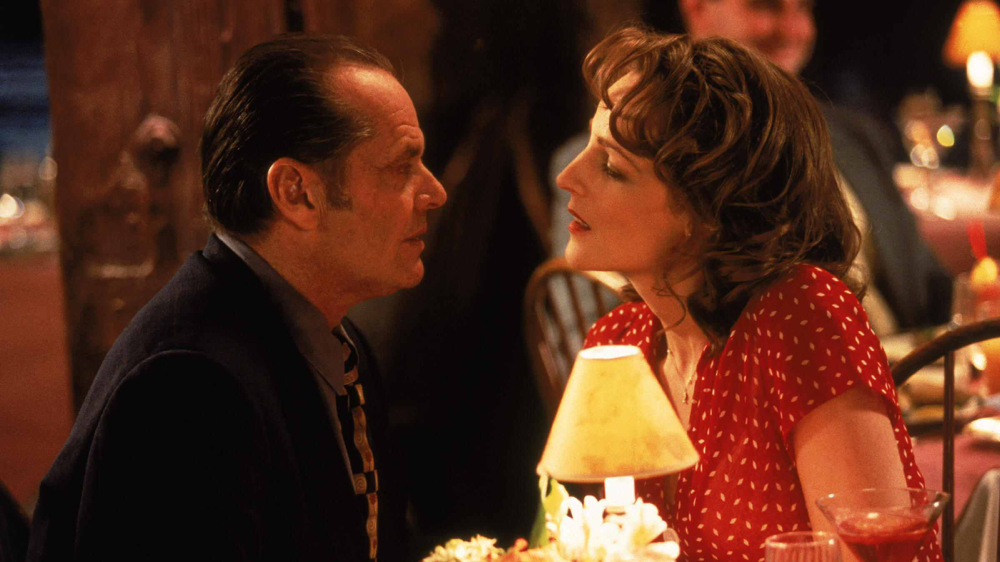 Did You Know:
Udall's response to the question about how he writes women is an actual response given by author John Updike when asked the same question.

Award Wins & Nominations:
MILSTEAD MOVIE AWARDS:
Wins: none
Nominations: 7 (Best Picture; Best Actor in a Leading Role; Best Actress in a Leading Role; Best Actor in a Supporting Role; Best Ensemble Cast; Best Screenplay - Original; Best Original Musical or Comedy Score)
OSCARS:
Wins: 2 (Best Actor in a Leading Role; Best Actress in a Leading Role)
Nominations: 5 (Best Picture, Best Actor in a Supporting Role; Best Original Screenplay; Best Film Editing; Best Original Musical or Comedy Score)
BAFTAS
Wins: none
Nominations: none
OTHER WINS:
Golden Globes (Best Film - Musical / Comedy, Best Actor - Musical / Comedy, Best Actress - Musical / Comedy); 20/20 Awards (Best Actor); American Comedy Awards (Funniest Actor, Funniest Actress); ACCA (Best Actor, Best Actress); Blockbuster Entertainment Awards (Best Actress); Critics Choice (Best Actor); Florida Film Critics (Best Actress); Jupiter Awards (Best International Actor); London Critics Circle (Best Actor); National Board of Review (Best Actor, Best Supporting Actor); OFTA (Best Comedy or Musical Film, Best Actor, Best Comedy or Musical Actor, Best Comedy or Musical Actress, Best Original Score - Comedy / Musical); Online Film Critics Society (Best Actor); San Diego Film Critics (Best Actor, Best Original Screenplay); Satellite Awards (Best Film - Musical / Comedy, Best Actor - Musical / Comedy, Best Actress - Musical / Comedy); Screen Actors Guild (Best Actor, Best Actress); Southeastern Film Critics (Best Supporting Actor, Best Original Screenplay); Writers Guild Awards (Best Original Screenplay)