Arrival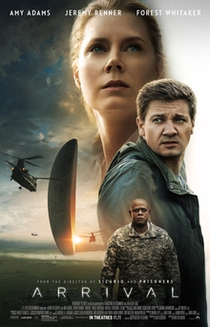 ARRIVAL (12)
D: Denis Villeneuve
Paramount/Lava Bear/Filmnation/21 Laps (Shawn Levy, Dan Levine, Aaron Ryder & David Linde)
W: Eric Heisserer [based on the short story "Story Of Your Life" by Ted Chiang]
Ed: Joe Walker
Mus: Johann Johansson
Amy Adams (Louise Banks), Jeremy Renner (Ian Donnelly), Forest Whitaker (Col. Weber), Michael Stuhlbarg (Agent David Halpern), Tzi Ma (Gen. Shang)
If, when you think of science fiction films, the first which come to mind are Star Wars and Star Trek movies, then Arrival may not be for you.
However, if you enjoyed more thought-based science fiction films such as 2001: A Space Odyssey, Contact and Close Encounters Of The Third Kind, then this is certainly worth a watch.
Amy Adams plays an expert linguist whose services are required by the US government when a dozen alien spacecraft arrive in random locations around the planet. 
Along with a team of scientists, she makes contact with the extra terrestrials onboard and attempts to decipher their language to answer the question which is most pressing the world's military forces: why are they here?
Little more can be said about the plot without uncovering major spoilers, which come about with the use of excellent editing and a very well written screenplay. Amy Adams' magnetic lead performance  makes the film even more engaging when the narrative does become a little slack around the midway point.
Denis Villeneuve fast became a much sought after director, and with films like this, it's easy to see why.
9/10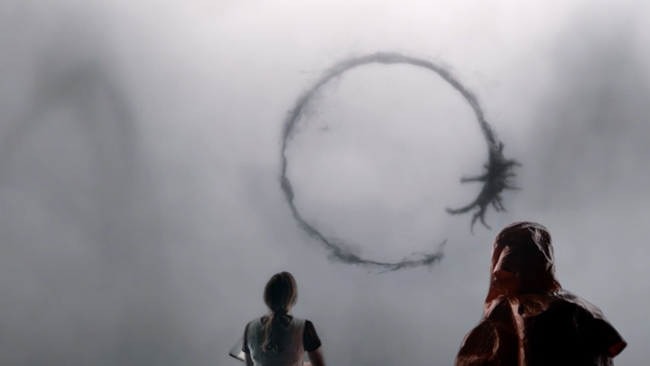 Did You Know:
The inky circular alien language was created by Montreal artist Martine Bertrand.

Award Wins & Nominations:
MILSTEAD MOVIE AWARDS:
Wins: 1 (Best Sound Effects Editing)
Nominations: 9 (Best Picture; Best Actress in a Leading Role; Best Director; Best Screenplay - Adaptation; Best Cinematography; Best Film Editing; Best Original Dramatic Score; Best Production Design; Best Sound)
OSCARS:
Wins: 1 (Best Sound Editing)
Nominations: 7 (Best Picture; Best Director; Best Screenplay Adaptation; Best Cinematography; Best Film Editing; Best Production Design; Best Sound)
BAFTAS
Wins: 1 (Best Sound)
Nominations: 8 (Best Film; Best Actress in a Leading Role; Best Director; Best Screenplay Adaptation; Best Cinematography; Best Editing; Best Music; Best Visual Effects)
OTHER WINS:
Saturn Award (Best Writing); AFI Award (Movie of the Year); AMPS (Best Sound); Austin Film Critics (Best Adapted Screenplay); Australian Film Critics (Best International Film); ACCA (Best Adapted Screenplay); Camerimage (Silver Frog); Critics Choice (Best Sci-Fi/Horror Movie, Best Adapted Screenplay); Denver Film Critics (Best Sci-Fi/Horror Movie); Dublin Film Critics (Best Actress, Best Director, Best Screenplay); Eddie (Best Editing - Drama); Florida Film Critics (Best Visual Effects); Golden Schmoes (Best Sci-Fi Movie, Best Actress); Hawaii Film Critics (Best Sci-Fi/Horror Movie, Best Visual Effects); Hugo Awards (Best Dramatic Presentation); IGN Awards (Best Movie - Drama, Best Actress, Best Director); International Film Music Critics (Best Film Score); International Online Cinema Awards (Best Editing, Best Sound, Best Sound Editing); Internet Film Critics (Best Horror/Sci-Fi Movie); Kansas City Film Critics (Best Adapted Screenplay); National Board of Review (Top 10 Films of the Year, Best Actress); Nevada Film Critics (Best Adapted Screenplay); North Carolina Film Critics (Best Adapted Screenplay); Oklahoma Film Critics (Best Actress, Best Adapted Screenplay); OFTA (Best Sound); Online Film Critics (Best Adapted Screenplay); Phoenix Critics Circle (Best Science Fiction Film); San Francisco Film Critics (Best Adapted Screenplay, Best Editing); Sant Jordi Awards (Best Foreign Actress); Seattle Film Critics (Best Cinematography, Best Original Score, Best Visual Effects); Washington DC Film Critics (Best Adapted Screenplay); Writers Guild (Best Adapted Screenplay)