Armageddon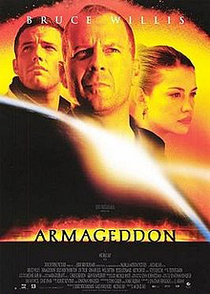 ARMAGEDDON (12)

Touchstone/Valhalla (Jerry Bruckheimer, Gale Anne Hurd & Michael Bay)
Science Fiction/Adventure
W: Jonathan Hensleigh, J. J. Abrams, Robert Roy Pool, Tony Gilroy & Shane Salerno
Ed: Mark Goldblatt, Chris Lebenzon & Glen Scantlebury
Bruce Willis (Harry Stamper), Ben Affleck (A. J. Frost), Billy Bob Thornton (Dan Truman), Liv Tyler (Grace Stamper), Will Patton (Charles Chapple), Steve Buscemi (Rockhound), Peter Stormare (Lev Andropov), Keith David (General Kimsey), Owen Wilson (Oscar Choi), William Fichtner (Col. William Sharp), Michael Clarke Duncan (Jayotis Kurleenbear), Jason Isaacs (Ronald Quincy)
When NASA executive director Dan Truman discovers that the Earth has only 18 days before it's obliterated by an asteroid the size of Texas, he has only one option- to assemble a ragtag team of roughneck oil drillers with absolutely no qualifications or experience of working in outer space, then land this inferior group on the asteroid so they can drop a nuclear warhead deep into it's core.
CRASH! BANG! SMASH!! That's what it takes to save the world (except New York City, 'somewhere' in China and Paris, which get wiped out by smaller meteors).
Unfortunately, Armageddon is so poorly written that it makes it almost impossible to care for the characters on show.  Most of them are arrogant or obnoxious and the rest are merely stupid, so director Michael Bay shows us a bunch of stereotyped people in slow motion so we remember that it is actually the human race which is in peril. Will Patton is possibly the only realistic character out of all the mob with speaking parts, but even his back story doesn't get the drama that it deserves.
The rest is all Michael Bay's action movie on cocaine, with some decent visual effects (the destruction of NYC & Paris were very well done), but the rest is almost impossible to make out, especially the scenes which take place on the meteor surface.  Overall, the whole thing is just a series of music videos for Aerosmith songs.  It goes without saying that in Michael Bay's universe, the laws of physics, timezones and believable dialogue simply don't exist.
It is slightly more fun to watch than the similar Deep Impact though, which was released the same year.
5/10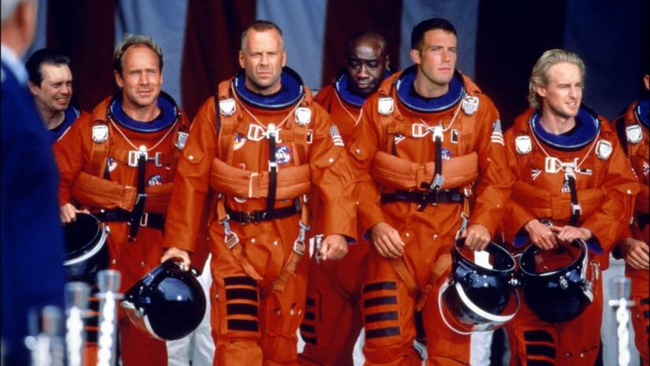 Did You Know:
NASA show this film during their management training program. New managers are given the task of trying to spot as many errors as possible. At least 186 have been found.

Award Wins & Nominations:
MILSTEAD MOVIE AWARDS:
Wins: none 
Nominations: 5 (Best Original Dramatic Score; Best Original Song; Best Sound; Best Sound Effects Editing; Best Visual Effects)
Worst of the Year: 7 nominations (Worst Actor; Worst Director; Worst Supporting Actor; Worst Supporting Actress; Worst Screen Couple, Double Act or Team; Worst Ensemble Cast; Worst Screenplay - Original)
OSCARS:
Wins: none
Nominations: 4 (Best Original Song; Best Sound; Best Sound Effects Editing; Best Visual Effects)
BAFTAS
Wins: none
Nominations: none
OTHER WINS:
Saturn Awards (Best Sci Fi Movie, Best Director); Blockbuster Awards (Favourite Actor - Sci-Fi, Favourite Supporting Actor - Sci-Fi); MTV Movie Awards (Best Song, Best Action Sequence); Razzies (Worst Actor); Satellite Awards (Best Original Song); The Stinkers (Worst Actor, Worst On-Screen Couple)