Argo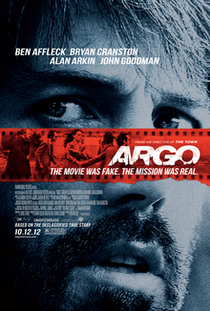 ARGO (15)
D: Ben Affleck
Warner Bros./GK/Smokehouse (Grant Heslov, George Clooney & Ben Affleck) 
Thriller/Political/Historical
W: Chris Terrio [based on the article 'The Great Escape' by Joshua Bearman and the book 'The Master of Disguise' by Antonio J. Mendez]
Ed: William Goldenberg
Ben Affleck (Tony Mendez), Bryan Cranston (Jack O'Donnell), Alan Arkin (Lester Siegel), John Goodman (John Chambers), Tate Donovan (Robert Anders), Clea Duvall (Cora Lijek)
Even Ben Affleck's harshest critics have to give the guy his due respect here; he stars in, co-produces and directs an excellent political thriller, based on a true story of a covert CIA operation to rescue hostages from Iran during a period of civil unrest by using the guise of a bogus movie production.     
The plot isn't too dissimilar from the Dustin Hoffman-Robert DeNiro film Wag The Dog (qv), a satire which used the Hollywood production of a bogus war to get a president re-elected. Argo, however, has both feet firmly in the thriller genre and several moments are a masterclass in cinematic tension.
Affleck gets the very best out of his ensemble cast with a couple of truly excellent performances, most notably from Alan Arkin, who gets all the best lines of dialogue as a cynical movie producer.
Though the film won the Best Picture Oscar, Affleck was most definitely robbed of a Best Director nomination (that's right, he didn't even get nominated!). Scandalous.
9/10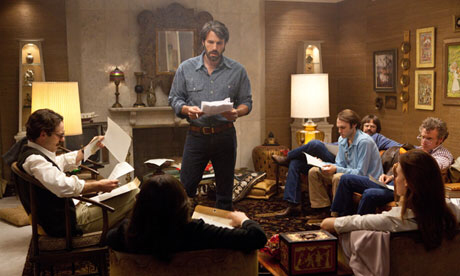 Did You Know:
Ben Affleck has stated that the production was granted unprecedented access to CIA Headquarters, both for interiors and exteriors, and that the gratitude for that privilege belongs to Tony Mendez, the retired CIA officer portrayed by Affleck in the film.
Award Wins & Nominations:
MILSTEAD MOVIE AWARDS:
Wins: 2 (Best Director; Best Screenplay - Adaptation)
Nominations: 7 (Best Picture; Best Actor in a Leading Role; Best Actor in a Supporting Role; Best Ensemble Cast; Best Film Editing; Best Original Dramatic Score; Best Sound)
OSCARS:
Wins: 3 (Best Picture; Best Screenplay - Adaptation; Best Film Editing)
Nominations: 4 (Best Actor in a Supporting Role; Best Original Score; Best Sound; Best Sound Editing)
BAFTAS
Wins: 3 (Best Film; Best Director; Best Editing)
Nominations: 4 (Best Actor in a Leading Role; Best Actor in a Supporting Role; Best Adapted Screenplay; Best Music)
OTHER WINS:
Golden Globes (Best Film - Drama, Best Director); ACCA (Best Director, Best Editing); AFI Awards (Movie of the Year); African American Film Critics (Best Director); Alliance of Women Journalists (Best Adapted Screenplay); Austin Film Critics (Best Adapted Screenplay); Black Film Critics Circle (Best Adapted Screenplay); Casting Society of America (Best Casting - Drama); Cesars (Best Foreign Film); Cinema Writers Circle (Best Foreign Film); Critics Choice Awards (Best Film, Best Director); Denver Film Critics (Best Film, Best Director); Directors Guild (Best Director); Dorians (Best Film); Eddie (Best Editing - Drama); Florida Film Critics (Best Film, Best Director, Best Adapted Screenplay); Gold Derby Awards (Best Film, Best Director, Best Editing); Golden Schmoes (Best Director, Best Line of the Year); Hollywood Film Awards (Best Ensemble Cast); Hollywood Post Alliance (Best Editing, Best Sound); Houston Film Critics (Best Film, Best Director); IGN Awards (Best Film - Drama); Internet Film Critics (Best Film - Drama, Best Director); IFTA (Best International Film); Italian Online Movie Awards (Best Adapted Screenplay, Best Editing); Kansas City Film Critics (Best Screenplay, Adapted); Los Angeles Film Critics (Best Screenplay); National Board of Review (Top Films of the Year, Best Achievement in Filmmaking, Spotlight Award); Nevada Film Critics (Best Film, Best Director); New York Online Film Critics (Best Ensemble); Oklahoma Film Critics (Best Film, Best Director, Best Adapted Screenplay); OFTA (Best Picture, Best Director, Best Casting, Best Adapted Screenplay, Best Editing); Online Film Critics (Best Picture, Best Adapted Screenplay); PGA Awards (Best Picture); Phoenix Film Critics (Best Film, Best Adapted Screenplay, Best Editing); Roberts (Best American Film); San Diego Film Critics (Best Film, Best Director, Best Adapted Screenplay, Best Editing); San Francisco Film Critics (Best Editing); Satellite Awards (Best Original Score); Screen Actors Guild (Best Cast); Screenwriters Choice Awards (Best Adapted Screenplay); Southeastern Film Critics (Best Picture, Best Director, Best Adapted Screenplay); St. Louis Film Critics (Best Film, Best Director); USC Scripter Awards (Best Screenplay); Writers Guild (Best Adapted Screenplay)