Apollo 13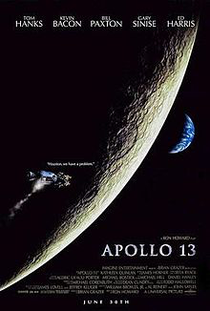 APOLLO 13 (PG)

Universal/Imagine (Brian Grazer)
W: William Broyles, Jr. & Al Reinert [based on the book 'Lost Moon' by Jim Lovell & Jeffrey Kluger]
Ed: Mike Hill & Daniel Hanley
Mus: James Horner
Pd: Michael Corenblith
Tom Hanks (Jim Lovell), Kevin Bacon (Jack Swigert), Bill Paxton (Fred Haise), Gary Sinise (Ken Mattingly), Ed Harris (Gene Krantz), Kathleen Quinlan (Marilyn Lovell)
It had been less than a year since man first walked on the moon, but as far as the American public were concerned, Apollo 13 was just another 'routine' mission - until Jim Lovell announced the words which pierced even the immense void of space: "Houston, we have a problem..."
In their stricken vessel, 200,000 miles from Earth, astronauts Lovell, Jack Swigert & Fred Haise fight a desperate battle to survive, while on Earth, mission control face a battle to bring the men home safe, with grounded astronaut Ken Mattingly & flight director Gene Kranz and his heroic ground crew battle against time and the odds with more problems adding to the crisis with each second the men are trapped in space.
Apollo 13 has a lot about it to make it a great cinematic experience; great special effects, meticulous attention to detail which captures the decor and minutiae of the early 1970's and the vistas of outer space. Unfortunately, the movie lacks the real punch it needs, partly due to Ron Howard's colour-by-numbers direction and an opening credit sequence which tells us that the movie is based on a book written by the main character (thus killing any suspense on whether the men do in fact return home alive and safe).
The cast more than make up for these shortcomings though, especially Ed Harris, who has the screenplay's best written character with the zippiest dialogue. 
The movie itself isn't unlike the real Apollo mission, it has lots of stars around it, but doesn't quite achieve the goal it sets out for.
8/10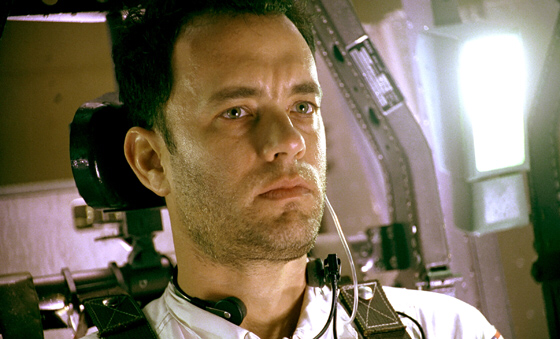 Did You Know:
The famous quote was actually spoken twice by two astronauts. Jack Swigert said, "OK Houston, we've had a problem here." Mission Control said, "This is Houston. Say again, please." Then Jim Lovell said, "Ahh, Houston, we've had a problem." On the recording, Swigert is garbled at the beginning, while Lovell is clear, so the recording of Lovell is often heard, leading to the impression he said it, even though Swigert said it first. It's commonly misquoted as, "Houston, we've got a problem," or "Houston, we have a problem." Because "we've had" implies the problem has passed, Ron Howard chose to use "we have".

Award Wins & Nominations:
MILSTEAD MOVIE AWARDS:
Wins: 1 (Best Visual Effects)
Nominations: 10 (Best Picture; Best Director; Best Actor in a Supporting Role; Best Actress in a Supporting Role; Best Ensemble Cast; Best Screenplay - Adaptation; Best Film Editing; Best Original Dramatic Score; Best Production Design; Best Sound)
OSCARS:
Wins: 2 (Best Film Editing; Best Sound)
Nominations: 7 (Best Best Picture; Best Actor in a Supporting Role; Best Actress in a Supporting Role; Best Screenplay Adaptation; Best Art Direction; Best Original Score - Drama; Best Visual Effects)
BAFTAS
Wins: 2 (Best Production Design; Best Visual Effects)
Nominations: 3 (Best Cinematography; Best Editing; Best Sound)
OTHER WINS:
ACCA (Best Sound, Best Visual Effects); Chicago Film Critics (Best Picture); Cinema Audio Society (Best Sound); Critics Choice Award (Best Supporting Actor); Directors Guild (Best Director); Jupiter Award (Best International Film); Kansas City Film Critics (Best Film, Best Director); Literary Awards (Best Screenplay); National Board of Review (Top 10 Films of the Year); PGA Awards (Best Picture); People's Choice Awards (Best Film, Best Dramatic Film); Screen Actors Guild (Best Supporting Actor, Best Ensemble Cast); Southeastern Film Critics (Best Film, Best Director, Best Supporting Actor)