Apocalypse Now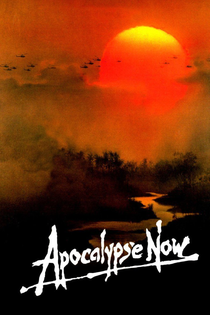 APOCALYPSE NOW (18)
D: Francis Ford Coppola
United Artists/Omni Zoetrope (Francis Ford Coppola)
W: Francis Ford Coppola, Michael Herr & John Milius [based on the novel 'Heart Of Darkness' by Joseph Conrad]              
DP: Vittorio Storaro
Ed: Richard Marks, Walter Murch, Gerald B. Greenberg & Lisa Fruchtman     
Martin Sheen (Capt. Willard), Robert Duvall (Lt. Col. Kilgore), Marlon Brando (Col. Kurtz), Frederic Forrest (Chef), Albert Hall (Chief), Sam Bottoms (Lance), Larry Fishburne (Clean), Dennis Hopper (Photojournalist), Harrison Ford (Colonel), Scott Glenn (Civilian)
A heavy going Vietnam war epic which has moments of pretentiousness, but more importantly, great power.
Loosely based on Joseph Conrad's novel Heart Of Darkness, the story follows Capt. Kilgore, who is given the mission of finding a rogue colonel (Brando) who has hidden himself in the Vietnamese hills to fight his own war.
The longer the film goes on, the more difficult the story becomes to follow and the more unstructured the narrative becomes (perhaps an allegory for the war itself). Nevertheless, it has some iconic moments and powerful visuals where the viewing experience becomes more important than the story itself.
The movie took an absolute age to make and cost the studio heavily (238 day shoot at a $31 million cost). It's also unfortunate that Marlon Brando delivers a near incomprehensible performance during a time in his career when his ego grew bigger than his talent. All of the other performances are great though, especially Robert Duvall as the deplorable Kilgore, who loves the smell of napalm in the morning.
A 202 minute version, Apocalypse Now Redux, was released in 2001 and a very interesting documentary on the making of the film was made in 1991 (Hearts Of Darkness: A Filmmaker's Apocalypse).
It's not an easy watch, but one which every movie fan must view at least once.
8/10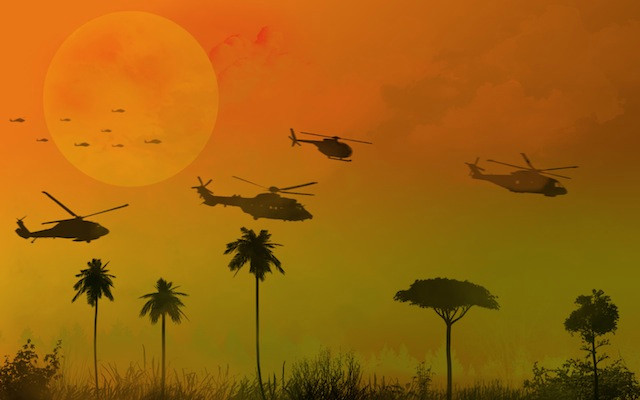 Did You Know:
It took Francis Ford Coppola and his editing team nearly three years to edit the footage. While working on his final edit, it became apparent to him that Martin Sheen would be needed to tape several additional narrative voice-overs. Coppola soon discovered that Sheen was busy, and unable to perform these voice-overs. He then called in Sheen's brother, Joe Estevez, whose voice sounded nearly identical, to perform the new narrative tracks. Estevez was also used as a stand-in when Sheen suffered a heart attack during the shoot in 1976. Estevez was not credited for his work as a stand-in, nor for his voice-over work.

Award Wins & Nominations:
MILSTEAD MOVIE AWARDS:
Wins: 5 (Best Director; Best Actor in a Supporting Role; Best Cinematography; Best Film Editing; Best Sound)
Nominations: 6 (Best Picture; Best Actor in a Leading Role; Best Ensemble Cast; Best Screenplay - Adaptation; Best Makeup Design; Best Production Design)
OSCARS:
Wins: 2 (Best Cinematography; Best Sound)
Nominations: 6 (Best Picture; Best Director; Best Actor in a Supporting Role; Best Screenplay Adaptation; Best Art Direction; Best Film Editing)
BAFTAS
Wins: 2 (Best Director; Best Actor in a Supporting Role)
Nominations: 7 (Best Film; Best Actor in a Leading Role; Best Cinematography; Best Editing; Best Music; Best Production Design; Best Sound)
OTHER WINS:
Golden Globes (Best Director, Best Supporting Actor, Best Original Score); American Movie Awards (Best Supporting Actor); Cannes Film Festival (Palme d'Or); Davids (Best Foreign Director); London Critics Circle (Film of the Year); National Board of Review (Top 10 Films of the Year); National Society of Film Critics (Best Supporting Actor)