Anna Karenina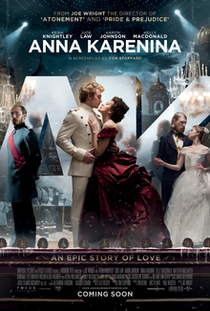 ANNA KARENINA (12)
D: Joe Wright
Universal/StudioCanal/Working Title (Tim Bevan, Eric Fellner & Paul Webster)
UK/USA 🇬🇧 🇺🇸 2012
130 mins
Drama/Romance/Historical
W: Tom Stoppard [based on the novel by Leo Tolstoy]
DP: Seamus McGarvey
Ed: Melanie Ann Oliver
Mus: Dario Marianelli
PD: Sarah Greenwood
Cos: Jacqueline Durran
Keira Knightley (Anna Karenina), Jude Law (Count Alexei Karenin), Aaron Taylor-Johnson (Count Alexei Vronsky), Matthew McFadyen (Prince Stepan Arkadyevich), Kelly MacDonald (Darya Oblonskaya), Alicia Vikander (Ekaterina Alexandrovna)
Firstly, I have to pre-empt this review by saying this film just wasn't for me. I don't like costume dramas, I'm not a huge fan of Keira Knightley, and I've never read Leo Tolstoy's original novel, so this is based on my personal taste and would bear no relevance to those who do like this genre.
The plot follows the titular aristocratic princess, who embarks on an affair during the days of the Russian Empire in the 1870's. For me, that brief synopsis is sufficient. 
I really didn't like this film. It smacked of more Oscar bait from a director who has churned a career out of it.
I will admit that it all looks beautiful, with some stunning costumes, sets, cinematography and a fine music score. I'm sure it's faithful to the source material as well. I just didn't care for the story at all. It wasn't for me.
5/10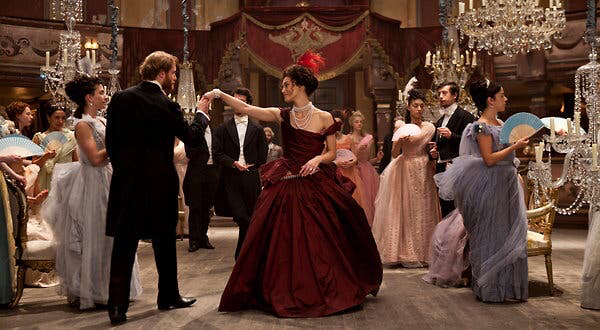 Did You Know:
The soundtrack for several of the country scenes makes use of a Russian folk song that was also adapted (but without the words) by Tchaikovsky in his Fourth Symphony, written in the same period as Tolstoy's novel.

Award Wins & Nominations:
MILSTEAD MOVIE AWARDS:
Wins: none
Nominations: 4 (Best Cinematography, Best Costume Design, Best Original Score, Best Production Design)
OSCARS:
Wins: 1 (Best Costume Design)
Nominations: 3 (Best Cinematography, Best Original Score, Best Production Design)
BAFTAS
Wins: 1 (Best Costume Design)
Nominations: 5 (Best British Film, Best Cinematography, Best Makeup & Hair, Best Music, Best Production Design)
OTHER WINS:
Art Directors Guild (Production Design - Period Film); ACCA (Best Costume Design); British Society of Cinematographers (Best Cinematography); Broadcast Film Critics (Best Art Direction); Critics Choice (Best Costume Design); Costume Designers Guild (Costumes - Period Film); European Film Awards (Best Production Design); Florida Film Critics (Best Art Direction); Gold Derby Awards (Best Art Direction, Best Costume Design); Hollywood Film Awards (Best Production Design); ICS Awards (Best Original Score); INOCA Awards (Best Costume Design, Best Production Design); Irish Film & Television Awards (Best Supporting Actor, Best Director of Photography); Las Vegas Film Critics (Best Costume Design); OFTA Awards (Best Costume Design, Best Production Design); Phoenix Film Critics (Best Costume Design, Best Production Design)