Anchorman (1 & 2)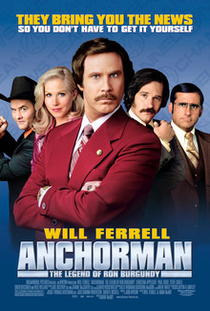 ANCHORMAN: THE LEGEND OF RON BURGUNDY (15)
W: Will Ferrell & Adam McKay
Will Ferrell (Ron Burgundy), Christina Applegate (Veronica Corningstone), Paul Rudd (Brian Fantana), Steve Carell (Brick Tamland), David Koechner (Champ Kind), Fred Willard (Ed Harken)
A mostly-fictionalised comedy biopic of an outspoken, flamboyant newsreader who came to prominence in the 1970's and his feuding relationship (working and personal) with a female co-anchor.
It's easily Will Ferrell's best and funniest performance to date and he's helped by a great supporting cast including Paul Rudd, Steve Carell, Christina Applegate plus several cameo appearances from actors such as Vince Vaughn, Ben Stiller & Jack Black.
It is incredibly silly in parts, but it makes up for that with the fact that the funny bits are absolutely hilarious. Even those who aren't fans of the comedians involved should give this one a chance.
7/10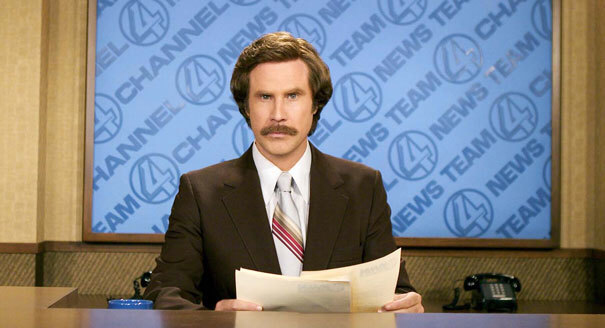 Did You Know:
Will Ferrell graduated from college with a degree in Journalism. He anchored the local news a few times before breaking into comedy.

Award Wins & Nominations:
MILSTEAD MOVIE AWARDS:
Wins: none
Nominations: 1 (Best Screenplay - Original)
OSCARS:
Wins: none
Nominations: none
BAFTAS
Wins: none
Nominations: none
OTHER WINS:
none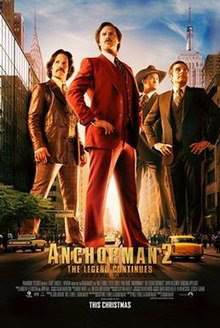 ANCHORMAN 2: THE LEGEND CONTINUES (12)
Paramount (Judd Apatow, Will Ferrell & Adam McKay)
W: Will Ferrell & Adam McKay
Ed: Brent White & Melissa Bretherton
Will Ferrell (Ron Burgundy), Christina Applegate (Veronica Corningstone), Paul Rudd (Brian Fantana), Steve Carell (Brick Tamland), David Koechner (Champ Kind)
The first Anchorman film was one of the surprise hits of 2004, featuring several hilarious moments and is amongst the best works of Will Ferrell.                  
Inspired by a true story of a flamboyant newsreader in the 1970's. A sequel was inevitable, and, as far as sequels go, it really isn't that bad, in fact, some moments are just as funny as the first film.
Fired from his original network and separated from his co-host wife, news anchor Ron Burgundy is struggling to hold down a job, until he is approached by a producer of an upcoming 24-hour news channel which requires his services. 
He assembles his old crew of Brian Fantana, Champ Kind and Brick Tamland and together they win over the ratings war by making up news they think people would want to hear (including smoking crack on air).
Meanwhile, Burgundy fights a custody battle with his separated wife for his son and embarks on an affair with his African-American female producer, leading to a rather embarrassing dinner with her family where he speaks in racial stereotypes.
There are a few jokes which are more embarrassing than they are funny, but there's more than enough good jokes to make up for that.
The film descends into a series of celebrity cameos in the final moments and becomes all a bit silly, but if it's seriousness you're after, you wouldn't get that far into the movie.
Overall, it's not as good as the first film, but is still a decent enough sequel and worth watching if you enjoyed the original.
6/10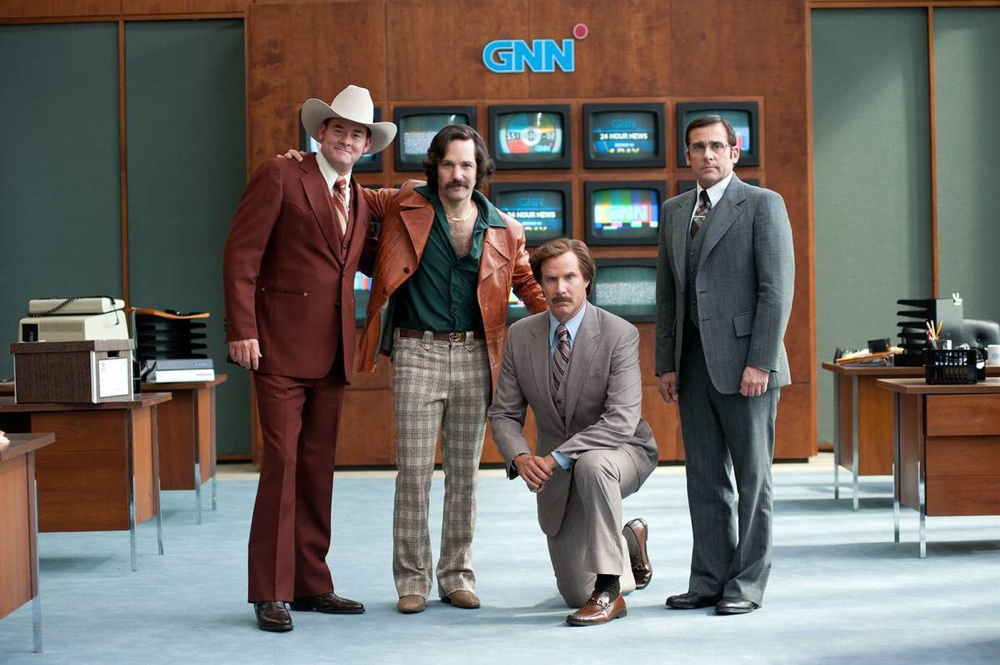 Did You Know:
The film was originally concieved as a musical.

Award Wins & Nominations:
MILSTEAD MOVIE AWARDS:
Wins: none
Nominations: none 
OSCARS:
Wins: none
Nominations: none
BAFTAS
Wins: none
Nominations: none
OTHER WINS:
American Comedy Awards (Best Comedy Actor)