Anatomy of a Murder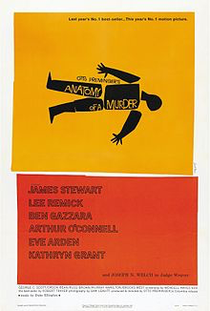 ANATOMY OF A MURDER (12)
D: Otto Preminger
Columbia (Otto Preminger)
W: Wendell Mayes [based on the novel by Robert Traver]
Ed: Louis Loeffler
Mus: Duke Ellington
James Stewart (Paul Diegler), Lee Remick (Laura Manion), Ben Gazzara (Lt. Frederick Manion), Arthur O'Connell (Parnell McCarthy), Eve Arden (Maida), Kathryn Grant (Mary Pilant), Joseph N. Welch (Judge Weaver), George C. Scott (Claude Dancer), Brooks West (Mitch Lodwick), Murray Hamilton (Alphonse Paquette)
Otto Preminger's excellent courtroom drama caused a huge sensation when originally released in 1959, using words like "rape", "panties" and "spermatogenesis" which were unheard in cinema screens during the time.
Based on actual events, James Stewart's district attorney turned defending lawyer takes on a case where his chances of success seem small. A former US soldier faces a murder charge following a bartenders sexual assault on his wife, and with two         corporate hotshot lawyers standing for the prosecution, Stewart uses courtroom histrionics, verbal tennis and lawful lingo to sway the jury to his benefit, aiming for an acquittal for reasons of "temporary insanity" on behalf of his client.
At 160 minutes, the film is a little overlong, but not a moment needs to be cut. The first hour builds up the bare bones of the case, while the mystery of events unfolds in the courtroom scenes overseen by the pedantic Judge Weaver (a great performance from real-life judge Joseph N. Welch). 
Without the aid of flashback scenes, the ambiguity of Lt. Manion's innocence adds even more to the drama, and with Stewart in such fine form, you can't help but hope that he is the lawyer on the victorious side.
There's a couple of goofs in the filmmaking execution which prevent this excellent film from attaining a perfect score (the opening scene has a shadow of the camera crew caused by long shadows), but the frank dialogue and dramatic courtroom scenes makes this an absolute must-see.
9/10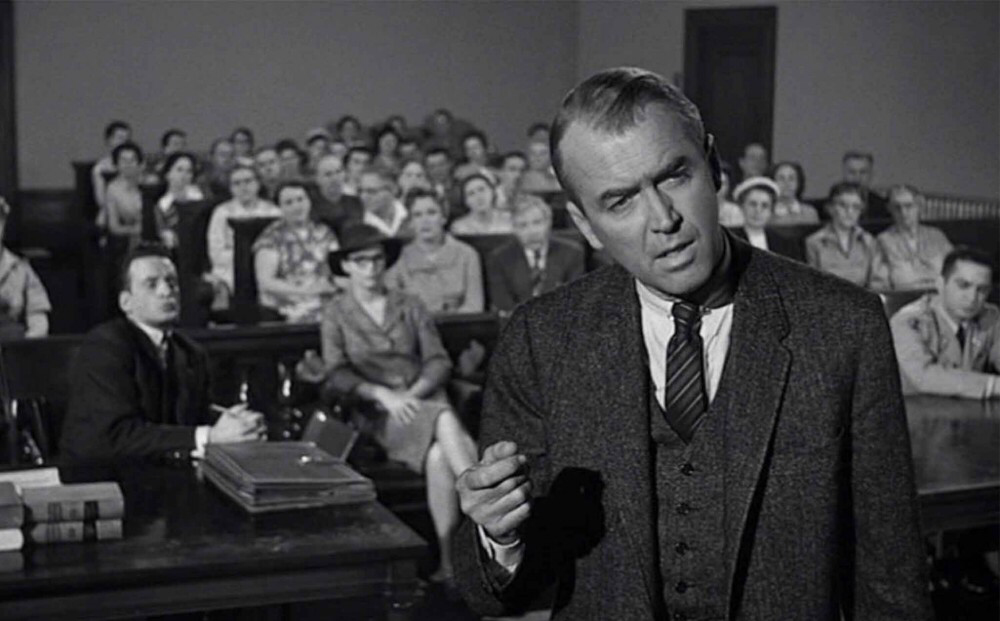 Did You Know:
James Stewart's father was so offended by the film, which he deemed "a dirty picture", that he took out an ad in his local newspaper telling people not to see it.

Award Wins & Nominations:
MILSTEAD MOVIE AWARDS:
Wins: 1 (Best Actress in a Supporting Role)
Nominations: 10 (Best Picture; Best Actor in a Leading Role; Best Director; Best Supporting Actor (x2); Best Ensemble Cast; Best Screenplay - Adaptation; Best Film Editing; Best Original Dramatic Score; Best Sound)
OSCARS:
Wins: none
Nominations: 7 (Best Picture; Best Actor in a Leading Role; Best Actor in a Supporting Role (x2); Best Screenplay - Adaptation; Best Cinematography - B&W; Best Film Editing)
BAFTAS
Wins: none
Nominations: 3 (Best Film; Best Foreign Actor; Best Newcomer)
OTHER WINS:
Golden Laurels (Best Drama, Best Male Dramatic Performance, Best Supporting Male); National Board of Review (Top 10 Films of the Year); New York Film Critics (Best Actor, Best Screenplay); Venice Film Festival (Best Actor)