An American Werewolf in London / An American Werewolf in Paris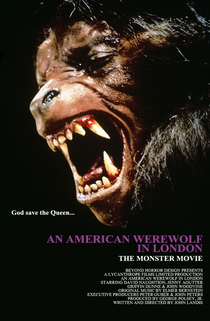 AN AMERICAN WEREWOLF IN LONDON (18)
D: John Landis
Universal/PolyGram/Lycanthrope (George Folsey, Jr.)
W: John Landis
Makeup: Rick Baker
David Naughton (David Kessler), Griffin Dunne (Jack Goodman), Jenny Agutter (Alex Price), John Woodvine (Dr. Hirsch), Brian Glover (Chess Player), David Schofield (Darts Player), Lila Kaye (Barmaid), Paul Kember (Sgt. McManus), Don McKillop (Inspector Villiers), Frank Oz (Mr. Collins)
While hiking through the English moors, two American college students, Jack & David, happen across 'The Slaughtered Lamb' pub in an isolated village.  The pub patrons eccentric behaviour unnerves them and they disappear into the night only to be attacked by a wolf-like creature which kills Jack and wounds David.
Recovering in a London hospital, David is befriended by an attractive nurse - and visited by his undead friend Jack, who warns him of his fate to become a werewolf come the next full moon and must therefore kill himself to end the curse.
This horror classic was a trendsetter in terms of both makeup effects and creature design, becoming the first film to win an Oscar for Best Makeup in a newly formed competitive category.  Makeup man Rick Baker went on to have an incredibly successful career creating makeup and visual effects for a hatful of films over the course of a quarter of a century.
An American Werewolf In London works on both levels in the comedy and horror genres due to excellent scripting, structured characters and unpretentious direction and appeals well to fans of either genre. 
The chemistry between David Naughton & Jenny Agutter works incredibly well and adds to an incredibly touching ending which also proves that Jenny Agutter was a fantastic British actress.
A sequel, An American Werewolf in Paris, was released in 1997, but was viewed as a dismal failure which lacked teeth.
9/10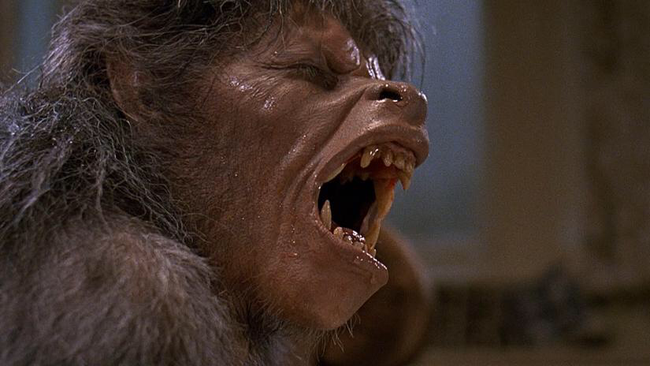 Did You Know:
All the songs in this film have the word "moon" in their titles.

Award Wins & Nominations:
MILSTEAD MOVIE AWARDS:
Wins: 2 (Best Horror Movie; Best Makeup Design)
Nominations: 7 (Best Picture; Best Director; Best Actress in a Supporting Role; Best Screenplay - Original; Best Film Editing; Best Sound Effects Editing; Best Visual Effects)
OSCARS:
Wins: 1 (Best Makeup)
Nominations: none
BAFTAS
Wins: none
Nominations: none
OTHER WINS:
Saturn Award (Best Horror Film, Best Makeup)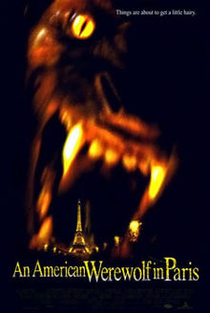 AN AMERICAN WEREWOLF IN PARIS (15)
Stonewood/Hollywood/Cornerstone (Richard Claus)
USA/UK/France/Luxembourg 🇺🇸🇬🇧🇫🇷🇱🇺 1997
W: Tim Burns, Tom Stern & Anthony Waller
Tom Everett Scott (Andy McDermott), Julie Delpy (Serafine Pigot), Vince Vieluf (Brad), Phil Buckman (Chris), Julie Bowen (Amy Finch)
A French remake rather than a sequel to the original classic, An American Werewolf In London, lacking the black comedy that made the original movie such a treat to watch and the transformation visual effects which gave the first movie such bite.
Physical makeup effects are also replaced by poorly-rendered CGI beasties which are about as menacing as a Bichon Frise puppy.
All in all, a pointless exercise which fails to engage fans of the first film or develop a new audience for this one.
The soundtrack has a handful of songs which are okay to listen to on their own, but they really don't work so well in the film itself. 
3/10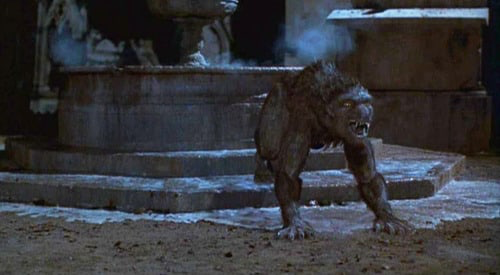 Did You Know:
In a scene that was deleted from the movie, it was discovered that the werewolf society had been around for centuries and the werewolf that attacked David & Jack in An American Werewolf in London was once a member.

Award Wins & Nominations:
MILSTEAD MOVIE AWARDS:
Wins: none
Nominations: none
Worst of the Year: 4 nominations (Worst Excuse for a Horror; Worst Sequel/Prequel; Worst Original Song; Worst Visual Effects)
OSCARS:
Wins: none
Nominations: none
BAFTAS
Wins: none
Nominations: none
OTHER WINS:
none