Amores Perros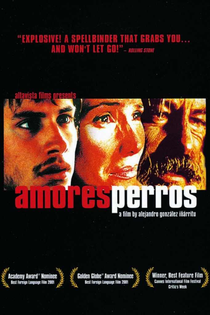 AMORES PERROS (aka LOVE'S A BITCH) (18)
D: Alejandro Gonzalez Iñarritu
Optimum/Zeta Film/Altavista (Alejandro Gonzalez Iñarritu)
W: Guillermo Arriaga
Ed: Alejandro Gonzalez Iñarritu, Luis Carballar & Fernando Perez Unda
Emilio Echevarria (El Chivo), Gael Garcia Bernal (Octavio), Goya Toledo (Valeria), Alvaro Guerrero (Daniel), Vanessa Bauche (Susana), Jorge Salinas (Luis), Marco Perez (Ramiro)
Alejandro Gonzalez Iñarritu's Amores Perros is right up there with City Of God (Cidade de Deus) as one of the best foreign language movies of the 21st century.
Whilst City of God was hailed as Brazil's answer to Goodfellas, Amores Perros has to be considered Mexico's version of Pulp Fiction.
A car accident is the focal point of three different but interlinked stories, the first of which featuring two feuding brothers, one who robs drugstores for cash, while the other gets involved with a dog-fighting syndicate.
The second story involves a model who was a victim in the car accident linking the trio of tales. As she learns to adapt to a wheelchair-bound life, her pet dog finds his way stuck underneath the floorboards of her house, unable to escape causing an argument between the crippled beauty and her lover, who is reluctant to tear up the floorboards to rescue it (it's more interesting than it sounds).
The third story involves a vagrant who looks after stray dogs, hired to carry out a professional killing, but has a change of heart when he takes in a fighting dog involved in the first of the trio of stories.
The middle of the three stories is the weakest of the trio, but the first and third installments are absolutely gripping.  The dog fighting scenes are quite savage and the direction is flawless. This film is quite simply Mexico's finest export of the year 2000.
9/10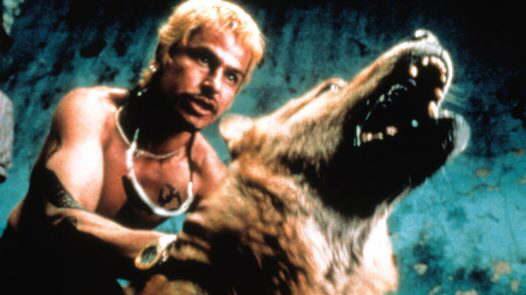 Did You Know:
Unlike most films, a disclaimer stating that no animals were harmed in the making of the movie comes at the beginning instead of being buried in the credits.

Award Wins & Nominations:
MILSTEAD MOVIE AWARDS:
Wins: 1 (Best Foreign Language Film)
Nominations: 5 (Best Picture; Best Director; Best Ensemble Cast; Best Screenplay - Original; Best Film Editing)
OSCARS:
Wins: none
Nominations: 1 (Best Foreign Language Film)
BAFTAS
Wins: 1 (Best Foreign Film)
Nominations: none
OTHER WINS:
ALMA Awards (Best Foreign Film); Boston Society of Film Critics (Best Foreign Film); Camerimage (Golden Frog); London Critics Circle (Best Director); National Board of Review (Best Foreign Film); Silver Ariel Awards (Golden Ariel, Best Actor, Best Director, Best Actor in a Minor Role, Best First Film, Best Cinematography, Best Editing, Best Makeup, Best Set Design, Best Sound, Best Special Effects); Silver Ribbon (Best Foreign Film)