American Hustle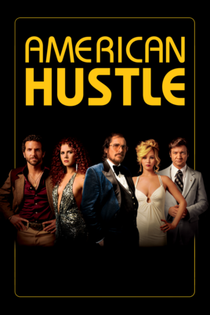 AMERICAN HUSTLE (15)
D: David O. Russell
Columbia/Annapurna/Atlas (Charles Roven, Richard Suckle & Megan Ellison)
W: David O. Russell & Eric Warren Singer
Ed: Jay Cassidy, Crispin Struthers & Alan Baumgarten
PD: Judy Becker
Cos: Michael Wilkinson
Christian Bale (Irving Rosenfeld), Amy Adams (Sydney Prosser), Bradley Cooper (Richie DiMaso), Jeremy Renner (Carmine Polito), Jennifer Lawrence (Rosalyn Rosenfeld)
Some hustle as a way of life, some hustle for love, some hustle for respect, some hustle for truth, some hustle to survive.
American Hustle is a quintet of great performances, four of which are very special.
In this crime caper, Christian Bale (almost unrecognisable due to a bloated belly and questionable combover) is small-time grifter Irving Rosenfeld, who along with his mistress Sydney Prosser (Amy Adams) con their way to a fair amount of cash until        the Feds put the skids on their operation.
FBI agent Richie DiMaso (Bradley Cooper) then heads an operation, using their help, to entrap a group of politicians and senator who have ties to the mob, including well-intentioned mayor Carmine Polito (Jeremy Renner) who is overseeing casino development in Atlantic City.
The only spanner in the works comes from Rosenfeld's ditzy bimbo wife, Rosslyn (a scene-stealing Jennifer Lawrence).
The plot sounds a lot more complicated than it actually is and aside from an opening sequence which comes from the middle of the narrative, it's a very simple story to follow, even though you're constantly wondering who's playing who.
Director David O. Russell captures the early 1970's period brilliantly, with perfect set decor, costumes, makeup & hairstyling and as I touched on earlier, the performances are brilliant. Jennifer Lawrence won a handful of awards for supporting actress but Amy Adams also deserved a share of the spoils in the lead actress category.  Robert DeNiro also pops up in a fine cameo as a mobster.
It's almost unbelievable that this film was nominated for 10 Oscars and left the ceremony empty-handed. Any other year this would have scooped quite a few awards, perhaps even Best Picture. I certainly wouldn't have begrudged it.
8/10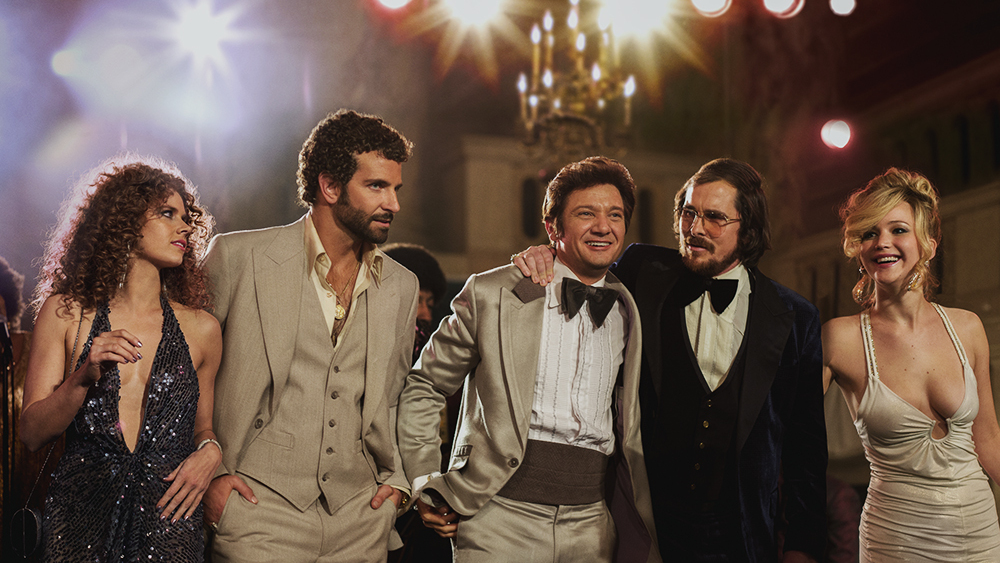 Did You Know:
David O. Russell stated that Robert De Niro (making a cameo appearance) didn't recognize Christian Bale on the set, even after they were introduced to each other. De Niro pulled Russell aside, pointed to Bale and asked who he was. First De Niro didn't believe it was Bale, but after Russell convinced him of that De Niro noted, "Wow, he looks really different", and nodded his head as a sign of approval. Russell then had to re-introduce the two, now that De Niro knew who Bale was.

Award Wins & Nominations:
MILSTEAD MOVIE AWARDS:
Wins: 1 (Best Costume Design)
Nominations: 11 (Best Picture; Best Actor in a Leading Role; Best Actress in a Leading Role; Best Director; Best Actor in a Supporting Role; Best Actress in a Supporting Role; Best Ensemble Cast; Best Screenplay - Original; Best Film Editing; Best Makeup; Best Production Design)
OSCARS:
Wins: none
Nominations: 10  (Best Picture; Best Actor in a Leading Role; Best Actress in a Leading Role; Best Director; Best Actor in a Supporting Role; Best Actress in a Supporting Role; Best Screenplay - Original; Best Costume Design; Best Film Editing; Best Production Design)
BAFTAS
Wins: 3 (Best Actress in a Supporting Role; Best Original Screenplay; Best Makeup)
Nominations: 7 (Best Film; Best Actor in a Leading Role; Best Actress in a Leading Role; Best Director; Best Actor in a Supporting Role; Best Costume Design; Best Production Design)
OTHER WINS:
Golden Globes (Best Film - Musical / Comedy, Best Actress - Musical / Comedy, Best Supporting Actress); AACTA (Best Supporting Actress, Best Screenplay); AARP Movies for Grownups (Best Time Capsule); AFI Award (Movie of the Year); Alliance of Women Film Journalists (Best Ensemble); American Comedy Awards (Best Comedy Supporting Actor, Best Comedy Supporting Actress); ACCA (Best Costume Design); Black Film Critics Circle (Best Original Screenplay); Capri (Best Director, Best Original Screenplay); Central Ohio Film Critics (Best Supporting Actress, Best Ensemble); Critics Choice Awards (Best Comedy, Best Actress - Comedy, Best Makeup); Denver Film Critics (Best Supporting Actress, Best Original Screenplay); Detroit Film Critics (Best Ensemble); Eddies (Best Editing - Musical / Comedy); Georgia Film Critics (Best Ensemble); Gold Derby Awards (Best Ensemble, Best Makeup); Golden Schmidt (Best Supporting Actress, Best Music, Most Overrated Movie of the Year); Hollywood Film Awards (Best Costume Design, Best Production Design); Hollywood Makeup Artist Awards (Best Period Makeup - Hairstyling); IGN Awards (Best Actress); Indiana Film Journalists (Best Supporting Actress); International Online Cinema Awards (Best Ensemble Cast, Best Makeup); National Society of Film Critics (Best Supporting Actress); Nevada Film Critics (Best Supporting Actress); New York Film Critics (Best Film, Best Supporting Actress, Best Screenplay); New York Online Critics (Best Ensemble); North Texas Film Critics (Best Supporting Actress); Oklahoma Film Critics (Best Supporting Actress); OFTA (Best Ensemble); Phoenix Film Critics (Best Ensemble); San Diego Film Critics (Best Ensemble); San Francisco Film Critics (Best Supporting Actress, Best Original Screenplay); Satellite Awards (Best Original Screenplay, Best Film Editing); Screen Actors Guild (Best Ensemble Cast); Seattle Film Critics (Best Ensemble Cast, Best Makeup); Southeastern Film Critics (Best Ensemble Cast); Toronto Film Critics (Best Supporting Actress); Vancouver Film Critics (Best Supporting Actress); Yoga Awards (Worst Foreign Actress)