American History X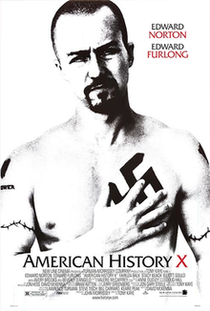 AMERICAN HISTORY X (18)
New Line (John Morrissey)
Ed: Jerry Greenberg & Alan Heim
Edward Norton (Derek Vinyard), Edward Furlong (Danny Vinyard), Fairuza Balk (Stacey), Stacy Keach (Cameron Alexander), Elliott Gould (Murray), Avery Brooks (Dr. Bob Sweeney), Beverly D'Angelo (Doris Vinyard)
Edward Norton delivers his career best performance in this tense prison melodrama. He plays the leader of a Neo-Nazi gang, arrested and sentenced to a stint in prison after a vicious attack.  In prison, he begins to reform, while outside the walls his younger brother begins to follow in his fascist footsteps.
Shot in grainy black & white photography to carry a documentary-style feel, this film is very much carried by Edward Norton's excellent performance.  His screen presence alone is the very picture of hate and fascism, complete with a swastika tattoo emblazoned on his chest.  Unfortunately, a cop-out ending takes away much of the power of the message it's trying to convey.  It's still a very good film, but it really could have been better and I partially feel it's due to conflict between the lead actor and the director, leading to an end product which wasn't the originally intended vision.
8/10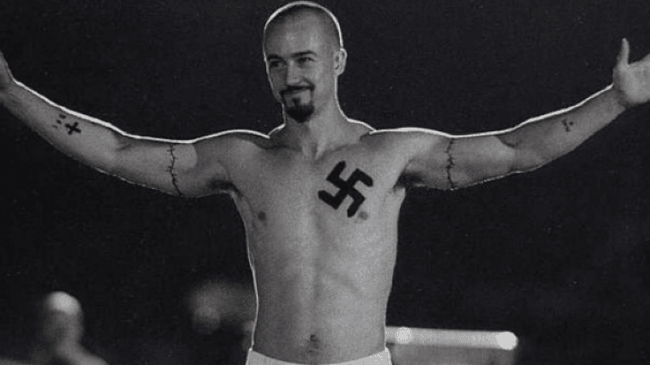 Did You Know:
Edward Norton was said to have re-edited the film to lengthen his screen time. Director Tony Kaye then attempted to get his own name removed from the credits but violated a Directors' Guild of America rule that states that directors that use pseudonyms (such as "Alan Smithee") must not talk about why they had their name removed - which Tony Kaye had done in ads in Variety. According to Entertainment Weekly, he then wanted his credit to read "Humpty Dumpty". Eventually, Kaye sued the DGA and New Line Cinema for approximately $200 million stating that the DGA rule violated his first amendment rights.

Award Wins & Nominations:
MILSTEAD MOVIE AWARDS:
Wins: none
Nominations: 5 (Best Picture; Best Actor in a Leading Role; Best Screenplay - Original; Best Cinematography; Best Film Editing)
OSCARS:
Wins: none 
Nominations: 1 (Best Actor in a Leading Role)
BAFTAS
Wins: none
Nominations: none
OTHER WINS:
ACCA (Best Actor); Satellite Awards (Best Actor); Southeastern Film Critics (Best Actor); Taormina Film Festival (Best Actor)