American Gangster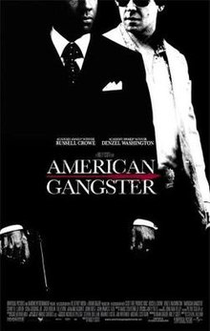 AMERICAN GANGSTER (18)
Universal/Imagine/Scott Free/Relativity Media (Ridley Scott & Brian Grazer)
W: Steven Zaillian
Denzel Washington (Frank Lucas), Russell Crowe (Richie Roberts), Chiwetel Ejiofor (Huey Lucas), Josh Brolin (Detective Trupo), Lymari Nadal (Eva), Cuba Gooding, Jr. (Nicky Barnes), Armand Assante (Dominic Cassano), Ruby Dee (Mama Lucas)
1970's America; an ambitious detective fights to bring down the drug empire of Frank Lucas, a heroin kingpin living a life of opulence in Manhattan, smuggling the drug into the country from the Far East.
A rather simple story provides for one of the best gangster movies of recent years, striking similarities to both Carlito's Way and Goodfellas whilst still maintaining it's own story to tell (it's also nowhere near as good as Goodfellas, arguably the best of it's genre along with The Godfather saga).
Denzel Washington and Russell Crowe both deliver great performances and the direction is of the usual quality you'd associate with Ridley Scott.
Amongst the best films of 2007.
8/10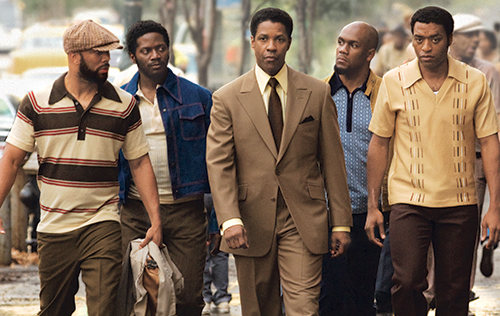 Did You Know:
Frank Lucas and Richie Roberts were on-set consultants to director Ridley Scott and the crew throughout filming. Roberts was said to have stated, "Lucas is having too much fun, and I want to arrest him again!"
Award Wins & Nominations:
MILSTEAD MOVIE AWARDS:
Wins: none
Nominations: 5 (Best Actor in a Leading Role; Best Actress in a Supporting Role; Best Screenplay - Original; Best Original Dramatic Score; Best Production Design)
OSCARS:
Wins: none 
Nominations: 2 (Best Actress in a Supporting Role; Best Art Direction)
BAFTAS
Wins: none
Nominations: 5 (Best Film, Best Original Screenplay, Best Cinematography, Best Editing, Best Music)
OTHER WINS:
AARP Movies for Grownups (Best Supporting Actress); African American Film Critics (Best Supporting Actress); BET Awards (Best Actor); Empire Awards (Best Thriller); Satellite Awards (Best Editing); Screen Actors Guild (Best Supporting Actress); World Soundtrack Awards (Discovery of the Year); World Stunt Awards (Best Fire Stunt)