American Beauty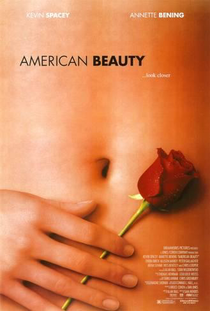 AMERICAN BEAUTY (18)
D: Sam Mendes
Dreamworks (Dan Jinks & Bruce Cohen)
W: Alan Ball
DP: Conrad L. Hall
Ed: Tariq Anwar & Christopher Greenbury
Mus: Thomas Newman
Kevin Spacey (Lester Burnham), Annette Bening (Carolyn Burnham), Thora Birch (Jane Burnham), Wes Bentley (Ricky Fitts), Mena Suvari (Angela Hayes), Chris Cooper (Colonel Fitts), Peter Gallacher (Buddy Kane), Allison Janney (Barbara Fitts), Scott Bakula (Jim Olmeyer), Sam Robards (Jim Berkley)
The title refers to a variety of rose which is beautiful to look at but rotten at the roots and the movie tagline invites us to 'look closer...'
American Beauty is a frank, humorous and ultimately depressing look at a dysfunctional suburban family.  Kevin Spacey plays Lester Burnham, an office worker who lives with his wife and daughter and about to reach a midlife crisis in which he develops an inappropriate crush on his daughter's high school friend. He begins to smoke pot, drink beer at the dinner table and virtually do anything to alienate his wife, who, unbeknownst to Lester, is having an affair.  His daughter, meanwhile, is contemplating breast augmentation surgery and begins dating the drug dealer who lives next door with his military nut father and basket case mother.
The mixed bag of characters make this a brilliant drama and a suspenseful murder mystery which keeps you gripped, as it turns out that Lester is destined to die... But by whose hand???
Theatre director Sam Mendes made his film debut with this and did an excellent job, eventually winning the Best Director Oscar with this film, brimful with both intense and profound symbolism. Veteran cameraman Conrad L. Hall also contributes heavily to the drama with rich photography which give the movie a polished look of beauty despite it being about some rather grotesque characters.  A very intelligent movie and quite deservedly named the best film of 1999 at the Academy Awards, the Baftas and the Golden Globes.
10/10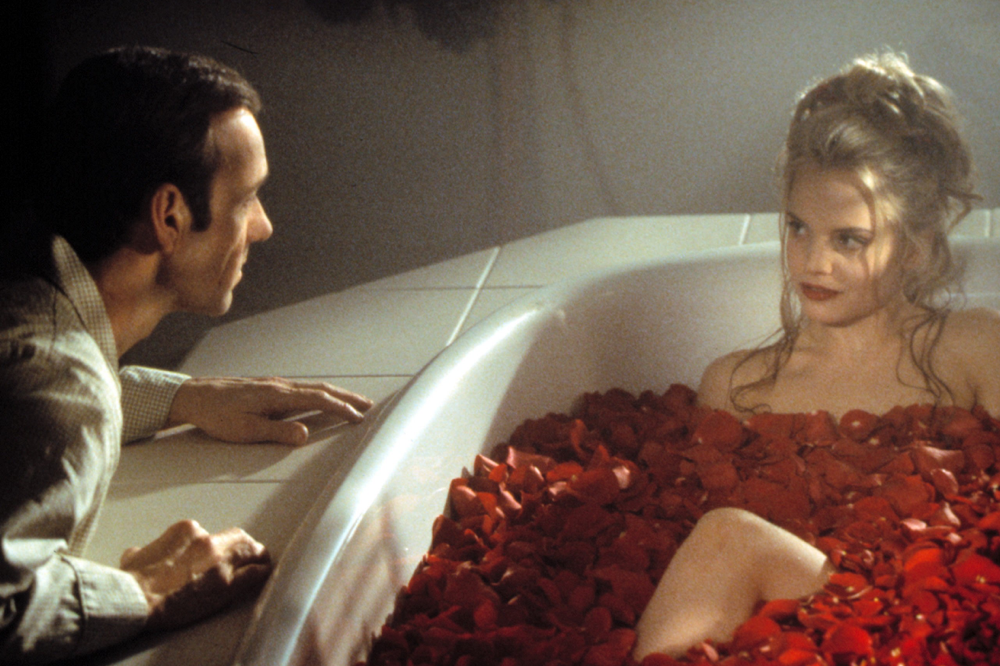 Did You Know:
When Lester throws the asparagus against the wall during the dinner argument, he was supposed to throw it on the floor. The reactions of Annette Bening and Thora Birch are genuine.
Award Wins & Nominations:
MILSTEAD MOVIE AWARDS:
Wins: 7 (Best Picture; Best Actress in a Leading Role; Best Director; Best Ensemble Cast; Best Screenplay - Original; Best Cinematography; Best Original Dramatic Score)
Nominations: 6 (Best Actor in a Leading Role; Best Actor in a Supporting Role; Best Actress in a Supporting Role (x2); Best Film Editing; Best Sound)
OSCARS:
Wins: 5 (Best Picture; Best Actor in a Leading Role; Best Director; Best Original Screenplay; Best Cinematography)
Nominations: 3 (Best Actress in a Leading Role; Best Film Editing; Best Original Score)
BAFTAS
Wins: 6 (Best Film; Best Actor in a Leading Role; Best Actress in a Leading Role; Best Cinematography; Best Editing; Best Music)
Nominations: 8 (Best Director; Best Actor in a Supporting Role; Best Actress in a Supporting Role (x2); Best Original Screenplay; Best Makeup; Best Production Design; Best Sound)
OTHER WINS:
Golden Globes (Best Film - Drama, Best Director, Best Screenplay); ACCA (Best Film, Best Actor, Best Actress, Best Director, Best Original Screenplay, Best Cinematography); Amandas (Best Foreign Film); American Comedy Awards (Funniest Actress); American Society of Cinematographers (Best Cinematography); Australian Film Institute (Best Foreign Film); Bodil Awards (Best American Film); British Society of Cinematographers (Best Cinematography); Casting Society of America (Best Casting); Chicago Film Critics (Best Picture, Best Actor, Best Director, Most Promising Actor); Chlotrudis Awards (Best Actor); Critics Choice Awards (Best Film, Best Director, Best Original Screenplay); Costume Designers Guild (Excellence in Contemporary Film); Dallas Fort Worth Film Critics (Best Picture, Best Actor, Best Director, Best Screenplay); Directors Guild (Best Director); Film Critics Circle of Australia (Best Foreign Film); Florida Film Critics (Best Actor, Best Director); Golden Reel Awards (Best Sound Editing); Jupiter Award (Best International Film, Best International Actor); Kansas City Film Critics (Best Film, Best Actor, Best Director); Las Vegas Film Critics (Best Film, Best Actor); London Critics Circle (Best Film, Best Actor, Best Actress, Best Director, Best Screenplay); Los Angeles Film Critics (Best Director);  Lumiere Awards (Best Foreign Film); National Board of Review (Best Film, Breakthrough Performance - Male); National Society of Film Critics (Best Cinematography); OFTA (Best Picture, Best Actor, Best Director, Best Original Screenplay, Best Cinematography, Best Male Breakthrough Performance, Best First Feature, Best First Screenplay); Online Film Critics (Best Picture, Best Actor, Best Director, Best Ensemble); PGA (Outstanding Production); Roberts (Best American Film); San Diego Film Critics (Best Film, Best Actor, Best Actress, Best Supporting Actress); Screen Actors Guild (Best Actor, Best Actress, Best Ensemble); Silver Ribbon (Best Foreign Director); Southeastern Film Critics (Best Film, Best Actor, Best Director, Best Original Screenplay); Toronto Film Critics (Best Male Performance); Writers Guild of America (Best Original Screenplay); Young Artist Awards (Best Supporting Young Actress); Young Hollywood Awards (Breakthrough Female Performance, Best On-Screen Chemistry); Youngstar Awards (Best Young Actress - Drama)