Always
ALWAYS (PG)
Universal/Amblin (Steven Spielberg, Frank Marshall & Kathleen Kennedy)
W: Jerry Belson & Diane Thomas [based on the screenplay 'A Guy Named Joe' by Dalton Trumbo]
Richard Dreyfuss (Pete Sandich), Holly Hunter (Dorinda Durston), John Goodman (Al Yackey), Brad Johnson (Ted Baker), Audrey Hepburn (Hap), Roberts Blossom (Dave)
A remake of A Guy Named Joe updated for the late 1980's. Richard Dreyfuss plays a pilot who dies in a forest fire and roams the earth as a guardian angel to a rookie flyer who becomes romatically involved with the woman he once loved. 
This sentimental fable was an unusual choice for Steven Spielberg, but is quite entertaining if a little overlong.  John Goodman provides good comic relief and Audrey Hepburn makes a bittersweet cameo appearance as Dreyfuss' own guardian angel in one of her final screen roles.  The biggest let down about the movie is the unconvincing ending.
Not a huge hit for the big director, perhaps suffering for being too similar in plot to Ghost, which was released very soon after and the film suffers a bit from being too unbalanced between adventure, comedy, romance, surrealism and sheer sentimentality.
6/10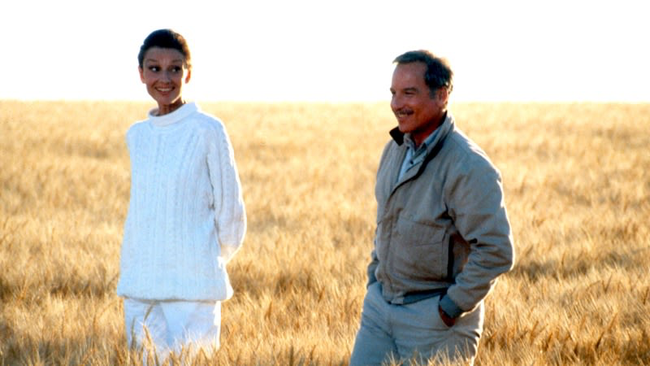 Did You Know:
This was Audrey Hepburn's final film before her death on January 20, 1993 at the age of 63. She accepted the role of Hap because she wanted to work with Steven Spielberg. She donated her $1m salary to UNICEF.
Award Wins & Nominations:
MILSTEAD MOVIE AWARDS:
Wins: none
Nominations: 3 (Best Cinematography; Best Original Dramatic Score; Best Sound Effects Editing)
OSCARS:
Wins: none 
Nominations: none
BAFTAS
Wins: none
Nominations: none
OTHER WINS:
none