Alone in the Dark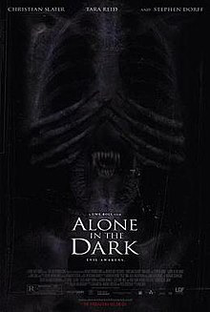 ALONE IN THE DARK (18)
Lions Gate/Boll KG/Herold/Brightlight Pictures (Shawn Williamson)
Canada/Germany/USA 🇨🇦🇩🇪🇺🇸 2005
W: Élan Mastai, Michael Roesch & Peter Scheerer [based on the video game by Infogrames]
Mus: Reinhard Basser, Oliver Lieb, Bernd Wendlandt & Peter Zweier
Christian Slater (Edward Carnby), Stephen Dorff (Richard Burke), Tara Reid (Aline Cedrac)
Based on a popular video game, which I can only presume is much more fun than this shocking excuse for a movie, which doesn't even do the basics of fundamental filmmaking convincingly.
Christian Slater plays a paranormal investigator who is trying to solve a mystery when he accidentally unleashes invisible beasties with a vulnerability to light (seriously) into the world.
This is one of those terrible movies which leaves no stone of badness unturned, featuring an absolutely pathetic excuse for an acting performance from Tara Reid and directed by a man dubbed the German Ed Wood (Uwe Boll).
It's astonishing to believe that the special effects budget for this movie was $10m. Presumably the money was spent on copious amounts of cocaine.
This is completely unrelated to the 1982 horror of the same name.
1/10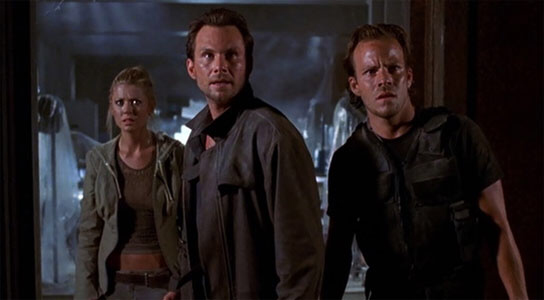 Did You Know: 
The lengthy opening text crawl was added after numerous test audience members said they were confused by the plot.

Award Wins & Nominations:
MILSTEAD MOVIE AWARDS:
Wins: none
Nominations: none
Worst of the Year: 2 wins (Worst Excuse for a Horror; Worst Original Score); 11 nominations (Worst Film; Worst Actor; Worst Actress; Worst Director; Worst Supporting Actor; Worst Screen Couple, Double Act or Team; Worst Ensemble Cast; Worst Screenplay -Original; Worst Original Song; Worst Makeup; Worst Visual Effects)
OSCARS:
Wins: none 
Nominations: none 
BAFTAS
Wins: none
Nominations: none
OTHER WINS:
Dallas Fort Worth Film Critics (Worst Film); The Stinkers (Worst Film; Worst Actress; Worst Director; Least Special Special Effects)