Almost Famous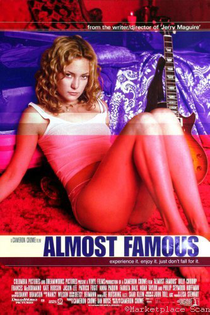 ALMOST FAMOUS (15)
Dreamworks/Vinyl (Cameron Crowe & Ian Bryce)
W: Cameron Crowe
Ed: Joe Hutsching & Saar Klein
Mus: Nancy Wilson; Peter Frampton (uncredited)
Billy Crudup (Russell Hammond), Frances McDormand (Elaine Miller), Kate Hudson (Penny Lane), Jason Lee (Jeff Bebe), Patrick Fugit (William Miller), Anna Paquin (Polexia Aphrodisia), Fairuza Balk (Sapphire), Noah Taylor (Dick Roswell), Zooey Deschanel (Anita Miller), Philip Seymour Hoffman (Lester Bangs)
A music-obsessed high school student lies about his age to write an article about a band for a local press release, his work is noticed by Rolling Stone magazine who hire him to follow a rock band on their tour, but he enjoys the experience too much to write a warts & all review of the feuding group, whilst they're reluctant for him to see them behind the scenes and paint them in a negative light with their upcoming album due to be released.
Director/screenwriter Cameron Crowe's semi-autobiographical account of his own youth boasts some great characters, fantastic one-liners and a top-notch cast, particularly Philip Seymour Hoffman, Billy Crudup, Frances McDormand and Kate Hudson, who steals the show as 'Band Aid' Penny Lane. 
Worth watching for the soundtrack alone, full of classic tracks from the seventies and a few original songs, penned by an uncredited Peter Frampton. The fictional band Stillwater at the sole focus of the film are so convincing, you'd be forgiven for thinking that they were a real one (Cameron Crowe based them on the characteristics of members from several real life bands, including Led Zeppelin & Guess Who)
9/10
Did You Know:
Stillwater's songs were written by Peter Frampton (who also had a small part in the film), Cameron Crowe, and Nancy Wilson (of the rock band Heart). The music acknowledgments credit Russell Hammond & Stillwater.
Award Wins & Nominations:
MILSTEAD MOVIE AWARDS:
Wins: 7 (Best Picture; Best Director; Best Actress in a Supporting Role; Best Screenplay - Original; Best Original Musical or Comedy Score; Best Original Song; Best Sound)
Nominations: 6 (Best Actor in a Supporting Role; Best Actress in a Supporting Role; Best Ensemble Cast; Best Costume Design; Best Film Editing
OSCARS:
Wins: 1 (Best Original Screenplay)
Nominations: 3 (Best Actress in a Supporting Role (x2); Best Film Editing)
BAFTAS
Wins: 2 (Best Original Screenplay; Best Sound)
Nominations: 4 (Best Film; Best Actress in a Supporting Role (x2); Best Music)
OTHER WINS:
Golden Globes (Best Film - Musical / Comedy, Best Supporting Actress); AFI Awards (Movie of the Year); ACCA (Best Supporting Actress, Best Original Screenplay); Blockbuster Entertainment Awards (Favourite Supporting Actress - Drama, Favourite Female Newcomer); Boston Society of Film Critics (Best Film, Best Director, Best Supporting Actress, Best Screenplay); Cairo Film Festival (Best Screenplay); Chicago Film Critics (Best Film, Best Supporting Actress, Best Screenplay, Most Promising Actor); Critics Choice Awards (Best Supporting Actress, Best Original Screenplay, Breakthrough Artist); Dallas Fort Worth Film Critics (Best Supporting Actress, Best Screenplay); Eddies (Best Editing); Florida Film Critics (Best Supporting Actress, Newcomer of the Year); Golden Reel Awards (Best Sound Editing - Music); Kansas City Film Critics (Best Supporting Actress); Las Vegas Film Critics (Best Supporting Actress); Los Angeles Film Critics (Best Supporting Actress); OFTA (Best Writing, Best Song - Adapted, Best Title Sequence); Online Film Critics (Best Picture, Best Supporting Actor, Best Supporting Actress, Best Ensemble, Best Screenplay); Phoenix Film Critics (Best Film, Best Supporting Actress, Best Original Screenplay); San Diego Film Critics (Best Film, Best Director, Best Supporting Actress, Best Original Screenplay); Satellite Awards (Best Supporting Actress); Southeastern Film Critics (Best Film, Best Supporting Actress)