All The President's Men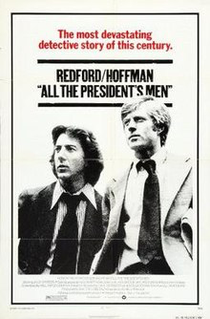 ALL THE PRESIDENT'S MEN (15)
D: Alan J. Pakula
Warner Bros. (Walter Coblenz)
Political/Thriller/Historical
W: William Goldman [based on the book by Carl Bernstein & Bob Woodward]
Dustin Hoffman (Carl Bernstein), Robert Redford (Bob Woodward), Jack Warden (Harry Rosenfeld), Martin Balsam (Howard Simons), Hal Holbrook (Deep Throat), Jason Robards (Ben Bradlee), Jane Alexander (Bookkeeper), Meredith Baxter (Debbie Sloan), Ned Beatty (Dardis), Stephen Collins (Hugh Sloan, Jr.)
An excellent political drama combining aspects of a detective thriller with investigative journalism starring Dustin Hoffman & Robert Redford in their element as Carl Bernstein & Bob Woodward, the two Washington Post reporters who uncovered and blew the whistle on the Watergate scandal. 
All the performances are top-notch, especially the two leads and Jason Robards (who won a Best Supporting Actor Oscar for his performance). The compelling finale compensates for the movies rather lengthy running time.
Interest will certainly depend on whether or not you're interested in the event, but for those who are, this is quite informative entertainment
9/10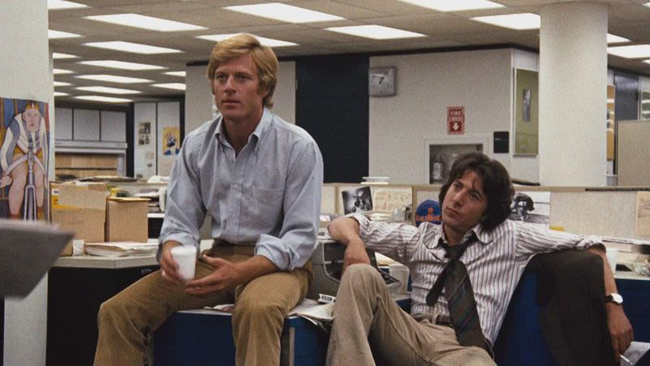 Did You Know:
Nothing was allowed into the script unless it had been meticulously verified and confirmed by independent sources.

Award Wins & Nominations:
MILSTEAD MOVIE AWARDS:
Wins: 2 (Best Screenplay - Adaptation; Best Sound)
Nominations: 9 (Best Picture; Best Actor in a Leading Role (x2); Best Director; Best Actor in a Supporting Role; Best Actress in a Supporting Role; Best Ensemble Cast; Best Film Editing; Best Production Design)
OSCARS:
Wins: 4 (Best Actor in a Supporting Role; Best Screenplay Adaptation; Best Art Direction; Best Sound)
Nominations: 4 (Best Picture; Best Director; Best Actress in a Supporting Role; Best Film Editing)
BAFTAS
Wins: none
Nominations: 9 (Best Film; Best Actor in a Leading Role; Best Director; Best Actor in a Supporting Role (x2): Best Cinematography; Best Editing; Best Production Design; Best Sound)
OTHER WINS:
Kansas Film Critics (Best Supporting Actor); National Board of Review (Best Film; Best Director; Best Supporting Actor); National Society of Film Critics (Best Film; Best Supporting Actor); New York Film Critics (Best Film; Best Director; Best Supporting Actor); Writers Guild Awards (Best Drama Adapted from Another Medium)