All Quiet On The Western Front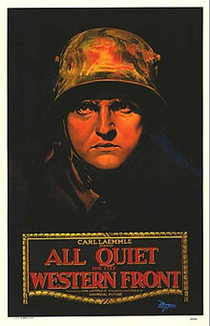 ALL QUIET ON THE WESTERN FRONT (PG)
D: Lewis Milestone
Universal (Carl Laemmle, Jr.)
W: Del Andrews, Maxwell Anderson & George Abbott [based on the novel by Erich Maria Remarque]
Ed: Edgar Adams & Milton Carruth
Louis Wolhelm (Katczinsky), Lew Ayres (Paul Baumer), John Wray (Himmelstoss), Slim Summerville (Tjaden), Russell Gleason (Muller)
Only the third film to win the Academy Award for Best Picture, Lewis Milestone's adaptation of Erich Maria Remarque's pacifist novel is a remarkable anti-war film, with some incredibly well executed scenes of conflict, especially considering that the film was produced in 1930.
Set in 1914, the story follows a group of German teenagers who volunteer for action, only to become disillusioned with the political stance behind the war and accepting the slim chances of their own survival.
Though the film itself is dated in some aspects, the message it conveys is still an incredibly powerful one. 
8/10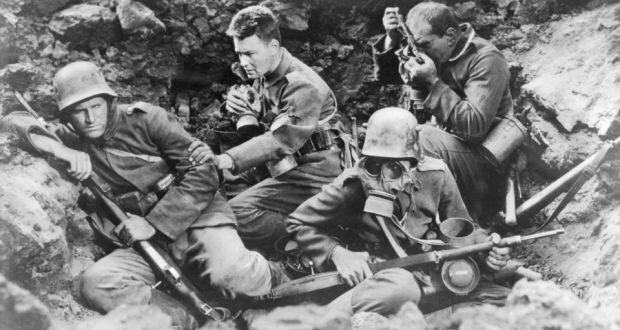 Did You Know:
With the loss of limbs and gory deaths shown rather explicitly, this is undoubtedly the most violent American film of its time. This is because the Production Code was not strictly enforced until 1934, and also because Universal Pictures deemed the subject matter important enough to allow the violence to be seen. The scene where a soldier grabs a strand of barbed wire and then is blown up by an artillery shell, leaving only his hands still grabbing the barbed wire, was told to director Lewis Milestone by a former German soldier working as an extra, who saw that happen during a French attack on his position during the war. Milestone used it in the film.

Award Wins & Nominations:
MILSTEAD MOVIE AWARDS:
Wins: 4 (Best Picture; Best Director; Best Screenplay - Adaptation; Best Sound)
Nominations: 3 (Best Cinematography, Best Film Editing, Best Special Visual Effects)
OSCARS:
Wins: 2 (Best Picture; Best Director)
Nominations: 2 (Best Writing; Best Cinematography)
BAFTAS
Wins: none
Nominations: none
OTHER WINS:
National Board of Review (Top 10 Films of the Year)