All of Me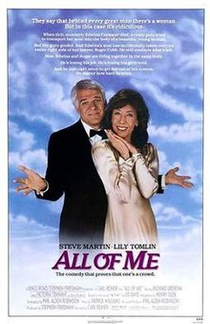 ALL OF ME (15)
Universal/Thorn-EMI/Kings Road (Stephen Friedman)
W: Phil Alden Robinson [based on the novel 'Me, Two' by Ed Davis]
Steve Martin (Roger Cobb), Lily Tomlin (Edwina Cutwater), Victoria Tennant (Terry Hoskins), Madolyn Smith (Peggy Schuyler), Richard Libertini (Prahka Lasa), Dana Elcar (Burton Schuyler), Jason Bernard (Tyrone)
A guru who specialises in reincarnation accidentally transfers a dying woman's soul into her lawyer's body allowing her to control one side of his body, whilst he still maintains control of the other.
The story is complete nonsense, but the film is hilarious simply due to Steve Martin's brilliant comedy performance in which you truly believe he's possessed by a belligerent, senile woman. They say slapstick died with Charlie Chaplin, but this proves them wrong.  Steve Martin went on to become a big comedy star during the 1980's, but none of his performances quite better this, even with a screenplay which only has one real joke that it runs with. Hugely recommended, even if you're not a fan of Martin's work.
7/10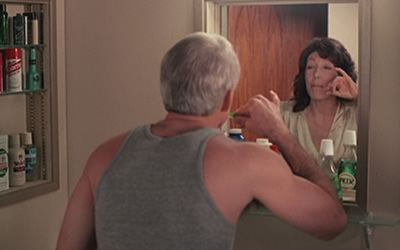 Did You Know:
Steve Martin and Victoria Tennant met on the set of this movie. They were married in 1986 and later divorced around eight years later in 1994.
Award Wins & Nominations:
MILSTEAD MOVIE AWARDS:
Wins: none
Nominations: 1 (Best Actor in a Leading Role)
OSCARS:
Wins: none
Nominations: none
BAFTAS
Wins: none
Nominations: none
OTHER WINS:
National Society of Film Critics (Best Actor); New York Film Critics (Best Actor)