Alive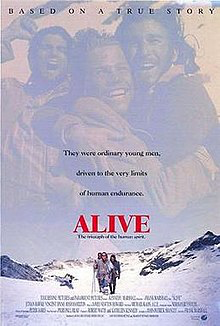 ALIVE (15)
Paramount/Touchstone (Robert Watts & Kathleen Kennedy)
W: John Patrick Shanley [based on the book by Piers Paul Reid]
Ethan Hawke (Nando Parrado), Josh Hamilton (Roberto Canessa), Bruce Ramsay (Carlitos Perez), John Haymes Newton (Antonio Vizintin), David Kriegel (Gustavo Zerbino), Vincent Spano (Antonio Balbi), John Malkovich (narrator)
Based on a true story. On the afternoon of Friday, October 13th 1972, one of the most controversial and inspirational tales of survival began when an aeroplane carrying a team of young Uruguayan rugby players and their families crashed into the Andes Mountains.
Several of the passengers died instantly, but most survived.  For a week, they say and waited for rescue to arrive, but help never came and they learn from a salvaged radio receiver that the search party had been abandoned. Soon after, all their food has been deplenished.
Forced to exist in subzero weather for ten weeks, the survivors endured the unimaginable by doing the unthinkable and eating their dead.  Meanwhile, a team of three leave the makeshift camp in an heroic attempt to trek out of the mountains for help.
Unfortunately, the high-octane, adrenalous plane crash in the first ten minutes let's the rest of the film drag due to a very overclimactic beginning.  The opening and supporting visual effects over the course of the movie aren't enough to carry the drama without any real focus on the characters, who are merely supporting roles to the special effects and set pieces. Nevertheless, it gave a promising start to Frank Marshall's directorial career (following 1990's Arachnophobia) which he never really did much better with after serving as Steven Spielberg's producer over the course of the 1980's.
The film does ask an important question however, but doesn't really answer it in any volumes.
6/10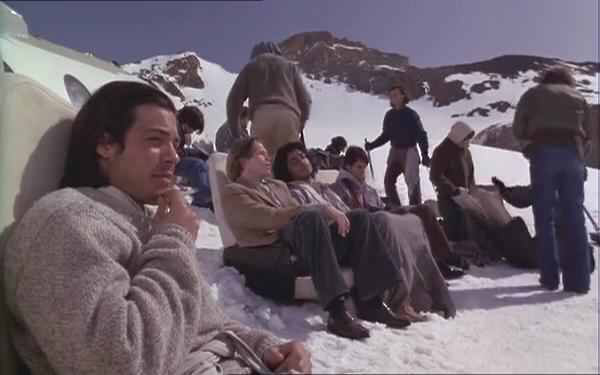 Did You Know:
The real Nando Parrado (Ethan Hawke's character) was technical advisor to the film.
Award Wins & Nominations:
MILSTEAD MOVIE AWARDS:
Wins: 1 (Best Sound Effects Editing)
Nominations: 2 (Best Sound; Best Visual Effects)
OSCARS:
Wins: none
Nominations: none
BAFTAS
Wins: none
Nominations: none
OTHER WINS:
Australian Cinematographers Society (Cinematographer of the Year)