Alice Doesn't Live Here Anymore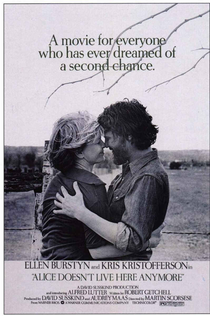 ALICE DOESN'T LIVE HERE ANYMORE (15)
D: Martin Scorsese
Warner Bros (Audrey Mass & David Susskind)
USA 🇺🇸 1974
112 mins
Drama
W: Robert Getchell
DP: Kent L. Wakeford
Ed: Marcia Lucas
Mus: Richard LaSalle
Ellen Burstyn (Alice Hyatt), Alfred Lutter (Tommy Hyatt), Kris Kristofferson (David), Billy Green Bush (Donald), Diane Ladd (Flo Castleberry), Valerie Curtin (Vera), Leila Goldoni (Bea)
Strong performances carry this early Martin Scorsese movie, starring Ellen Burstyn as a widow who travels the American Midwest with her young son, eventually settling in Monterrey where she seeks a career as a singer.
Burstyn herself had a lot of creative control over the film, and won an Oscar for her performance, while Diane Ladd and Robert Getchell's script were also nominated. Quite surprisingly, it was named Best Film of 1974 by BAFTA. I'd probably have it in the top 10, but it certainly isn't a better movie than Chinatown or The Godfather part II from the same year. It is quite representative of the year it was released, and Scorsese has proved in years since which stories and themes better suit his directorial style.
7/10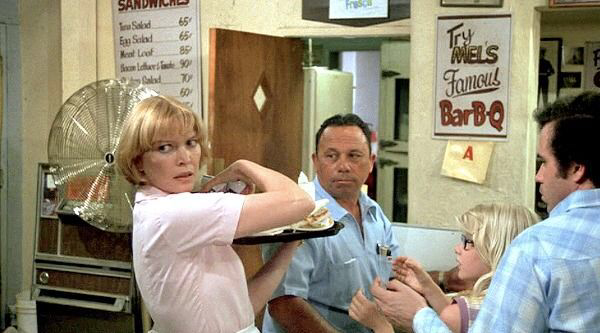 Did You Know:
The opening sequence was designed to be an homage to The Wizard of Oz (1939).
Award Wins & Nominations:
MILSTEAD MOVIE AWARDS:
Wins: 1 (Best Actress in a Supporting Role)
Nominations: 6 (Best Picture; Best Actress in a Leading Role; Best Director; Best Actress in a Leading Role; Best Ensemble Cast; Best Screenplay - Original)
OSCARS:
Wins: 1 (Best Actress in a Leading Role)
Nominations: 2 (Best Actress in a Supporting Role; Best Original Screenplay)
BAFTAS
Wins: 4 (Best Film; Best Actress in a Leading Role; Best Actress in a Supporting Role; Best Screenplay)
Nominations: 3 (Best Director; Best Actress in a Supporting Role; Most Promising Newcomer)
OTHER WINS:
National Board of Review (Top 10 Films of the Year)