Aladdin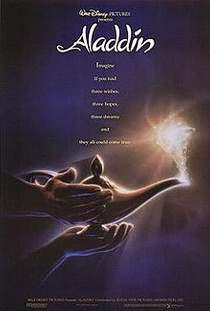 ALADDIN (U)
D: John Musker & Ron Clements
Walt Disney (John Musker & Ron Clements)             
W: John Musker, Ron Clements, Ted Elliott & Terry Rossio [based on the story "Aladdin & The Magic Lamp" from "One Thousand & One Nights"]
Mus: Alan Menken
voices of: Scott Weinger (Aladdin), Brad Kane (Aladdin - singing), Robin Williams (The Genie), Linda Larkin (Jasmine), Lea Salonga (Jasmine - singing), Jonathan Freeman (Jafar), Frank Welker (Abu), Gilbert Gottfried (Iago)
Following a decade in the wilderness, Disney animation came back with a boom in the late 80's and early 90's with some of their best work, this being one of them.
The story follows Aladdin, a street urchin, who discovers a magical lamp that contains a genie who will grant Aladdin three wishes. Aladdin's first is to be a prince so he can romance the Sultan's beautiful daughter, Jasmine.  Meanwhile, an evil wizard wants the lamp for himself.
Aladdin was a landmark film for Disney, using innovative computer techniques which led to the birth of a new kind of animation and also demonstrated the power of the voice actor, with Robin Williams exuberant and energetic vocal performance as the Genie being one of the most entertaining and hilarious characters in a Disney film for quite some time, if not ever.
8/10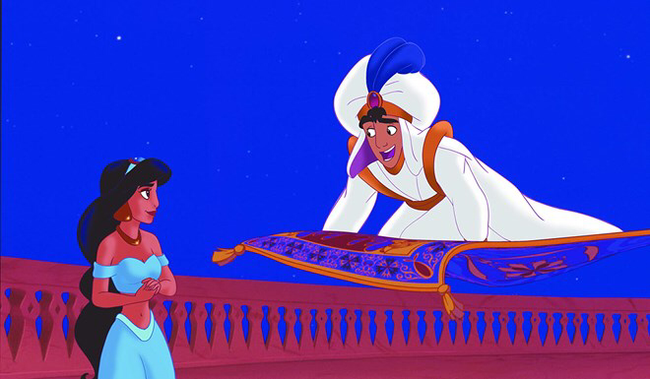 Did You Know:
The opening scene with the street merchant was completely unscripted. Robin Williams was brought into the sound stage and was asked to stand behind a table that had several objects on it and a bedsheet covering them all. The animators asked him to lift the sheet, and, without looking, take an object from the table and describe it in character. Much of the material in that recording session was not appropriate for a Disney film.

Award Wins & Nominations:
MILSTEAD MOVIE AWARDS:
Wins: 2 (Best Animated Film; Best Original Song)
Nominations: 6 (Best Picture; Best Actor in a Supporting Role; Best Screenplay (Adaptation); Best Original Musical or Comedy Score; Best Original Song; Best Sound)
OSCARS:
Wins: 2 (Best Original Score; Best Original Song)
Nominations: 3 (Best Original Song; Best Sound; Best Sound Effects Editing)
BAFTAS
Wins: none
Nominations: 2 (Best Score; Best Visual Effects)
OTHER WINS:
Golden Globes (Best Original Score; Best Original Song; Special Award for Robin Williams); Annie Awards (Best Animated Feature); ACCA (Best Motion Picture; Best Supporting Actor; Best Original Score; Best Sound); Dallas Fort Worth Film Critics (Best Animated Film); Golden Reel Awards (Best Sound Editing - Animated Film); Kids Choice Awards (Favourite Movie); Los Angeles Film Critics (Best Animated Film); MTV Movie Awards (Best Comedic Performance); Saturn Awards (Best Fantasy Film; Best Supporting Actor; Best Performance by a Young Actor); 20/20 Awards (Best Original Song)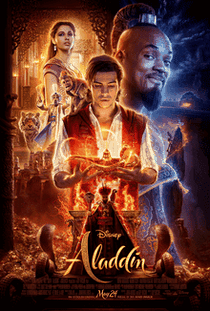 ALADDIN (PG)
D: Guy Ritchie
Disney/Rideback (Dan Lin & Jonathan Eirich)
USA 🇺🇸 2019
128 mins
Fantasy/Musical
W: John August & Guy Ritchie [based on the 1992 screenplay by John Musker, Ron Clements, Ted Elliott & Terry Rossio)
DP: Alan Stewart
Ed: James Herbert
Mus: Alan Menken
PD: Gemma Jackson
Cos: Michael Wilkinson
Mena Massoud (Aladdin), Naomi Scott (Princess Jasmine), Will Smith (Genie), Marwan Kenzani (Jafar), Navid Negahban (The Sultan), Nasim Pedrad (Dalia)
In 1998, Gus Van Sant directed a shot-by-shot remake of Alfred Hitchcock's Psycho and the resulting movie was widely lambasted by critics and audiences who failed to see the point of existence, especially since the original film is still held in wide regard to this day.
Fast-forward a couple of decades later and this strategy of filmmaking is now Disney's modus operandi, remaking live action movies of their animated back catalogue for monetary gain and monetary gain alone.
For me, the 1992 version of Aladdin was pretty much perfect, with animation which still holds up, a story which still feels timeless, buoyed by memorable songs and an enigmatic vocal performance from Robin Williams which is still synonymous with the late actor's finest contributions to film.
The 2019 barely changes anything from the 1992 script, but still manages to pad out the running time by approximately 30 minutes, adding a couple of songs for Princess Jasmine to warble and cramming in some feminist subplot because every film made post 2016 HAS to have this to appease the Buzzfeed crowd.
The visuals are heavily dependent on CGI, so much so that this is basically a computer generated animated film. It's fair to say that some visual effects work better than others and the low point is probably how ridiculous and cartoony Will Smith's genie looks. Smith makes it worst as best he can, but in comparison to Robin Williams, it just doesn't work.  The rest of the performances vary in quality, and Naomi Scott is probably the standout as Jasmine.
Overall, this is a side of filmmaking which I just don't care for. Disney are conning people into watching a film they've already seen, whereas in the past they would have re-released their back catalogue for a new generation of audiences, now they're throwing money at remakes which are remakes in name only.
Nowhere near as bad as Gus Van Sant's Psycho, I'll admit, but this version of Aladdin still has no legitimate reason to exist, other than to serve the bottom line of Disney's balance sheet.
5/10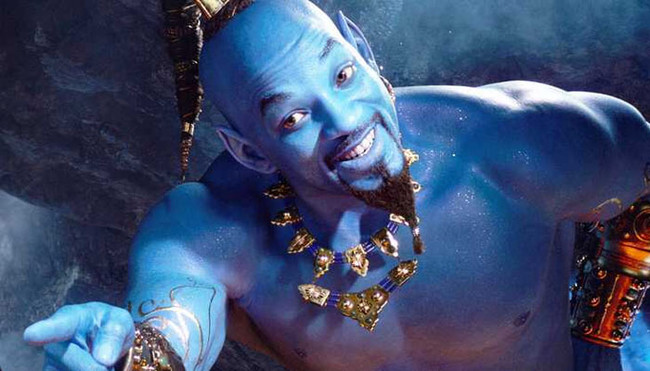 Did You Know:
During the "A Whole New World" magic carpet ride, Aladdin & Jasmine fly over the Pridelands of The Lion King.