Airplane (1 & 2)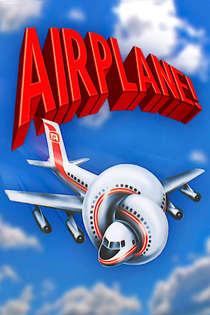 AIRPLANE! (15)
D: Jim Abrahams, David Zucker & Jerry Zucker
W: Jim Abrahams, David Zucker & Jerry Zucker [based on the screenplay "Zero Hour" by Arthur Hailey, John Champion & Hall Bartlett]
Robert Stack (Kramer), Lloyd Bridges (McCroskey), Robert Hays (Ted Striker), Julie Hagerty (Elaine), Peter Graves (Capt. Oveur), Leslie Nielsen (Dr. Rumack), Lorna Patterson (Randy), Kareem Abdul-Jabbar (Roger Murdock)
Spoof remake of a 1950's melodrama disaster movie in which all passengers and crew abroad a commercial flight develop food poisoning and a former pilot suffering from PTSD has to regain his nerve to land the plane safely.
This film is not to be taken at all seriously, it's ridiculously silly and some jokes tip the scales of bad taste to the extreme.  It is hilariously funny though... If you can take it. Surely, Leslie Nielsen steals the entire movie as a doctor aboard the flight.
7/10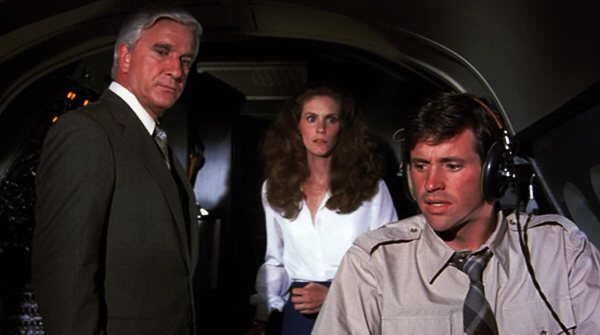 Did You Know:
The picture of the boy in the spinning newspaper that has the headline, "Boy Trapped In Refrigerator Eats Own Foot", is Billy Koch, the grandson of executive producer Howard W. Koch. His grandfather called him up one day and asked him for a photo of him, so Billy grabbed his second grade school photo. It was only after the film came out that he found out why his grandfather wanted the photo.

Award Wins & Nominations:
MILSTEAD MOVIE AWARDS:
Wins: none
Nominations: 4 (Best Picture; Best Actor in a Supporting Role; Best Screenplay (Adaptation); Best Original Musical or Comedy Score)
OSCARS:
Wins: none
Nominations: none
BAFTAS
Wins: none
Nominations: 1 (Best Screenplay)
OTHER WINS:

Writers Guild Awards (Best Comedy Adapted from Another Medium)
AIRPLANE II: THE SEQUEL (15)
Paramount (Howard W. Koch)
Robert Hays (Ted Striker), Julie Hagerty (Elaine Dickinson), Lloyd Bridges (Steve McCrosky), Peter Graves (Capt. Clarence Oveur), Chad Everett (Simon Kurtz), Rip Torn (Bud Kruger)
Virtually a retread of the first film, with recycled jokes and the exact same formula. The only real difference is that the action takes place on a passenger-carrying space shuttle rather than a commercial flight.
The loss of the writing partnership of Zucker, Abrahams, Zucker and the comedy talents of Leslie Nielsen have a major impact on the comedy value. There's a couple of chuckles here and there, but this is little more than a cash-grab.
4/10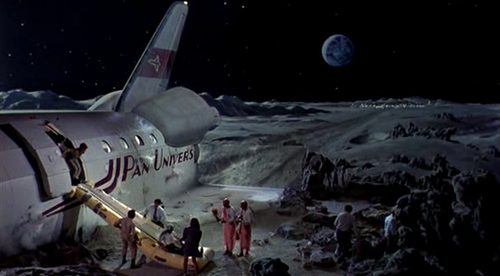 Did You Know:
At a pre-screening of this movie at a Cincinnati theatre, the audience was given 3-D glasses as they entered the auditorium. After several minutes into the "blurry" film, distorted by the 3-D glasses everyone donned, the pre-screeners realized the film was not in 3-D. The audience had been duped, but it was unclear by whom.

Award Wins & Nominations:
MILSTEAD MOVIE AWARDS:
Wins: none
Nominations: none
Worst of the Year: 1 nomination (Worst Sequel, Remake or Ripoff)
OSCARS:
Wins: none
Nominations: none
BAFTAS
Wins: none
Nominations: none
OTHER WINS:

none