Against All Odds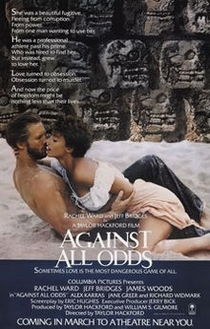 AGAINST ALL ODDS  (18)
Columbia/Delphi (Jerry Bick)
W: Eric Hughes [based on the screenplay "Out Of The Past" by Geoffrey Homes]
DP: Donald E. Thorin & E. Pershing Flynn
Ed: Fredric Steinkamp & William Steinkamp
Mus: Michel Colombier; Phil Collins
Jeff Bridges (Terry Brogan), Rachel Ward (Jessie Wyler), James Woods (Jake Wise), Richard Widmark (Ben Caxton), Jane Greer (Mrs. Grace Wyler), Alex Karras (Hank Sully), Dorian Harewood (Tommy), Swoosie Kurtz (Ellie)
A retired football player is hired by a seedy nightclub owner/bookmaker to find his missing wife. He does, and the two of them fall in love.
This is a long, pointless remake of a 1947 thriller which serves no purpose other than seeing its two main stars in a lot of boring sex scenes.
It's notable for Phil Collins' title song and an exciting car chase in the opening scene, but very little else. Everyone involved is capable of much better. This is just too tacky and tawdry.
4/10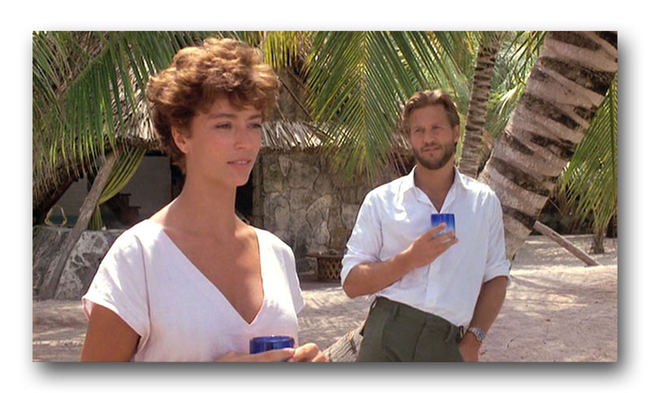 Did You Know:
The image, likeness, and appearance of Jeff Bridges from this movie was used as a visual effects reference in order create a thirty-five year old version of Bridges for characters in the 2010 sequel movie TRON: Legacy (2010). 
Award Wins & Nominations:
MILSTEAD MOVIE AWARDS:
Wins: none
Nominations: 1 (Best Original Song)
Worst of the Year: 4 nominations (Worst Film; Worst Actress; Worst Screenplay - Adaptation; Worst Remake, Sequel or Ripoff)
OSCARS:
Wins: none
Nominations: 1 (Best Original Song)
BAFTAS
Wins: none 
Nominations: none
OTHER WINS::
Stuntman Awards (Most Spectacular Sequence; Best Action Sequence Coordinator)