Aeon Flux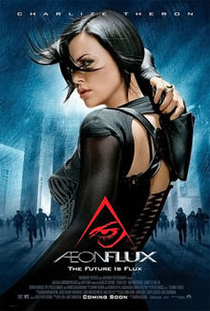 ÆON FLUX (15)

Paramount/MTV/Lakeshore/Valhalla (Gale Anne Hurd, David Gale, Gary Lucchesi, Gregory Goodman & Martha Griffin)
W: Phil Hay & Matt Manfredi [based on characters created by Peter Chung]
Ed: Peter Honess, Plummy Tucker & Jeff Gullo
Cos: Beatrix Aruna Pasztor
Charlize Theron (Æon Flux), Marton Csokas (Trevor Goodchild), Jonny Lee Miller (Oren Goodchild), Sophie Okenedo (Sithandra), Pete Posthelwaite (Keeper), Frances McDormand (Handler), Amelia Warner (Una Flux)
All style over content with a very miscast Charlize Theron & her stunt double trying to ape an all-female version of The Matrix, set in a post-apocalyptic walled city which she has to infiltrate to assassinate its despotic leader. The movie consists mostly of Charlize Theron galavanting around in a catsuit and Pete Posthelthwaite crops up looking like a condom and that's about the long & short of it.
It may have worked very well as an animated series or a video game, but as a movie it fluxing sucked!
3/10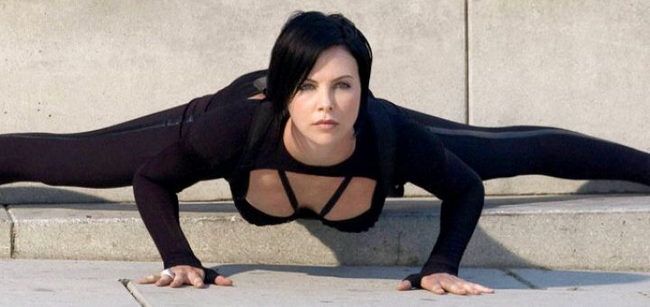 Did You Know:
The production team first chose the Brazilian capital of Brasilia as the city in which to shoot the movie. However, because of logistical problems they ended up in Berlin, Germany, where they found most of their locations, such as a recently built crematorium, and underground sewers dating from before World War II.

Award Wins & Nominations:
MILSTEAD MOVIE AWARDS:
Wins: none
Nominations: none
Worst of the Year: 4 Nominations (Worst Actress; Worst Director; Worst Supporting Actor; Worst Makeup)
OSCARS:
Wins: none
Nominations: none
BAFTAS
Wins: none 
Nominations: none
OTHER WINS:

none