Adaptation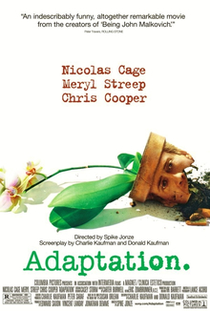 ADAPTATION. (15)

Columbia/Intermedia/Magnet/Clinica Estetico (Edward Saxon, Vincent Landay & Jonathan Demme)
W: Charlie Kaufman (& Donald Kaufman) [based on the book "The Orchid Thief" by Susan Orlean]
Nicolas Cage (Charlie Kaufman / Donald Kaufman), Meryl Streep (Susan Orlean), Chris Cooper (John Laroche), Tilda Swinton (Valerie), Cara Seymour (Amelia), Brian Cox (Robert McGee)
A neurotic Hollywood screenwriter is struggling to adapt a non-fiction book about a Florida orchid breeder into a screenplay, and regularly meets the books subject and author for inspiration, all to little avail.
Meanwhile, his energetic twin brother is happily churning out a cliche-riddled script about a serial killer.
This film is an absolute work of genius by it's quirky writer Charlie Kaufman.  It's very self-referential and may go over the heads of non-movie buffs, but it's worth watching alone for the great performances of it's three main stars, especially Nicolas Cage in the dual role of the two twins.
It's much funnier and smarter than it sounds, you just need to be in the mood for it.
8/10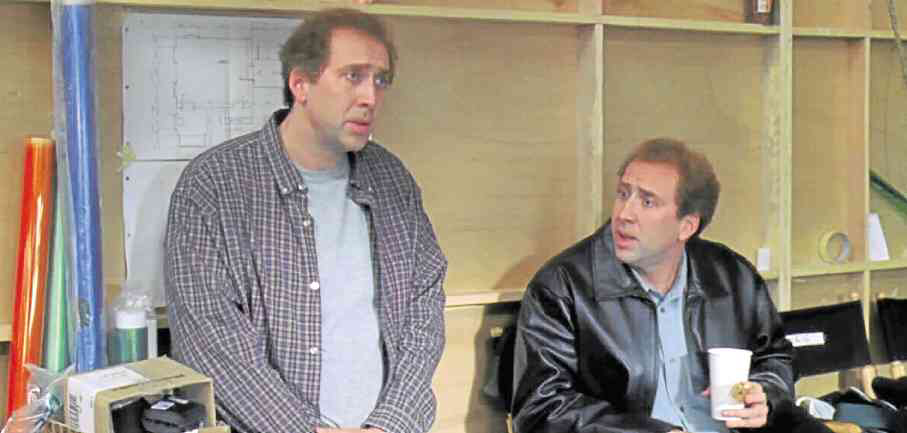 Did You Know:
Based on screenwriter Charlie Kaufman's struggle to adapt the best-selling book "The Orchid Thief" by Susan Orlean. Kaufman quickly got into a writer's block, since the book lacked the dramatic structure needed for a movie. So he decided to write a screenplay about himself struggling to write a book adaptation, exaggerating many of the story elements and characters, and making up new ones (such as a non-existent twin brother, Donald Kaufman.) Knowing that the producers would reject the idea, he did not tell them about the new direction, in which he was taking the story, and simply handed in the finished script.

Award Wins & Nominations:
MILSTEAD MOVIE AWARDS:
Wins: 1 (Best Screenplay - Adaptation)
Nominations: 7 (Best Picture; Best Actor in a Leading Role; Best Director; Best Actor in a Supporting Role; Best Actress in a Supporting Role; Best Film Editing; Best Original Musical or Comedy Score)
OSCARS:
Wins: 1 (Best Actor in a Supporting Role)
Nominations: 3 (Best Actor in a Leading Role; Best Actress in a Supporting Role; Best Screenplay - Adaptation)
BAFTAS
Wins: 1 (Best Screenplay - Adaptation)
Nominations: 3 (Best Actor in a Leading Role; Best Actor in a Supporting Role; Best Actress in a Supporting Role)
OTHER WINS:

Golden Globe (Best Supporting Actor; Best Supporting Actress); AARP Movies for Grownups (Best Actress); AFI Awards (Movie of the Year); Awards Circuit Community (Best Supporting Actress; Best Screenplay - Adapted); Berlin International Film Festival (Silver Bear); Boston Society of Film Critics (Best Screenplay); Broadcast Film Critics (Best Supporting Actor, Best Writing); Central Ohio Film Critics (Best Supporting Actor, Best Adapted Screenplay); Chicago Film Critics (Best Supporting Actress, Best Screenplay, Most Promising Newcomer); Chlotrudis Awards (Best Supporting Actor, Best Original Screenplay); Dallas Fort Worth Film Critics (Best Supporting Actor, Best Screenplay); Florida Film Critics (Best Film, Best Supporting Actor, Best Supporting Actress, Best Screenplay); Gold Derby Awards (Best Supporting Actor, Best Supporting Actress, Best Adapted Screenplay), Golden Schmoes (Screenplay of the Year, Comedy of the Year); International Online Cinema Awards (Best Supporting Actor, Best Adapted Screenplay); Kansas City Film Critics (Best Supporting Actor); Las Vegas Film Critics (Best Actor); Los Angeles Film Critics (Best Supporting Actor); National Board of Review (Top 10 Films of the Year; Best Supporting Actor, Best Screenplay); New York Film Critics (Best Screenplay); OFTA (Best Supporting Actor, Best Supporting Actress, Best Screenplay - Adapted, Best Casting); Online Film Critics (Best Screenplay); San Diego Film Critics (Best Supporting Actor); San Francisco Film Critics (Best Supporting Actor); Satellite Awards (Best Screenplay - Adapted); Seattle Film Critics (Best Supporting Actor); Southeastern Film Critics (Best Supporting Actor, Best Supporting Actress, Best Adapted Screenplay); Toronto Film Critics (Best Picture, Best Male Performance, Best Male Supporting Performance, Best Screenplay); Utah Film Critics (Best Supporting Actor, Best Supporting Actress); Vancouver Film Critics (Best Supporting Actor), Washington DC Film Critics (Best Director, Best Supporting Actor, Best Adapted Screenplay)