Abre Los Ojos / Vanilla Sky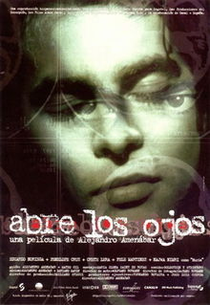 ABRE LOS OJOS (aka OPEN YOUR EYES) (18)
D: Alejandro Amenábar
Redbus/Sogetel/El Escorpion/Alain Sarde/Lucky Red
Spain/Italy/France 🇪🇸🇮🇹🇫🇷 1997
W: Alejandro Amenábar & Matteo Gil
Ed: Maria Elena Sainz de Rojas
Mus: Alejandro Amenábar & Mariano Marin
Eduardo Noriega (Cesar), Penelope Cruz (Sofia), Chete Lera (Antonio), Fele Martinez (Pelayo), Najwa Nimri (Nuria), Gerard Barray (Duvernois)
A quite excellent psychological thriller about a prisoner who explains to his psychiatrist how he came to be facially disfigured in a car accident and incarcerated for murder, only to discover that his nightmare reality may not be all that it seems.
Superior in every way to the American remake 'Vanilla Sky', this Spanish language original is gripping and intelligent, holding interest throughout without having to make reference to pop culture in order to make the complex, tricksy story easier to follow.
One of the best foreign language movies of the 1990's. It was remade in the US in 2001 as Vanilla Sky (see below).
8/10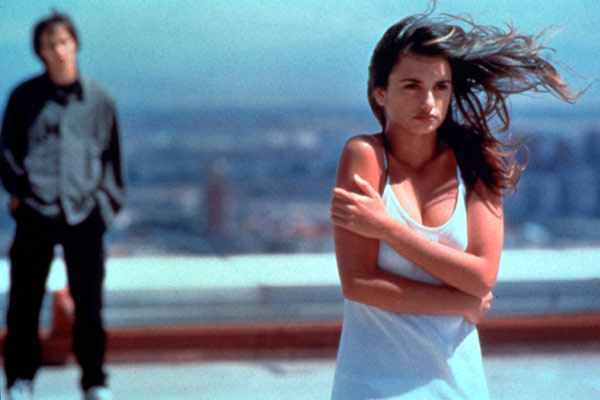 Did You Know:
Tom Cruise said that he was on his mobile phone trying to buy the remake rights (for Vanilla Sky) immediately after the first time he watched the film.

Award Wins & Nominations:
MILSTEAD MOVIE AWARDS:
Wins: 2 (Best Foreign Language Film; Best Makeup Design)
Nominations: 4 (Best Picture, Best Director, Best Screenplay (Original); Best Film Editing)
OSCARS:
Wins: none
Nominations: none
BAFTAS
Wins: none
Nominations: none
OTHER WINS:

Berlin International Film Festival (Best Director); Ondas Awards (Best Actress); Tokyo International Film Festival (Tokyo Grand Prix)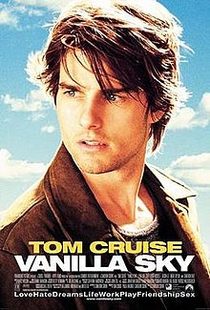 VANILLA SKY (15)
Paramount (Tom Cruise, Paula Wagner & Cameron Crowe)
W: Cameron Crowe [based on the screenplay "Abre Los Ojos" by Alejandro Amenábar & Matteo Gil]
Ed: Joe Hutshing & Mark Livolsi
Tom Cruise (David Aames), Penelope Cruz (Sofia Serrano), Cameron Diaz (Julie Gianni), Jason Lee (Brian Shelby), Kurt Russell (Dr. Curtis McCabe), Noah Taylor (Edmund Ventura)
An American remake of Abre Los Ojos (see above) which makes the story more bitesize for an audience who don't like or enjoy watching foreign language films. 
The plot is pretty much tit for tat, surrounding an obnoxious millionaire playboy's life, which slowly unravels and becomes increasingly surreal after he is involved in a life-changing car accident.

There's plenty of remakes like this, where they're faithful enough to the original source without deviating much from what was previously done. The only real change is the spoken language.
The performances on show here are far weaker from the original Spanish film, curiously in the case of Penelope Cruz, reprising her role from the original and Cameron Diaz, who overacts wildly throughout her limited screen-time. Director/screenwriter Cameron Crowe puts his own stamp on it, with a nod to his background in music journalism, but the film itself is completely unnecessary. Treat yourself to the 1997 film instead, which is far superior, whether or not you're a fan of world cinema.
5/10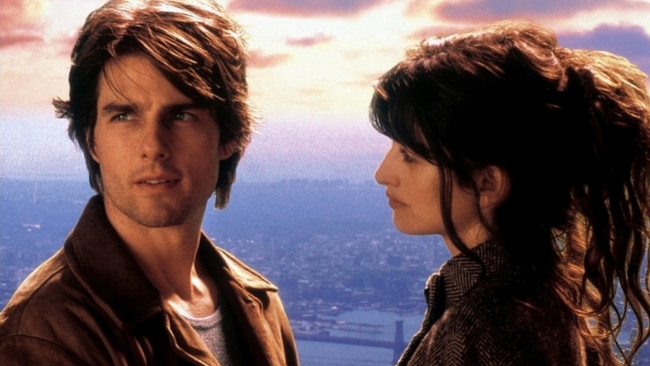 Did You Know:
The scene with Tom Cruise alone in Times Square is not computer enhanced. The production was given unprecedented permission to shut down Times Square for one Sunday. At the time of shooting, the news screens were providing updates on the George W. Bush-Al Gore election. To avoid dating the film, Crowe got permission to change the NASDAQ sign in post-production.

Award Wins & Nominations:
MILSTEAD MOVIE AWARDS:
Wins: none
Nominations: 1 (Best Original Song)
Worst of the Year: 1 Win (Worst Makeup) / 3 Nominations (Worst Actress; Worst Supporting Actress; Worst On-Screen Couple)
OSCARS:
Wins: none
Nominations: 1 (Best Original Song)
BAFTAS
Wins: none
Nominations: none
OTHER WINS:
Saturn Awards (Best Actor); Boston Film Critics (Best Supporting Actress); Chicago Film Critics (Best Supporting Actress); Critics Choice (Best Original Song); Yoga Awards (Worst Remake)