About Schmidt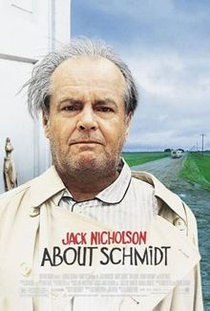 ABOUT SCHMIDT (15)

New Line (Michael Gittes & Harry Besman)
W: Alexander Payne & Jim Taylor [based on the novel by Louis Begley]
Jack Nicholson (Warren Schmidt), Hope Davis (Jeannie), Dermot Mulroney (Randall Hertzel), Kathy Bates (Roberta Hertzel), June Squibb (Helen Schmidt)
Jack Nicholson delivers a great performance once again as Warren Schmidt, a retired widow, who travels across America in his mobile home to attend his estranged daughter's wedding to a man who Schmidt simply cannot stand.
The director and screenwriting partnership of Alexander Payne & Jim Taylor present a quirky variety of comedy rather than belly laughs, but they do it very well, taking a leaf out of Woody Allen's book.
The style certainly isn't to everyone's taste, but it's worth watching for Nicholson's performance alone, plus great support from the ensemble cast, especially Kathy Bates, who almost steals the show in one of the more memorable scenes (albeit for perhaps the wrong reasons).
A quirky and amusing look at a late-life crisis and amongst the best films of 2002.
8/10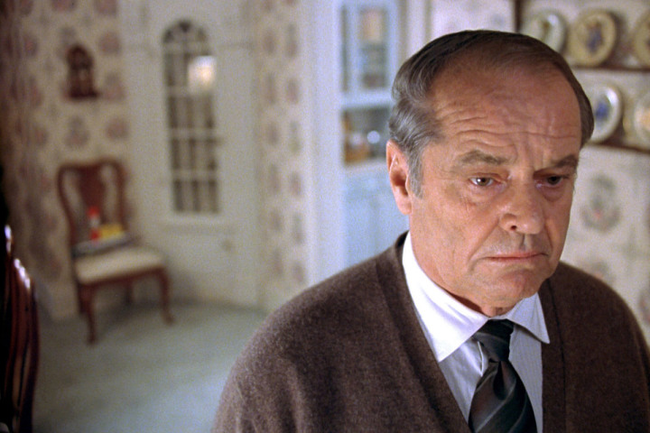 Did You Know:
Once the filmmakers bought the rights to the Louis Begley novel, they kept the title and the main character, but changed just about everything else. In the book, the main character lived in the Hamptons, and his daughter was about to marry a lawyer. One element Alexander Payne considered keeping from the novel was Warren Schmidt's anti-Semitism, which would have been kept by having Dermot Mulroney's character Randall be Jewish (as was the lawyer who Jeanie was getting ready to marry in the book), but Payne decided the movie would work better if Schmidt was not a bigot.

Award Wins & Nominations:
MILSTEAD MOVIE AWARDS:
Wins: None
Nominations: 4 (Best Actor in a Leading Role; Best Actress in a Supporting Role; Best Ensemble Cast; Best Screenplay (Adaptation))
OSCARS:
Wins: none
Nominations: 2 (Best Actor in a Leading Role; Best Actress in a Supporting Role)
BAFTAS
Wins: none
Nominations: 1 (Best Actor in a Leading Role)
OTHER WINS:

Golden Globes (Best Actor - Drama; Best Screenplay); AARP Movies For Grownups (Best Movie; Best Actor); AFI Awards (Movie Of The Year); Broadcast Film Critics Association (Best Actor); Casting Society of America (Best Casting - Comedy); Costume Designers Guild (Excellence in Contemporary Film); Dallas Fort-Worth Film Critics (Best Actor; Best Supporting Actress); International Online Cinema Awards (Best Actor); Kansas City Film Critics (Best Film); London Critics Circle (Film of the Year); Los Angeles Film Critics (Best Picture, Best Actor, Best Screenplay); National Board of Review (Best Supporting Actress); Washington DC Film Critics (Best Actor, Best Supporting Actress)