A.I. Artificial Intelligence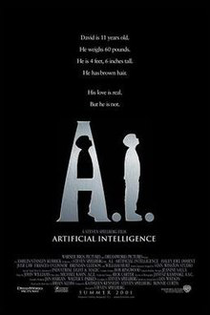 A. I. - ARTIFICIAL INTELLIGENCE (12)                          
Warner Bros./Dreamworks/Amblin (Steven Spielberg, Kathleen Kennedy & Bonnie Curtis)
W: Steven Spielberg [based on the story 'Supertoys Last All Summer Long' by Brian Aldiss]
Haley Joel Osment (David), Jude Law (Gigolo Joe), Frances O'Connor (Monica Swinton), Brendan Gleeson (Lord Johnson-Johnson), Sam Robards (Henry Swinton), Jake Thomas (Martin Swinton), William Hurt (Professor Hobby)
When their son is put in a life-threatening coma, a married couple adopt David, a robot boy capable of real emotion to cope with their grief. However, when their real son returns back to full health they abandon David, who spends the rest of his existence searching for the mother so that she may love him again.
The movie, in a nutshell, is a hi-tech and ultimately quite bleak respin on Pinocchio, with some spectacular visuals and a brilliant central performance from Haley Joel Osment.  It's a little overlong with a rather dark ending which subsides into Spielberg sentimentality.  It would have been interesting to see what this would have become had Stanley Kubrick's concept been made before Spielberg took over the reins of the project following Kubrick's death. Nevertheless, it does have a huge amount of style, outstanding visual effects, and a rather ardent story for you to chew on long after the credits roll.
7/10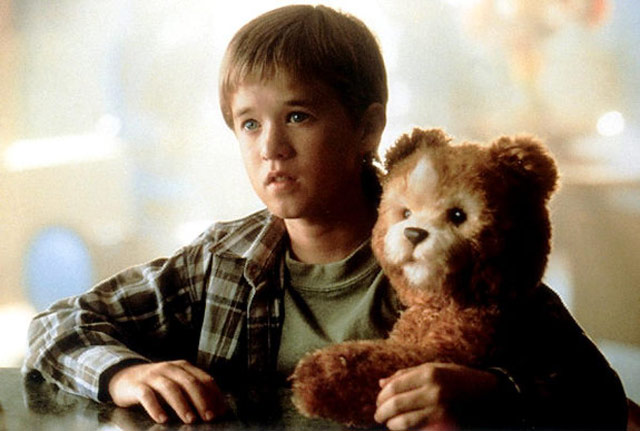 Did You Know:
Stanley Kubrick worked on the project for two decades before his death, but along the way, he decided to ask Steven Spielberg to direct, saying it was "closer to his sensibilities". The two collaborated for several years, resulting in Kubrick giving Spielberg a complete story treatment and lots of conceptual art for the movie prior to his death, which Spielberg used to write his own scenario.
Award Wins & Nominations:
MILSTEAD MOVIE AWARDS:
Wins: none
Nominations: 7 (Best Actor in a Leading Role; Best Director; Best Actor in a Supporting Role; Best Costume Design; Best Original Dramatic Score; Best Production Design; Best Visual Effects)
OSCARS:
Wins: none
Nominations: 2 (Best Original Score; Best Visual Effects)
BAFTAS
Wins: none
Nominations: 1 (Best Visual Effects)
OTHER WINS:
Saturn Awards (Best Science Fiction Film; Best Performance by a Young Actor; Best Writing; Best Music; Best Special Effects); Goldspirit Awards (Best Original Song); Golden Schmoes (Best Science Fiction Movie); Hollywood Makeup Artists Guild Awards (Best Character Hair Styling); National Board of Review (Top 10 Films of the Year); Online Film & Television Association (Best Youth Performance); World Soundtrack Awards (Composer of the Year); Young Artist Awards (Best Supporting Actor)