A Bout De Soufflé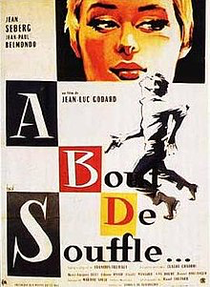 A BOUT DE SOUFFLÉ (aka BREATHLESS) (15)
D: Jean-Luc Godard
UGC/Imperia/Societe Nouvelle de Cinema (Georges de Beauregard)
Jean-Paul Belmondo (Michel Poiccard / Laszlo Kovacs), Jean Seberg (Patricia Franchini), Daniel Boulanger (Police Inspector), Jean-Pierre Melville (Parvulesco), Liliane Robin (Minouche)
The epitome of cool and one of the trigger movies of the French new wave of filmmaking.
Director Jean-Luc Godard's use of location shooting, jump cuts, hand-held camerawork and homages to other films and filmmakers may seem commonplace in modern practice, but in 1960 this was a revolutionary filmmaking process.
The story follows a young Bogart-obsessed car thief who kills a policeman and flees Paris with his American girlfriend.
The importance of this film may go over the heads of modern day audiences who have only just discovered it and will most likely not be enjoyed by the 'popcorn demographic', but it's influencial values simply cannot be denied.
A hugely important slice of world cinema.
8/10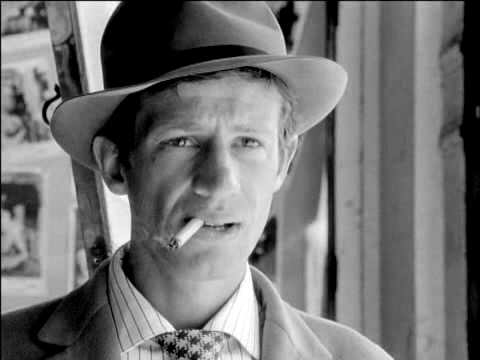 Did You Know:
The inspiration for the story was a newspaper article that François Truffaut read. It was about a small time criminal called Michel Portail and his American girlfriend. In 1952, Portail stole a car to visit his sick mother in Le Havre in the north of France but ended up killing a motorcycle cop.

Award Wins & Nominations:
MILSTEAD MOVIE AWARDS:
Wins: None
Nominations: 6 (Best Picture; Best Actor in a Leading Role; Best Actress in a Leading Role; Best Director; Best Ensemble Cast; Best Foreign Language Film)
OSCARS:
Wins: none
Nominations: none 
BAFTAS:
Wins: none
Nominations: 1 (Best Foreign Actress)
OTHER WINS:

Berlin International Film Festival (Silver Berlin Bear); French Syndicate of Cinema Critics (Best Film); Golden Goblets (Golden Cup); Prix Jean Vigo (Best Film)